Overview
Game style
Browser Game, Battle Royale
What is CryptoRoyale.One?
Crypto Royale is a browser-based game where you play as a ball in a Battle Royale game. When you start a game, you could compete against 1-8 different players at a time. The more players in the round, the greater the reward.
We were overly impressed by the enjoyable and addictive gameplay. While testing, we expected to only play for about an hour, but found ourselves searching for that battle royale victory. Each game has its own challenge and we loved it!
Each game takes less than a minute to complete, and only the winner walks away with some prize money. If you're playing the Free2Play mode, there is no fee to join the game, but your $ROY rewards will be minimal.
The goal of the game is to either avoid or kill other players and take the victory as the last ball standing. Once you've connected your wallet, you simply tap "Ranked" then "Play", and a game will start shortly after (if players are online)
Rules work as follows:
Your ball starts with 100 HP. As the game begins, the ball follows your cursor at all stages.

Some stars will appear randomly on the screen; if a ball rolls over the star, they grow by 50%.

To move faster, a player can "Boost" by tapping. Each boost takes 25% HP.

Bump into another ball that's smaller than you to inflict damage. If a ball hits you and it's bigger than you. You will lose 50% of your volume and HP. Once your HP reaches 0, you die.

As the game plays, a ring around the map reduces. If you're out of bounds, your HP starts dropping rapidly. (But stars will still appear outside the ring)

Outlast, or destroy all enemies to gather some crypto.
If you're the winner, a screen will appear with a wheel. Each section of the wheel provides a certain amount of $ROY to the victor. The amount varies per game depending on how many participants join.
Is CryptoRoyale Dead?
The game is not dead. There are about 100 players online at any given moment meaning you won't sit and search for a game. The games were all fun, and we did earn crypto. But we didn't earn much.
If you're wanting to know if the game's value in the crypto world has died… Then yes. But as a fun browser game, it's worth playing.
Pros
Addictive and enjoyable gameplay

A simple browser-based game that any PC could play

Extremely user-friendly, simply connect your wallet and start playing

The game is free to play (though you won't get far if you don't put funds in)
Cons
Play2Earn potential profits are minimal

NFTs don't provide much value, just a differentiating look

The staking system has almost no functionality. You won't earn much from this either

Token is down by 97% from it's ATH
What is the Crypto Royale Native Token?
The Cryptoroyale token does not play a major role in-game but simply serves as a reward for those who are invested in the game. But it seems the token was once the result of a "pump and dump" as its value dropped more than 97% from it's all-time-high
Ticker: $ROY (Crypto Royale)

Supply: Unknown

Exchanges: Can swap to AVE, Matic, and Harmony on the website.

Current price: $0.0062

All-Time-High:$0.17

Staking: Yes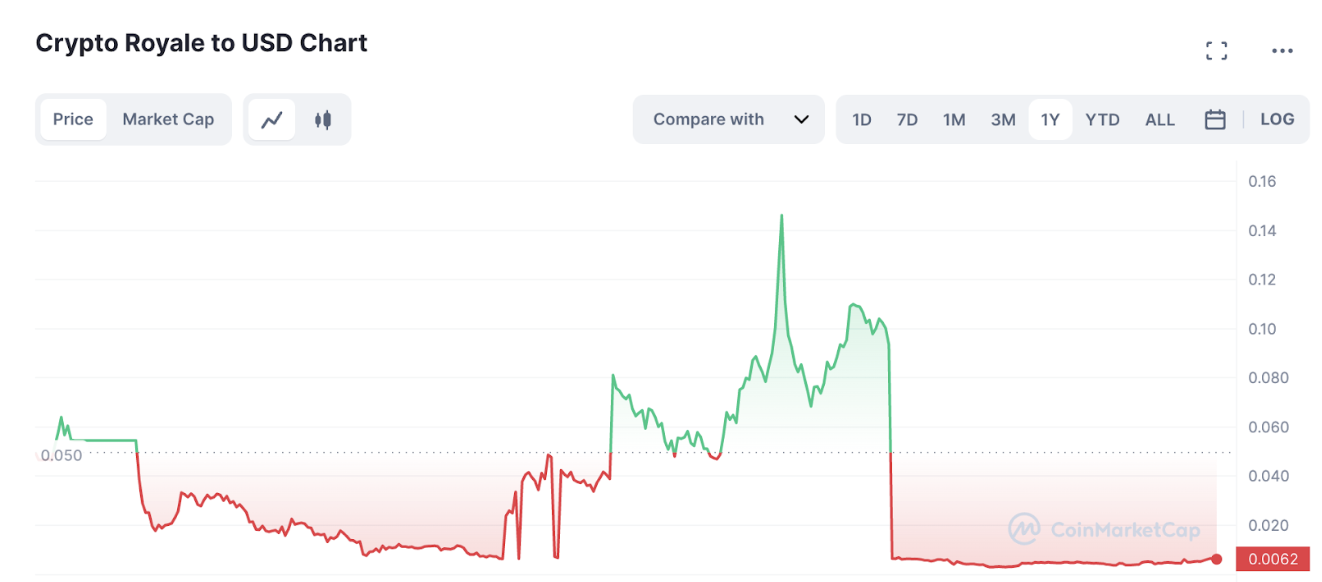 On CMC there is no information anymore. We can see there is an average of $1K-$2K in daily volume. However, if you're wanting to invest in crypto, we don't suggest looking at Crypto Royale as your go-to.
Can I make money from CryptoRoyale.one?
The game is extremely fun and addictive. I kept wanting to just win another game and hoping to grab that grey portion from the mega wheel. It's a great game but not worth it if you're hoping to earn a ton while playing crypto royale.
Once upon a time, you could probably earn about $1-2 an hour playing Cryptoroyale in its Free2Play ranked mode; this is no longer possible as the tokens price has fallen drastically. For me, it took about 20 minutes to earn 1 ROY (though you could randomly gain a lot more, and it's skill dependent). That equates to $0.0062/20 minutes. Nothing worth quitting your job over!