Ripple's advantages over other coins
XRP is a digital currency operated on the XRP ledger and used to ease transactions on the Ripple network. It can be purchased as a digital currency to exchange for other cryptocurrencies, as an investment, or to finance Ripple network transactions. It is also notorious for the anonymity it provides.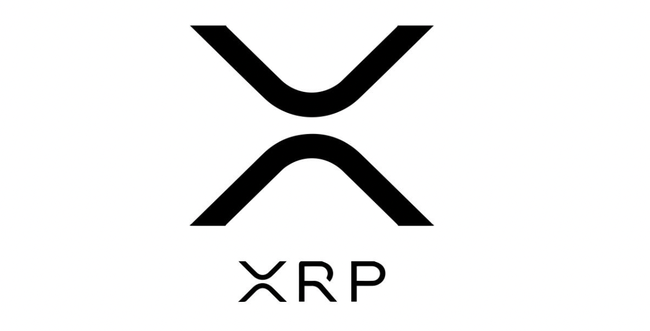 It is worth noting that the XRP ledger operates differently to other cryptocurrencies. Its transactions are secure because ledger holders must approve the verification process, unlike other cryptocurrencies, which open their ledgers and verification processes to all who can provide solutions to complex equations.
In addition, the Ripple network centralizes transactions. It relies on a consensus protocol by maintaining a unique node list that users can choose from to verify their transactions. XRP ledgers are updated every three to five seconds to ensure they match other ledgers; this process provides efficient and secure validation of transactions on the network. It's worth mentioning at this point that crypto spread betting is possible with XRP, for those who prefer a more private coin.
While BTC transactions now come with high transaction costs and take minutes to confirm, Ripple takes four to five seconds for confirmation on XRP transactions with low transaction costs. Its numerous advantages forced large financial institutions to use Ripple as a transactional platform. Santander, Bank of America, and American Express are just a few institutions using the network, showing that the network has a sizable institutional market adoption unlike most other cryptocurrencies.
Where I can buy Ripple
If you have made up your mind to purchase XRP, you can do that with fiat currency such as USD and Euro, and you can also trade XRP with other cryptocurrencies on some exchanges. Some of the crypto exchanges where you can buy Ripple include:
Binance

Bybit

Kucoin

Bitmax
It is important to note the trading pairs required when using these exchanges. In this case XRP/USDT or XRP/BTC as you can't buy XRP using any coin you may have available.
How to buy Ripple on Binance
Binance is one of the reliable (for now at least) crypto exchanges where you can buy and trade XRP. First, create an account and get it approved. After your account is verified, proceed to buy XRP using one of the available methods:
Bank transfer
Users can buy stablecoins such as tether (USDT) listed on Binance by sending fiat currency from their bank account to the providers of these coins and then buy XRP using the stablecoins. To deposit your fiat currency, click on the "buy crypto" page, select bank deposit, and follow the instructions.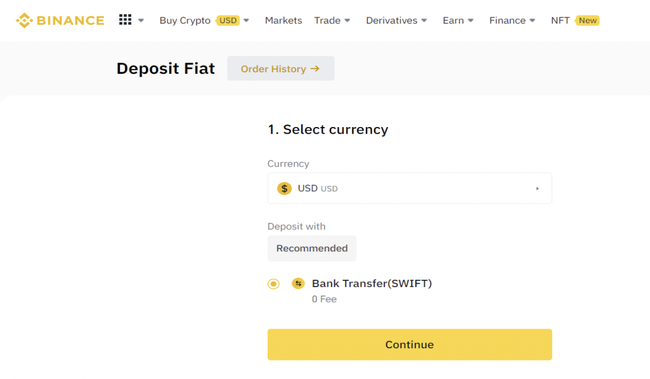 Trade XRP
Binance allows its users to deposit cryptocurrencies, of which several can be exchanged for XRP at the best market rates. Click on the trade button, and the screen below will pop up to exchange other cryptos for XRP.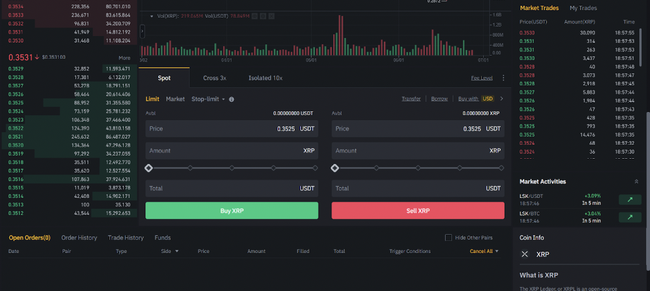 Buy XRP with credit/debit card
With your credit or debit card, you can buy XRP directly. Binance offers the best process to buy XRP with Visa or Mastercard. Click on the "buy crypto" page, then select buy crypto via card. You will see the screen below, input the amount you want to buy, and continue.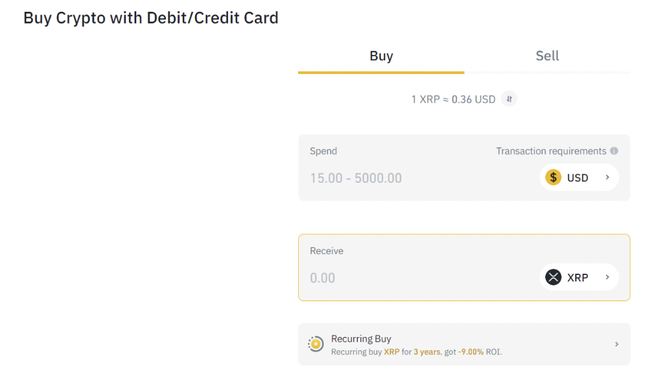 How to buy Ripple on OKX
One of the largest cryptocurrency exchanges, OKX, offers an easy way to buy XRP. To get started, create an account. Once your account is verified, follow these steps to buy XRP:
Step 1: Go to the "Buy Crypto" page
Once you log into your account, go to the "Buy Crypto" page to buy with a card or peer-to-peer trading.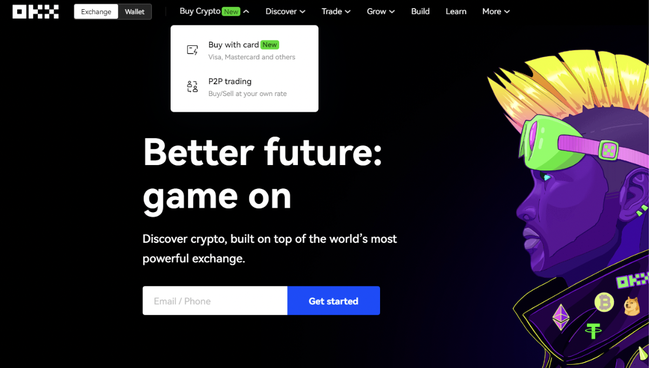 Step 2: Buy XRP with credit/debit cards or peer-to-peer trading.
You can easily buy XRP on the platform with your card. Once you select buy crypto with a card, the screen below pops up then you input the amount of the digital currency you want to buy, in this case, XRP.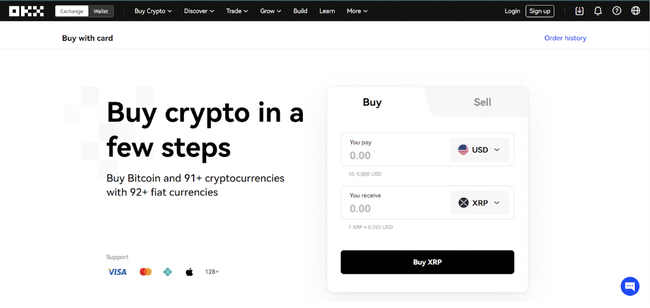 If you intend to use the peer-to-peer (P2P) trading service, you can buy other cryptocurrencies such as USDT, BTC, and ETH, then trade these digital currencies for XRP using the trading service. Once your trading partner releases your crypto, go to "Trade" and exchange your other currencies for XRP.
Where to store your Ripple
A safe place is needed to store your XRP once purchased, and some of the best wallets available include:
Crypto exchange wallets such as Kucoin, Binance, OKX, Coinbase, and Exodus.

Hardware wallets such as KeepKey, BitBox, Trezor, and Ledger Nano X

Mobile wallets such as Trust wallet, Atomic wallet, and Xumm
Disadvantages of Ripple
Some significant disadvantages of Ripple include:
Volatility: Ripple is considered a high-risk investment due to the volatility in price.

Asset centralization: Unlike other decentralized cryptocurrencies, the Ripple system is centralized due to its consensus protocol which goes against the digital asset decentralization policy.

Regulations: In December 2020, SEC filed a lawsuit against Ripple because XRP should be registered as a security since the company can decide when to release the asset.

Mining: Ripple releases a small amount of XRP at intervals, causing investors to fear the release of XRP in great amounts at once, thereby reducing the currency's value. However, Ripple claimed to have a release timing that would not affect its value.
Conclusion
While you may be reluctant to buy XRP, remember, despite all odds, it emerged victorious as a reliable payment system used by large financial institutions and is accessible on top-tier exchanges in the industry; therefore investing in XRP is a conservative decision to make.