RocketPot have opted for a grayscale theme with a logo which is a spaceship or rocket.
Once you have logged on to the website, you will see a rolling banner with all their current promotions and offerings. You see a bright orange button where you can Sign Up and then next to it a duller grey button to login, once you have signed up of course. The casino home page is very modular, and quite busy. There is a ton to look at when you first log in, and it can seem overwhelming at first, but once your eyes adjust, you will understand why they have set up their casino this way. There is a thin menu to the left which holds shortcuts to all the menu items you may need.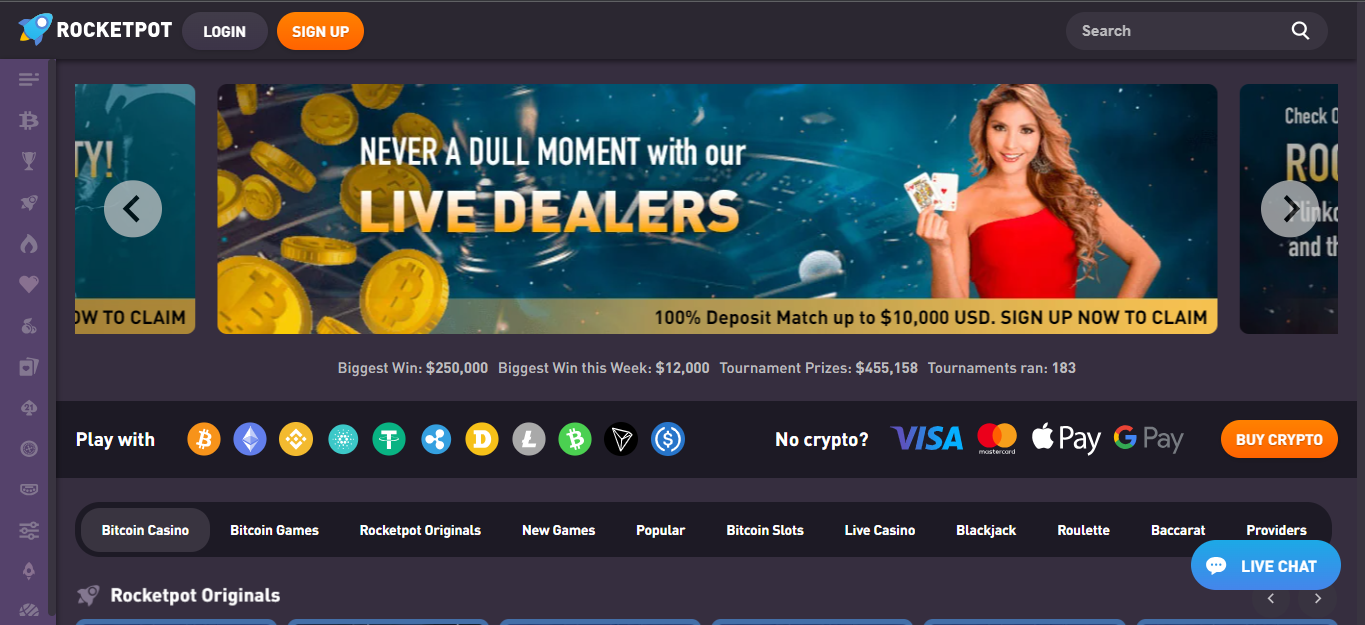 Account Setup
It is a simple registration page which does not require too much effort. You are registered in just a few easy steps:
Click on the orange sign up button

Enter an email address

Enter a username (you can enter your own, you do not need to use their suggestion)

Select a password

Accept the terms and conditions

You are ready to play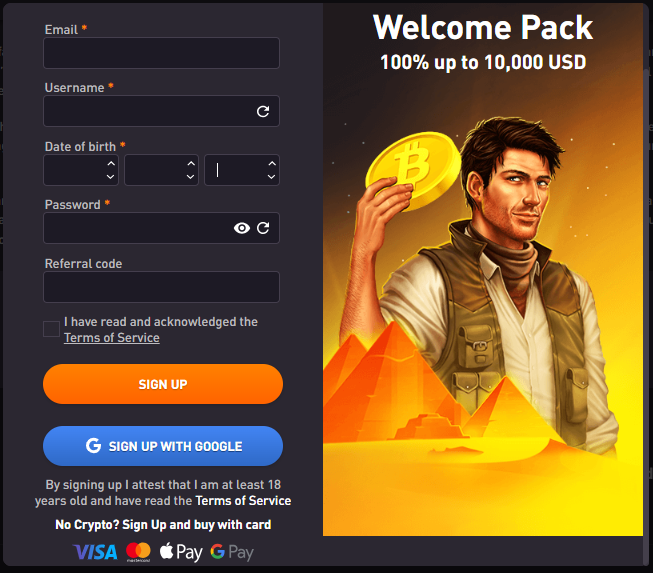 Once your account is set up you will be given your depositing options straight off the bat.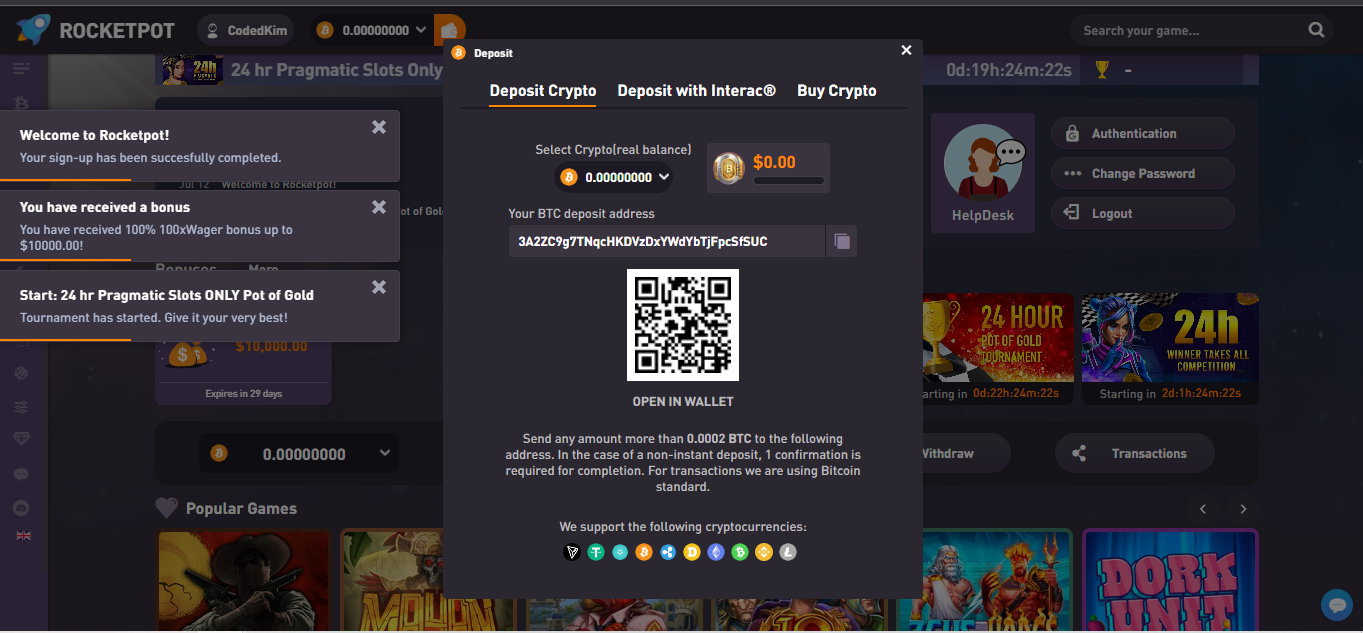 You will also see a few offers to your left which disappear after a short period of time. There is a count down bar underneath which shows you how much time you have left to click on the offerings.
Pros
Licensed in Curacao

Live Dealer, Sportsbook and Poker Room available

Can play using VPN

No KYC required for withdrawals when using Crypto to deposit
Cons
No USA Players allowed

Incredibly high playthrough requirements

Whale status requirements are unclear

Poor community reputation
Promotions
There is no real promotions section available on the website, you will need to join their channel on their Discord. After spending 24 hours monitoring the Discord channel to get a better understanding of how RocketPot's promotions work, they regularly post match bonus offerings and daily, weekly and monthly competitions. What you can view on the website though, is their Race section, which is fundamentally a timed tournament. The current "Race" they have running is a 24 hour Pot of Gold tournament. Every wager you make counts towards the leaderboard. Every wager is a 1:1 point which accumulates and gains you traction on the leaderboard and all payouts are in BTC.
Once you log in you receive a bonus offer of 100% up to $10,000 which has a 1000 times playthrough. You also qualify for free spins if you confirm your phone number, this is not mandatory but instead what seems to be a trade for client information for their records. The free spins I received for confirming my contact number were on an original RocketPot game, Rocketpot Bonanza, which was quite fun. They have a VIP programme which has limited information on it at face value, and once again, I had to go digging for more information relating to this. There is a section on the narrow menu on the left called Vip where you can see what being a VIP provides you, a personal account manager, exclusive personal bonuses, VIP hospitality, VIP special promotions and priority communication channels, but no information on how to become a VIP. I went to Live Chat to find out how to become a VIP and they informed me that one would need to get between Level 7 and 9 to achieve VIP status. It is an automatic process once you have wagered enough to get to that account level.
Games
Rocketpot has a wide variety of really fun games made by really great game providers including original games. They offer 2744 slots, 69 table games, a poker room, a very simple sportsbook which offers multiple varieties of games, including eSports and even Virtual Dog Racing. On the left hand side of the casino you have a narrow menu button which is separated into different categories.
Bitcoin Casino
this is your home page
Tournaments
this shows current and upcoming tournaments
RocketPots Originals
this is where you will find BTC games and inhouse games
New Games
this shows recently released games
Popular
this is where you will find frequently played games by the community
Slots
this shows all their available slots and has filters you can apply to select your game
Casino
this is where the Live Dealer and other table games can be located
Poker
this is a poker room of sorts where you will find poker tournaments and games
Sportsbook
they have a standard looking Sportsbook with a wide range of games available including virtual sports
Game Providers
here you can select all games available from on of 29 game providers
VIP
this links you to the benefits of their VIP program
Support
this sends you to their Live Chat option
Discord
this links you to their Discord channels
Languages you can choose from
this changes the languages the casino is supported in
One thing that frustrated me was there was no notification from certain game providers that were restricted in the country I was playing from. I asked customer support about this and their response was "there usually is" but I tried 2 different game providers and the games just spooled with no error or warning message at all.
Coins and Payments
RocketPot offers a wide range of Cryptocurrencies you can deposit with:
You can also deposit using Interac if this is available in your country and they offer the option to buy Crypto in the lobby if you don't already have some in your personal Crypto Wallet.
The depositing is really quick, mine took 5 minutes to the second to become available in my casino account.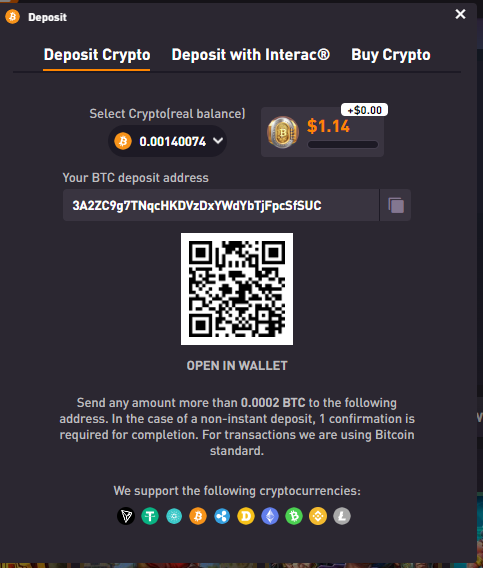 Processing withdrawals can be a bit more tricky though. You need to go to your lobby and search for the Withdraw option. You then select the currency you wish to withdraw, I chose BTC as my deposit and withdrawal options. You then insert the wallet address and then your amount. Here is where my hiccup came in, I had not wagered my deposit enough times. There was no mention anywhere that the deposit required a 3 times wagering requirement before withdrawing, but only once I started the withdrawal process it came up. It also didn't mention how far I was away from achieving this requirement, so I had to head back and play more and hope I had achieved this, which I subsequently had. Once you request your withdrawal, you need to confirm via an email link that you in fact want to withdraw these funds. You then head to your inbox where you find the confirmation email, click the link and then are routed to another browser page to log in again. I had to do this three times before I was able to successfully withdraw. It was rather frustrating if I am being honest.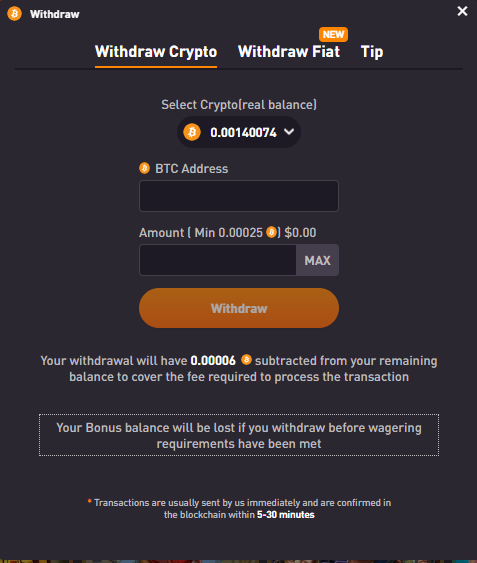 Once I returned to the casino to fiddle a bit more with the settings I clicked on balance and it immediately popped up a message asking me if I would like to cancel my withdrawal. Presumptuous at the very least, but we move on.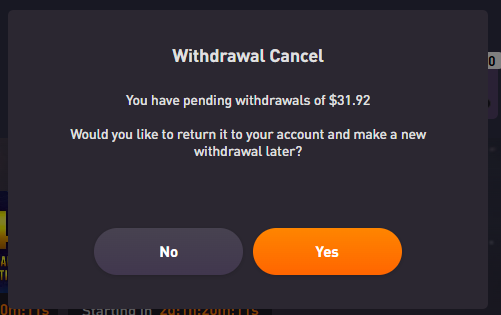 On the withdrawal page, right at the bottom in very fine writing they state:
"Transactions are usually sent by us immediately and are confirmed in the blockchain within 5 - 30 minutes. I waited a staggering 3 hours for my withdrawal to process into my wallet. I asked support why it took so long and I received a generic response of "Approval time depends on the amount of the withdrawal. If there seem to be issues along the way, you will be contacted."
It was a $31 withdrawal, and I wasn't contacted during the withdrawal process, so I can only suspect it was delayed due to it being my first withdrawal, or the country I was playing from.
RocketPot has an option for Fiat deposits which is exclusively available for Canadian players at this point. You are also able to tip your allocated hosts should you wish from this section, but only once you have verified your email address, again, this is the casino's way to confirm client information.
Customer Support
RocketPot offers support via live chat, Discord channel and email. Their live chat is quite responsive, the longest I have had to wait for an agent was 2 minutes. Their email support is naturally a little slower with the waiting time for a response being 2 hours.
Their support has a very unique and interesting set up though as once you log in you are assigned hosts who are there to assist you so when you open a chat one of the two assigned hosts will be the ones who attend to you. I found this change quite refreshing as accountability can be taken by the casino for the support given.
Geos and Languages
RocketPot offers English, Portuguese, Spanish and Mandarin support.
There is quite an extensive list of restricted countries: Australia, USA, UK, Aruba, Bonaire, Belize, Curaçao, Netherlands Antilles, France, Saba, St. Martin, UAE, Bahrain, Cyprus, Spain, Moldova, Oman, Poland, Qatar, Saudi Arabia, Yemen, Belarus, Cuba, Czech Republic, Ivory Coast, Estonia, Germany, Iraq, Israel, North Korea, Liberia, Lithuania, Malta, Slovakia, Sudan and Zimbabwe.
If you do log in from one of these countries you receive an error message advising you to switch off your VPN. There is nothing in the terms and conditions stating you cannot use a VPN so it might be wise to switch it on for one of the other countries not listed above.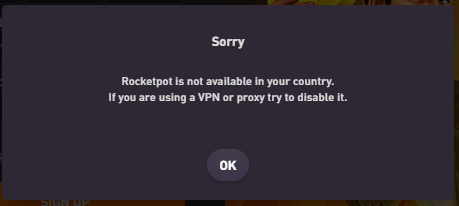 Platform Compatibility
This casino is available on mobile as a browser page as well as on desktop/laptop/tablet. It functions pretty much the same with a few minor changes on the layout when playing in portrait mode. When switching to and from landscape the images break on the banners. I tried refreshing the page while in the casino and it just did not recover, which is unfortunate, but it could be a work in progress and we will forgive them for that.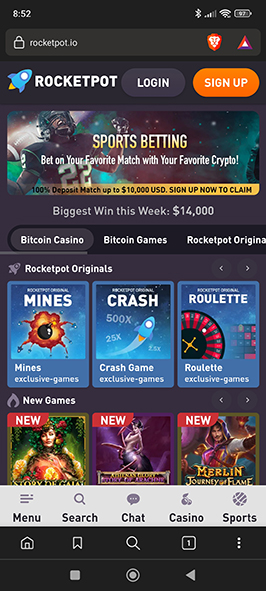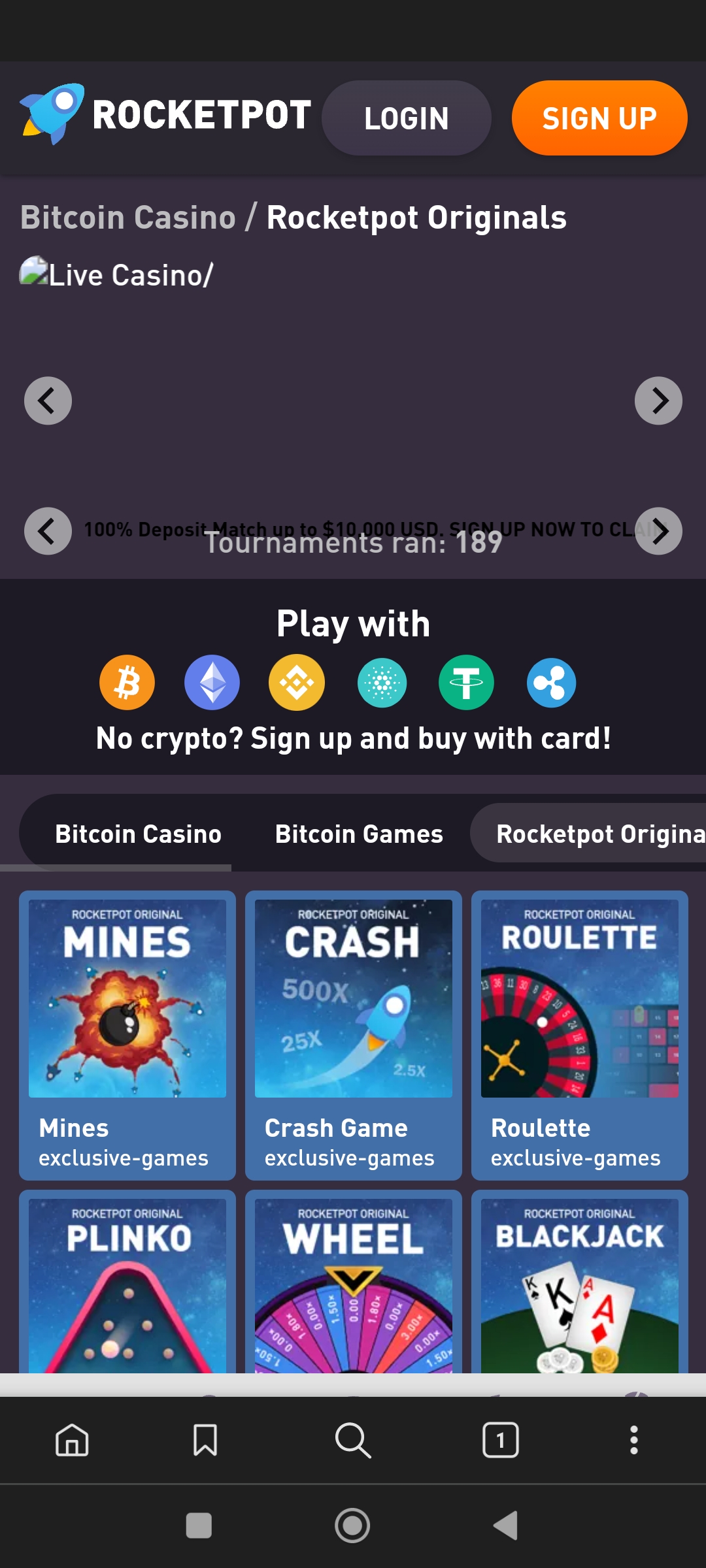 Website Response Time
According to my personal tests and running the website through a formal test, this website runs optimally with great response time and the images aren't bulky so switching between different pages is a smooth and easy transition.
Security and Community Reputation
The community reputation has very mixed reviews with a 4.3 on Trustpilot and the casino being quite responsive to the comments made on the site. There are a few complaints made on Bitcointalk.org which are discussed through the community with some being resolved. Casino Guru gave it a scathing review with a meagre 3/10. AskGamblers gave it a 6.7/10 with its long list of restricted countries being its biggest downfall. The safety of your casino account is your responsibility, however, RocketPot has implemented an optional 2FA set up which you can find in the lobby of the casino next to your allocated host's picture under "Authentication".
Alternatives
If you are looking for a casino with a better community reputation or maybe just something that has been around a bit longer, try out these alternatives:
CryptoLeo - with a sportsbook, variety of games and a lower playthrough requirement, this is a sure fit as an alternative

Cloudbet - another solid all rounder with a good reputation amongst our peers.
Conclusion
RocketPot seems to have it all at first glance, with a Sportsbook, Poker room, loads of games to choose from. However, there are quite a few points to be wary of. The incredibly high playthrough, the unclear withdrawal requirements and no real indication of how to become a whale in their casino made me a little apprehensive to continue playing. It's unfortunate since it is a very nice looking casino. As we usually state, be careful pushing all your funds into this casino. Make a deposit, play it through, test the withdrawals and then see if RocketPot is a fit for you.