At first glance, Bets.io presents a flamboyant and confident look that can appeal to any newbie, millennial gamer, or old-timer who wants to quench their betting thirst. The platform's exterior is simple yet intuitive, with a dark blue color scheme, a dash of green in some key areas, and bright-colored writings that can get you into a betting mood.
On the left side of the panel are shortcut links to the various options on the platform, including promotions, loyalty programs, and top games. On the far right are your login and sign-up buttons.
To excite and pump you up for the kill, the site showcases some of its popular games on a centrally positioned carousel. And right below it are the various payment options you can use to deposit your funds and cash out your winnings.
Overall, the site presents a friendly and charming interface typical of any crypto games platform that fits today's standards.
Account Setup
Like most other crypto betting platforms, I had to sign up for an account to get started. Here are the steps I used to get in:
I first headed over to the site's homepage

I clicked on the sign-up button located on the far right of the page

I entered my email address and password and then selected the cryptocurrency I wanted to use from the drop-down menu

I then checked the "I agree to the Terms & conditions & Privacy Policy" button and clicked on the green sign-up button

My profile avatar then appeared on the right side upon signing up. And on its drop-down menu, I had the option to input my wallet address, bonuses, lottery, loyalty program options, and account settings

Next on the sign-up button was the deposit button. Clicking on it opened the deposit page to allow me to enter the amount depending on my chosen cryptocurrency.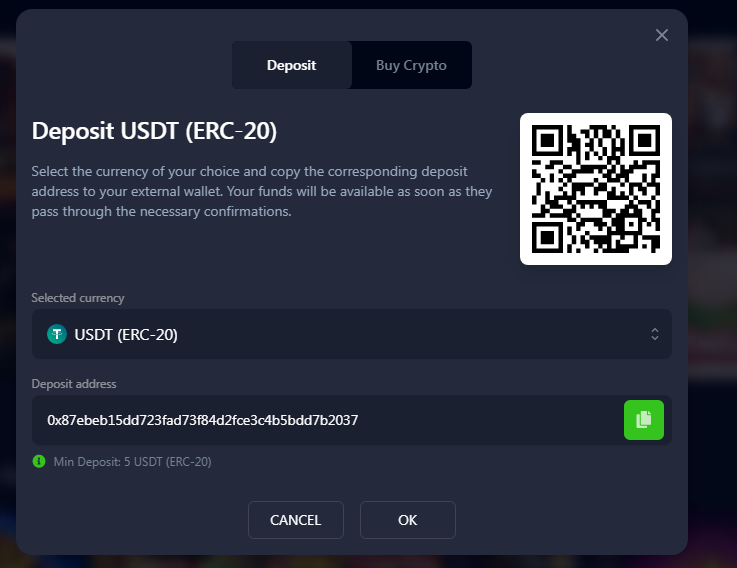 Overall, it took me less than 5 minutes to get things on the right footing and ready to play. The platform does not support KYC verification, so I quickly eased in without needing to deal with any of the nuances that come with verifying my identity, such as checking in my photo ID picture for verification or providing the last four digits of my social security number.
Pros
Provides more than 3000 casino games

No KYC needed, so signing up is pretty easy

Licensed under the Curacao government

therefore, legit

Allows fast deposit and withdrawal of funds

Offers 24/7 customer support

Home to lots of promotions

No KYC needed
Cons
It does not publish RTP numbers
Promotions
Welcome bonus
A welcome bonus with a first deposit offer of 100%, plus 100 free spins upon entering a bonus code BETSFTD. This is before depositing a minimum amount of 0.001 BTC, 0.16 BCH, 250 DOGE, 0.013 ETH, 0.3 LTC, 20 USDT, 40 XRP, 333 TRX, 50 ADA, 0.06 BNB, 20 USDC, or 20 BUSD are allowed as deposits.
However, the amounts should not exceed 1 BTC, 13.3 ETH, 166 BCH, 250,000 DOGE, 308 LTC, 20,000 USDT, 40,000 XRP, 333,333 TRX, 50,000 ADA, 67 BNB, 20,000 USDC, or 20,000 BUSD. To enjoy your winnings, you must also observe an x40 wagering requirement.
There is also a second deposit offer of 75%, and a third deposit offer of 30 free spins.
Other bonuses include
A no deposit bonus: You'll get 10 USDT or 20 free spins upon claiming this promotion.

A sticky bonus: You can try it out if you want to play a huge number of games, as well as try out high variance titles or even progressive jackpots. However, you won't go home with the bonuses that you get. Instead, it gets "stuck," and you can use it to gamble afresh.

Free spins: You'll be given free spins in the form of special offers or free codes alongside other welcome promotional plans. They can be divided into smaller units that run up to five days. For instance, twenty bonus spins daily for a 100 free spin reward.

Weekend reload bonuses: This constitutes a 50% bonus of up to 5,000 USDT that can be activated from Friday to Sunday. If you claim it, you'll receive 20 free spins per day until they reach 60.

Cashback rewards: You'll get daily cashbacks of between 10% and 20% of your deposit for the previous day. This is subject to a 20 USDT payment or more and a play for real money until your total wagering amount exceeds the deposit by 3 times, and your total losses reach 20 USDT. A cashback is valid for three days after you receive it and a whole week after you activate the promotion.

Tournaments: The platform allows you to participate in various yearly tournaments, such as the Drops & Wins tournament, for two gaming categories ― slots and live casino, where you can play Baccarat, Blackjack, and Roulette to win random prizes.

Personalized offers: The platform can provide you with additional casino bonuses through notifications, SMS, or email. Most of the messages will contain bonus codes for exclusive offers or invitations to seasonal promotional campaigns. Examples of promotions you'll receive include cashbacks, deposit bonuses or free bonuses, bonus money, extra spins, or a combination of them.

Mystery Boxes: You'll receive particular rewards in the form of loot boxes or a wheel of fortune upon reaching new levels. For example, you could get 50 USDT, 20 USDT, 150 free spins, 100 free spins, etc., when you reach levels 2 to 4. However, the free spins come with a wagering requirement of x30, x25, or x20, while the cash prizes require you to fulfill an x3 wagering requirement.

Free spins Wednesday: You'll be given 20 to 50 additional rotations if you replenish your gaming account in the middle of the working week. Notably, 20 spins for 20 USDT, 30 spins for 30 USDT, and 50 spins for 40 USDT. Each of the spins comes with a crypto casino bonus code that you must enter before claiming your rewards. That is LUCKYSPIN20 for 20 rotations, LUCKYSPIN30 for 30 rotations, and LUCKYSPIN50 for 50 rotations.

The minimum amounts for the free spins are:

30 free spins for a minimum of 0.001 BTC, 0.16, 250 DOGE, 0.013 ETH, 0.31 LTC, 20 USDT, 40 XRP, 333 TRX, 50 ADA, 0.067 BNB, 20 USDC, or 20 BUSD.

50 free spins for a minimum of 0.0015 BTC, 0.25 BCH, 375 DOGE, 0.02 ETH, 0.46 TC, 30 USDT, 60 XRP, 500 TRX, 0.1 BNB, 75 ADA, 30 USDC, or 50 BUSD.

100 free spins for a minimum of 0.0025 BTC, 0.41 BCH, 625 DOGE, 0.033 ETH, 0.76 LTC, 50 USDT, 833 TRX, 0.16 BNB, 125 ADA, 50 USDC, or 50 BUSD.
VIP Program
Bets.io also offers a loyalty program that gives you access to additional perks, such as huge sticky and non-sticky bonuses, lower wagers, higher withdrawal limits, more profitable exchange rates, personal support managers, and bonus spins.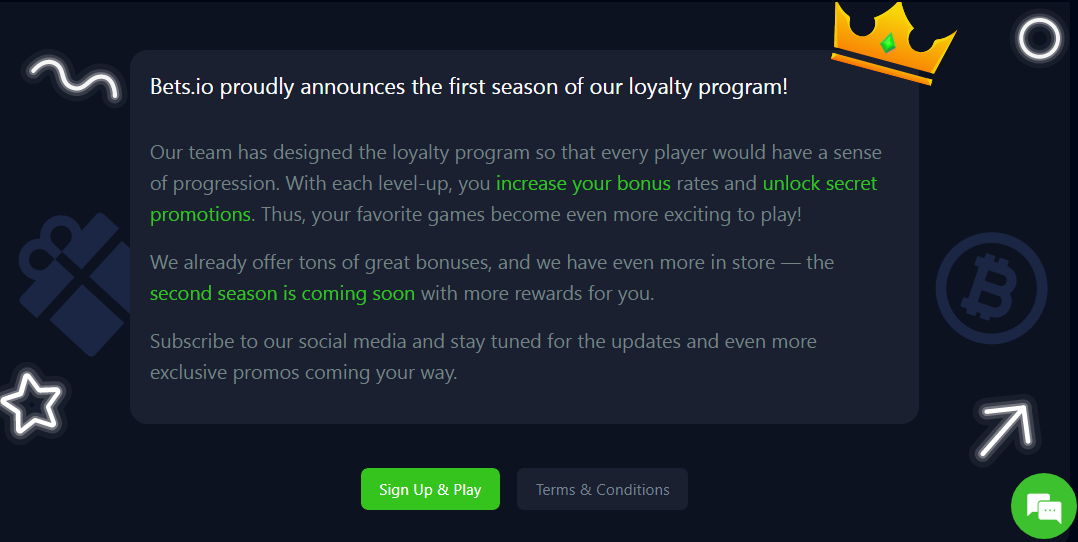 What's more, the benefits increase with your status or level - the higher the level, the greater the benefits.
The platform will send you an invitation to participate in the loyalty program. You can also ask customer care about your eligibility status for the program.
Games
To be honest, the platform also doesn't disappoint when it comes to games. With over 3000 games at your disposal, you'll definitely not lack anything to engage in for that adrenaline rush, reward or windfall. It was literally a home stretch for me upon signing up since the platform had some of my favorite iGaming and Evolution games, such as poker, crypto baccarat, roulette, and crypto blackjack, among many more.
Popular games you'll find on the platform include:
Table games: In this category, you'll find up to 170 titles, including the likes of European roulette and Blackjack VIP for your taking. Most are provided by top-notch game manufacturers, such as iSoftBet, Habanero, Pragmatic play, and Iron Dog Studio, so quality might be the least of your worries.

What I like most about them is their bigger payouts and RTP. Furthermore, they allow you to put your skills and strategies in play as opposed to relying on luck alone. In this case, an online roulette, for example, has an RTP of between 94.7% and 97.3%, while Sic Bo has between 81.02% and 97.22%, thereby giving you higher chances of making it big from your bets.

Crypto Slot games: Like table games above, this genre also rocks the site and will offer you an experience similar to that of your typical brick and mortar casino, or even better owing to their advanced technology and software. As such, you'll enjoy the different provided slot games, such as Game of Thrones, The Dog House, and much more upon signing up.

Other examples of popular match categories you'll find on the platform include lottery, new games, top games, tournaments, jackpots, live casino, and other games. Similarly, some of the popular poker options included stud poker, draw poker, and community poker.
Not to forget, there are a number of games with a bonus buy feature on the platform, including Colossus Fruits, Ruby Hunter, 4 Horsemen II, Book of Cats, and ChilliPop. They give you an opportunity to get the extras without waiting too long on the line.
In general, there are more games than I can mention here in one go. Thus, it's essential to navigate through the provided game categories to have a complete picture of what you can find on the platform. To crown it all, the entire game list on the platform is provably fair, courtesy of the Random Number Generator algorithm. It ensures that you get what's rightfully yours in a game match.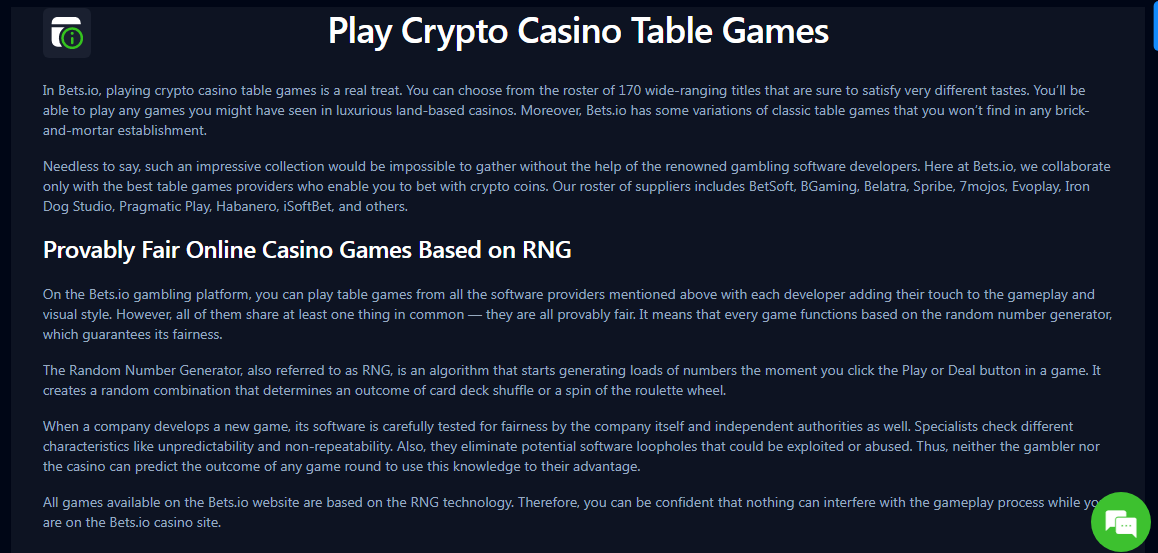 Coins and payments
Bets.io is currently an all-crypto platform, offering numerous benefits that come with this arrangement. You can enjoy anonymous deposits and cashouts, increased transparency, no downtime, low fees, improved security, 24/7 accessibility, fast payments, and bigger bonuses.
As of now, you can deposit your funds in the form of BTC, USDT (ERC-20), ETH (ERC-20), LTC, DOGE, or BCH.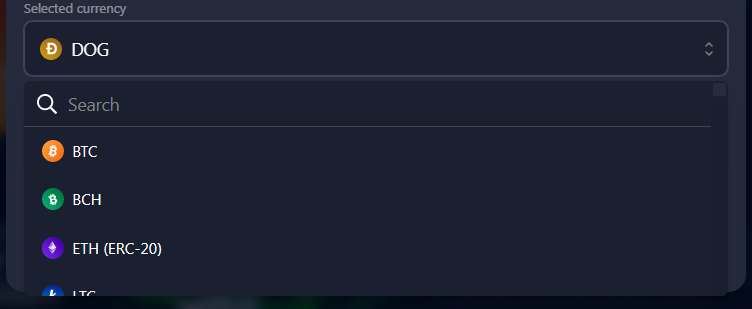 Their minimum deposits are as follows:
0.0001 BTC for Bitcoin

0.001 BCH for BCH

0.01 ETH for Ethereum

0.01 LTC for Litecoin

1 DOGE for Dogecoin

5 USDT for USDT (ERC-20)
You can either pay the funds from your crypto wallet or purchase them via Mastercard, Visa, Samsung Pay, Apple Pay, or GPay. In my experience as an ardent gambler, they have the lowest crypto payments compared to all the sites I have been to. You literally don't need to break the bank to play your favorite game.
On the other side of the coin, the minimum withdrawal limits for different cryptos are pegged at:
0.0002 for BTC

0.002 for BCH

2 for DOGE

0.013 for ETH

0.013 for LTC

6 for USDT, 5 for XRP

20 for TRX

0.1 for ADA

0.013 for BNB

6 for USDT 6

and 6 for BUSD
While the maximum withdrawal amount per transaction is 1 BTC / 167 BCH / 250,000 DOGE / 13.3 ETH / 308 LTC / 20,000 USDT/ 40,000 XRP/334,000 TRX /50,000 ADA / 67 BNB / 20,000 USDC / 20,000 BUSD. However, if the requested withdrawal amount exceeds the limit of a particular payment system, the amount will be withdrawn in installments.
All transactions on the platform are instantaneous thanks to the blockchain technology that comes with cryptocurrencies. Above all, the site doesn't charge you a dime for any of it; it's you and your money.
Customer support
As one of the best crypto casinos in 2023, Bets.io treats its customer base with the respect and urgency it deserves. You can get instant help through its live chat system, which is available 24/7. Here, you can ask anything about the platform and get an instant answer, as the bot is pre-loaded with answers for a variety of topics. For anything out of topic or that requires a personalized answer, the system will ask you to directly shoot a question to customer care via its official email address: [email protected]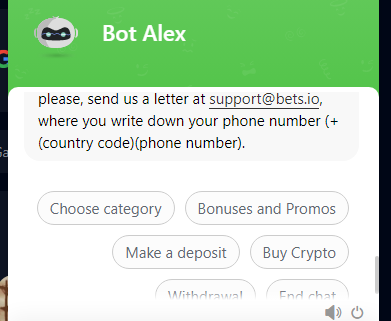 To make things easier, the site supports a variety of languages, including Turkish, Russian, Portuguese, Spanish, German, and English. You can choose from a drop-down list, so you have no reason to guess around.
Geos and languages
From my numerous pokes around the platform, Bets.io apparently has a pretty huge fan base from all over the world. Unfortunately, it is not a crypto casino for US players, as they cannot directly access the site. Other restricted countries on its list include Australia, UK, Curacao, France, Ukraine, Russia, Netherlands, US, and more.
In my opinion, the restrictions mainly depend on how a country treats gambling. But the good thing is that American players or those from other restricted countries can use a VPN service to find their way around it.
Security and community reputation
Regarding security and community reputation, Bets.io does its best to protect your crypto assets. First, it is a licensed entity under the Curacao government; therefore, it follows the required gambling laws whose main aim is to protect both the site and its clients. For example, it uses a provably fair mechanism, two-factor authentication, and SSL encryption to allow maximum security and fairness. Second, the platform allows anonymous participation by not divulging your information to a third party unless allowed by law. That is also a thumbs-up security-wise.
In terms of community reputation, the site has some good vibes going on. Its fans on Twitter are full of praise. Here is a quick shot of what they're saying: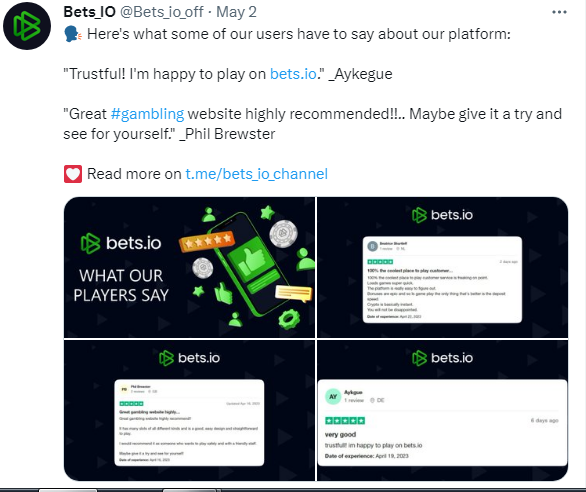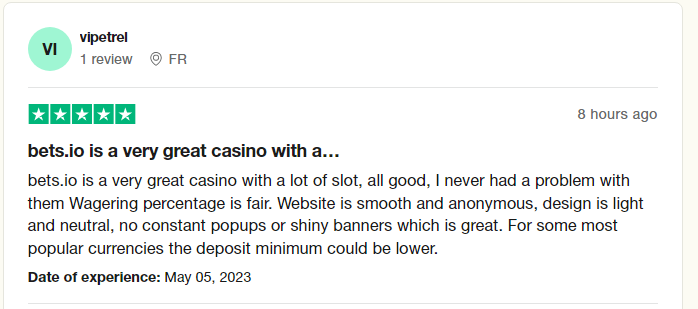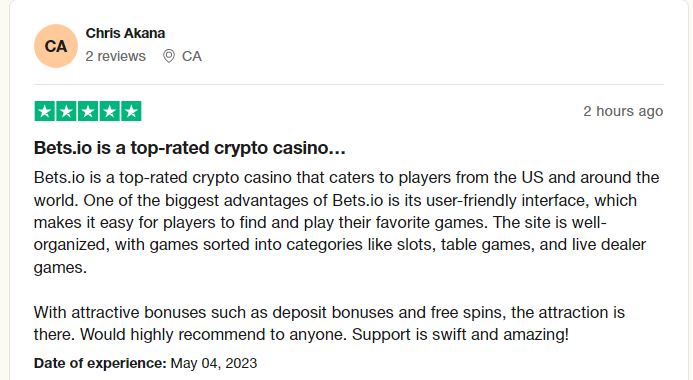 Alternatives
If you find Bets.io a small pond for you, or want to dive into a crypto casino for whales, then by all means you can check out the following two options:
BitcoinCasino.us: offers an exact match to Bets.io, especially for US players. For instance, allows American players, has its fair share of games including poker, slots, baccarat, and more. Lastly, it uses doge, litecoin, ethereum, bch, and bitcoin as its deposit and withdrawal coins. The site also does not solicit any KYC requirements from you; therefore, your ride in will be clear as day.

NitroBetting: comes in as the best option if you're a crypto whale and want the best out of your investment. In it, you'll enjoy a 5 star VIP program, a 200% deposit bonus of up to 40 mBTC and 15% cashback roll outs, among other benefits.
Conclusion
In summary, Bets.io is a blueprint of what a modern age crypto casino is. In this case has in place all the whistles and bells, such as an easy to navigate design, an instantaneous payment system and a provably fair game system to name but a few.
In my opinion, it's a go-to platform whether you're new to crypto gambling, yearning for upcoming crypto games or want to have some fun as an avid gamer and win while at it.