As soon as you open the website you are welcomed by a sleek looking site with well set out icons and clean imagery. It is absolutely enjoyable to the eyes. They have clearly put a lot of time and energy into this site, you can see it by the way they used shading on the images and icons. Their logo is even to theme with a bright pink lightning bolt going through the B for Betplay and a very simplistic font being used for the text.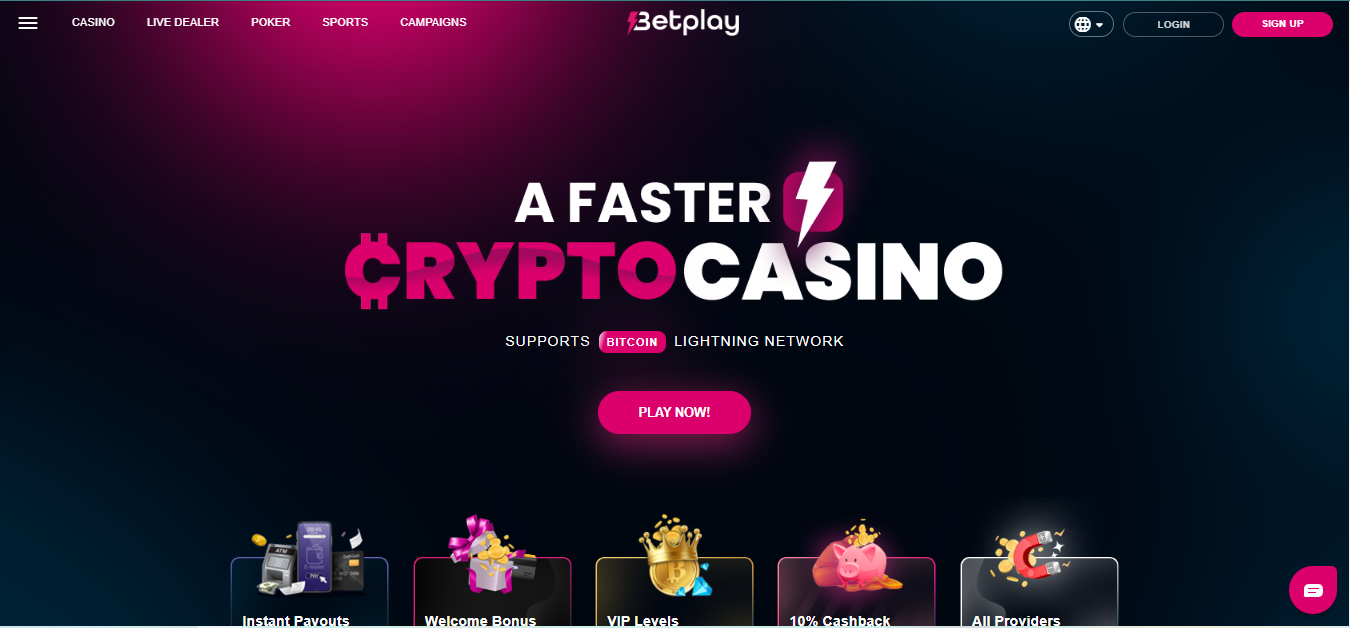 Account Setup
When you are going through the page, they say it is an easy sign up. So let's test this out. How to Sign up:
Click the pink Sign Up button on the top right hand corner of the page

Enter your email address and password.

Accept terms and conditions

Click Create account

You will then receive a verification number in your email account which you will need to insert here

Once you have inserted the number your account is ready to go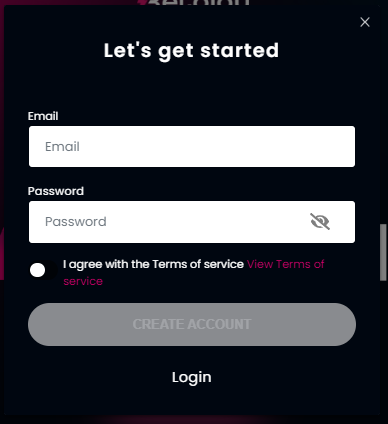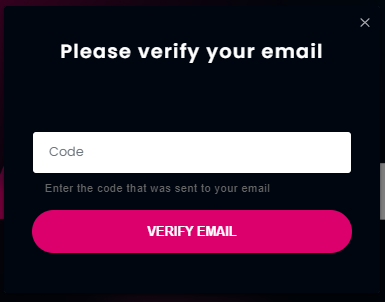 I received a curious notification stating that I seem to be enjoying the app and asking if I would like to enable the notifications. I declined as I am not aware of any app nor do I want to receive notifications.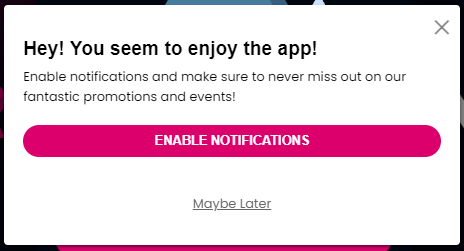 Pros
Offers a large variety of games and game providers

24/7 Customer Support

Live Dealer and Sportsbook available

Safe and secure
Cons
Incredibly high playthrough requirements on deposit bonus

If using your own wallet, high fees and slow depositing

Not licensed but still not does allow USA players

No email support or social media presence
Promotions
Betplay.io has a few promotions running. We will go through the standard ones in this article.
Welcome Bonus: 100% match bonus.
The terms and conditions are as follows:
The Bonus is awarded once the wagering requirements are fulfilled, and you can withdraw the bonus once it has been fulfilled.

The wagering requirements are 80 times the value of your deposit

You have 7 days to claim the bonus after your deposit has been made, and then 30 days to meet the wagering on that bonus once it is claimed.

Live Dealer, table games, and sportsbook are excluded from the bonus.
This is the example from their website:
Example: If you deposit 10,000 µ₿, then you will get a bonus of 10,000 µ₿ paid out once you have wagered a total of 800,000 µ₿ valid bets.
Rakeback & Cashback
This is an additional benefit on wagers made at Betplay.io. They have two types of this benefit:
Daily Rakeback: an unspecified portion of the amount wagered will be paid back to your account daily.

10% Weekly Cashback: You will need to be on VIP Bronze 1 level to receive this bonus which is paid out on Thursdays. It is 10% of all losses and it is an automatic credit to your account.
VIP Program
Betplay.io offers a multi-tiered VIP Program which has different benefits when increasing in the tiers. Below is a summary of these benefits:
Bronze 1
Rakeback enabled, 10% cashback enabled, Free spins reward
Bronze 2
Dogecoin cash drop, Free spins reward
Bronze 3
Litecoin cash drop reward, Free spins reward
Silver 1
Increased Rakeback, Free spins reward
Silver 2
Free spins reward
Silver 3
Bitcoin cash drop reward, Free spins reward
Gold 1
Increased Rakeback, Free spins reward
Gold 3
Dogecoin cash drop reward, Free spins reward
Platinum 1
Increased Rakeback, Free spins reward
Platinum 2
Free spins reward
Platinum 3
Free spins reward
Diamond
Increased Rakeback, Free spins reward
Obsidian
Increased Rakeback, Free spins reward
The currency rewards are given to you irrespective of which currency you play in and the free spins are automatically credited to your account once you move through the tiers making this a user friendly and well automated VIP program. The only absolutely visible issue I can see headed our way is that there is no specified amount of spins or value of the rewards so that may disappoint us. It's a "wait and see" set up which I hope impresses us.
Games
Betplay.io has a multitude of games and game providers that are well positioned. They are neatly and clearly marked. From the moment you log in you can see the different game types at the top of the web page.
Casino
This is where you will find the Slots, Table Games and Live Dealer games
They have a filter which you can set by Providers or Features. One very impressive function under the Providers section is they clearly indicate which game providers are not available in your region so no frustrating wait when trying to access a certain game.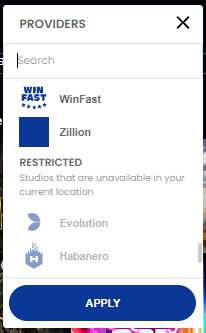 The categories under Casino are:
Our favourites

New Games

Most Popular
When going through the other subcategories, Slots, Table Games and Live Dealer they simply highlight the new ones and "All".
Live Dealer
When heading to the Live Dealer section you have the same Providers and Features filters you can set with the same restricted sections which really is helpful.
They have also neatly categorised the different styles of Live Dealer available to choose from: Roulette, Black Jack, Baccarat, Game Shows and Asian. Under the All Live Games section they highlight two game providers and All Live Dealer games.
Poker
When entering the Poker section of the Casino you are shown their $300 Freeroll promotion which is every Sunday at 10PM CET/4PM EST. You will have had to make a deposit in the week to be eligible to join the freeroll. You have two available buttons to click on when going into Poker. You have the Play Now button which leads you to the Poker Room. Before entering you will need to enter a screen name and the currency you wish to use. This does get converted into USD and if you wish to change this currency at any point, you will need to contact support. It is not an easy change so choose wisely.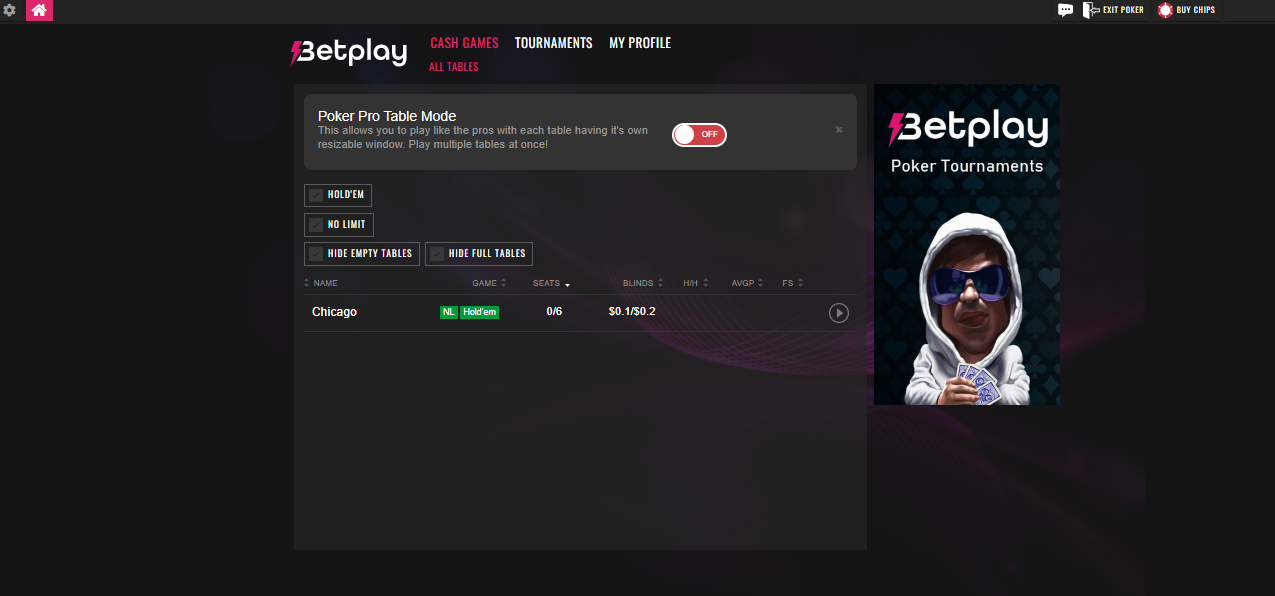 Once you have logged in you will see a few available selections: Cash Games, Tournaments, My Profile and All Tables. At the time where I was writing this article there weren't many options available to choose from.
Sports
You have such a wide variety of matches to choose from including:
Soccer

Basketball

American Football

eSports

Tennis

Baseball

Cricket

Ice Hockey

Volleyball

Fight Sports

Darts

Golf

Aussie Rules

Rugby League

Rugby Union

Handball

Futsal

Table Tennis

Horse Racing
The page is set up nice and clean and you have more filters available on the right hand side which allows you to change your view, odds and languages available for the Sportsbook.
It shows you all the live events currently in play and you can filter them according to your preference.
Campaigns
This is simply the current promotions which we discussed earlier in the article.
Coins and Payments
When we first log in to Betplay.io we are told that they facilitate instant deposits and withdrawals, however, this is only true if you deposit or withdraw using one of the recommended wallets on the Lightning Network. They do have the option for normal Bitcoin On-chain deposits, which would be any other wallet and there is a fee and a waiting time. Since my wallet is not on the Lightning Network, I will go through the standard process of making a deposit with Betplay.io.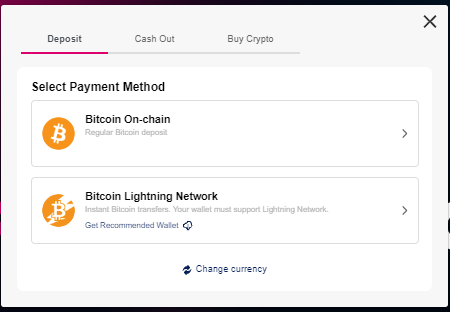 The Crypto Currencies accepted at Betplay.io are:
Bitcoin

Ethereum

Ripple

Litecoin

Tether USD

USD Coin

Binance USD

Binance Coin

Dogecoin

Monero

Tron

Shiba Inu

SAND (ERC20)
Below are the steps to making a deposit:
Click on the bright pink "Deposit" button in the top right hand corner

Select the method you would like to use to deposit with

Scan the QR code or enter the address into your wallet

Select the amount you wish to send to the casino

Submit the deposit on your wallet

Wait for the funds to receive in your Betplay.io account
An interesting feature you can find in the deposit window is that you are able to change the currency you wish to deposit in as well as generate a new address if you would like.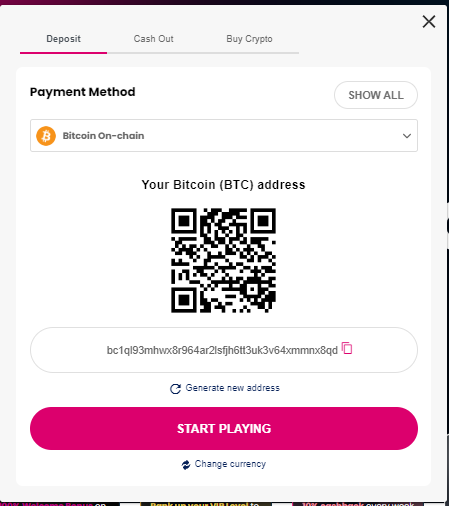 Since I used the traditional Bitcoin method I had to wait a staggering 43 minutes for my deposit to arrive in my account. Once the funds were in my account I received a notification stating that my balance had been updated and new offers were available for me. You also receive a confirmation email in your inbox with the same notifications. One thing to note though, using the traditional method of depositing has an enormous fee attached. I made a deposit of $27 and it charged me a fee of $4, which is astronomical considering all other deposits I have made have been roughly $0.50.
In order to withdraw you need a minimum of 5 uBTC. It is a little tricky to find where to withdraw from, so please follow these step:
Click on the avatar next to the "Deposit" button in the top right hand corner

Scroll down to "Withdraw"

Enter the amount you wish to withdraw

Insert the address from your wallet under "receive"

Submit the withdrawal on your Betpay.io account

Wait for the funds to receive in your Crypto Wallet
I was unfortunately not able to withdraw with my deposit, but I am able to show you what happens when you have insufficient funds.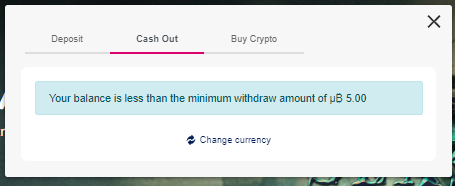 Customer Support
They offer 24/7 Live Chat support for your convenience. It is a pink icon that is subtle and not intrusive and located at the bottom right hand corner of the home page. There is no access to email support at this time. I had two very different experiences with the support. The first person I spoke with was pleasant and lovely. The second was straight to the point, no courtesy. They weren't rude by any means, but they weren't polite either. You are able to rate the service and leave a comment on the interaction so feel free to do so.
Geos and Languages
In my research I was only able to determine English as the language they communicate in, however, the Sportsbook side of the casino is available in English, Russian, Spanish, Turkish, Chinese, Japanese, Portuguese, French and Dutch.
There are countries restricted to access the casino as well as providers who do not allow access to their games. The countries not allowed to access the casino are as follows: Aruba, Australia, Bonaire, Curacao, French Guiana, French Polynesia, Guernsey, Gibraltar, Hungary, Isle of Man, Jersey, Liechtenstein, Luxembourg, Martinique, Reunion, Slovakia, Mayotte, USA, Turkey, Poland
They do allow VPN access though so feel free to play with them using a VPN, but be sure to stick to one of the Crypto Currencies on offer.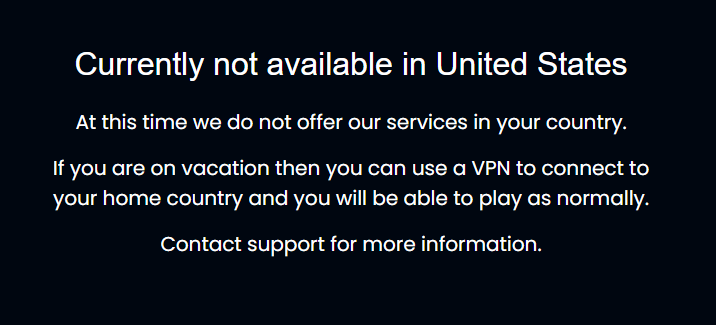 Platform Compatibility
Betplay.io offers different forms of apps. They have a Windows, Apply and Android mobile app. It is not a standard app like you would get through Google or Apple Play Store though, it is a neatened version of the website with a shortcut which directly links you to the site.
The mobile version - not linking to the app - is very user friendly in both landscape and portrait variants. I would suggest using the landscape for a rounder view of the casino, the portrait view does come across as slightly cramped, but the functionality is spot on.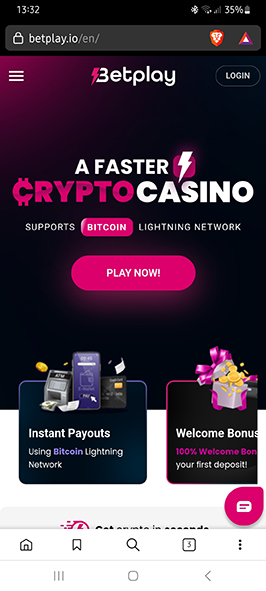 Website Response Time
It does not have a very speedy response time unfortunately, but not surprising since it does carry quite a lot of games and information and is built for durability not for speed.
Security and Community Reputation
Betplay.io uses the services of Cloudflare, which is that window where it will say "checking if your connection is secure" and this grows confidence that they are preventing any cyber attacks, both for themselves but for you as a player as well. There is no urgency for the 2FA to be set up, but while in Live Chat the operator reminded me to set it up, which is a nice touch.
The community reviews are not looking good for this sleek clean looking casino unfortunately. Trustpilot has a rating of 2.9/5 with many accusations of the positive comments being generated by the casino themselves. CasinoGuru gave them a 6.8/10 stating that the age and size of the casino, and the lack of licence, is what lowered their score but if you read further under the User Reviews you will see complaints about cash outs not being paid and the staff being rude. Bitcointalk.org does not have reviews on their site, more promotional events being shown off.
Alternatives
Since Betplay.io offers all rounder games and Crypto depositing options, the alternatives I bring you today are those with similar offerings, but are more loved by the community.
Cloudbet - this has a great community reputation and has as good a variety of games to choose from

Betfury - even though this casino does not offer Sportsbook, the community loves them. They offer many games with crypto currencies as their currency of choice.
Conclusion
Betplay.io comes in with its flash and bang and sleek look, but what it has in looks and vibe it lacks in reputation and offers. There aren't many recurring offerings, and the VIP program is quite weak. Also, the one thing that made them stand out to me personally - the lightning fast deposits and withdrawals - is on their terms. I don't use a lightning wallet so I paid higher fees and had to wait longer for my deposit. This is not quite what it takes for me to be loyal to this brand. If you do have a lightning wallet, sure, this place may benefit you more than me in the long run, and please do let us know if this changes the game for you, we would love to know. Our suggestion: keep it small when going into this casino, test the waters well before going in hard.