For starters, SurfShark is a VPN service provider that can be used by individuals and businesses to protect their online activities and information from unwarranted quarters. In essence, the service the Shurfshark provides masks a person's device's IP address, encrypts their data and routes it through secure networks to servers located in far-away countries or states based on their choosing. Doing so helps them hide their online identity, enabling secure and anonymous internet surfing and even an anonymous bitcoin cashout.
General info
Despite being one of the newest kids on the block in VPN provision services, SurfShark is already accumulating great reviews. Furthermore, the platform offers some of the best packages price-wise making it a go-to choice for small to medium businesses, or individuals wanting to gamble on their favorite cryptocurrency casino platforms anonymously
Since its introduction in 2018, the platform has offered VPN services comparable to other market giants such as PureVPN, NordVPN, HideMe and CyberGhost VPN. What sets SurfShark VPN from the crowd is its above-average multi-hop and split tunneling features and generous unlimited devices policy that can maximize your online privacy.
Account set up
Setting up a SurfShark VPN account is pretty easy. You can use the following steps on your desktop:
Download your SurfShark app from SurfShark.com.

Install the downloaded application on your Windows.

Log into your account.

Connect to SurfShark server.

Select and manage location.

Manage your SurfShark features.

Manage your SurfShark settings.

Ensure your connection is successful.

Surf online carefree
How about on your android phone?
Well, the steps are the same as that for your windows computer, except that you'll download the app directly from Google Play Store, Apple Store or any other reliable source.
Our experimentation of the application
Once we clicked on the blue connect button, the app immediately started connecting to the fastest available server. Nonetheless, you can change things by selecting your preferred location or country in the default settings.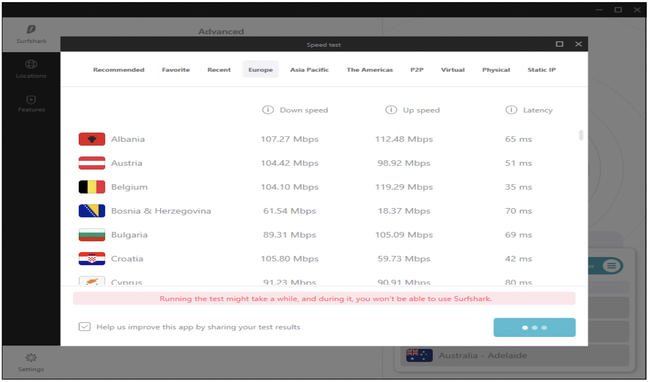 We did notice a small change in the connection speed when trying different geographical points but it was to be expected.
Connection speed
Apart from that, our experimentation on connection speed yielded the following:
Download speed: 324 Mbps on average

Upload speed: 324 Mbps on average
In our opinion, these speeds are fast or comparable to other top notch service providers. .
In particular:
NordVPN which has a download speed of 93.57 Mbps and upload speed of 89.52 Mbps

CyberGhost VPN which boosts of a download and upload speed of 548 Mbps
Potential application
Gambling
Firstly you can use your SurfShark account to access online cryptocurrency gambling sites worldwide.
In this case it will mask your IP address enabling you to access online gaming platforms that restrict folks from your country. For instance, 7 Bit Casino, among others which you can easily penetrate using SurfShark VPN.
Streaming
Another use for SurfShark VPN is streaming. Here, you can use the platform to stream your favorite movies and anything about from several service providers. They include Sky Sports, HBO Hotstar, All 4, ITV Hub, Disney+, BBC iplayer, Amazon Prime Video and Netflix.
Torrenting
Similarly, you can use the platform for torrenting purposes. In this case, SurfShark will automatically link you to the closest P2P server upon running a P2P app when connected. And in doing so allow you to enjoy an average torrenting speed of 8.7MiB/s.
Security & privacy
Logging & jurisdiction
SurfShark supports a No-log policy for ultimate digital privacy. The platform only keeps enough data to maintain your connection and stores no more than that once you have logged off.
Some of the information that the VPN doesn't store include your:
Connection time stamps

Network traffic

Session information

Used band width

Browsing history

IP address
Advantages of the no log policy
Secures your surfing activities from prying eyes

Prevents your internet service provider from accessing your browsing history
Apart from that, you will only need to ensure that your local laws do not force VPN providers to keep logs in regard to jurisdiction.
Bypassing censorship
SurfShark provides a NoBorders feature that enables use through network restrictions. The feature turns on automatically if the VPN service senses that someone is trying to restrict your network. You can also decide to turn it on manually.
Pricing
SurfShark offers you the following packages depending on your pocket:
A $12.95 per month package that is billed every month

A 24 months package that is currently going for $2.49 per month, which helps save 81% of the costs

A 12 months package that is currently going for $3.99 per month
Customer support
To maintain a competitive edge, SurfShark maintains excellent customer care support. We have gathered a detailed breakdown of the service:
Speed
SurfShark offers real-time support to its subscribers via live chat services. You can also opt for extension and app guides, router tutorials, and manual connection guides that can take a while to go through.
The full package choices can take you the following approximate time frames, depending on how fast you understand the content:
App guides and extension: 5 to 10 minutes

Router tutorials: 5 minutes

Manual connection guides: 4 to 5 minutes
Languages
The platform offers its customer care services mainly in English. For more information about your preferred language, you can contact customer care support here.
Assistance
The support unit offers you help in several areas, such as how to get started and how to troubleshoot some of the common problems. Additionally, it can educate you on streaming protocol.
Alternative options
That said, some of the companies that can offer a similar service to SurfShark include the following:
NordVPN
Similar to SurfShark, NordVPN offers a wide server network implying that you'll be able to change IP addresses in seconds. Furthermore, it offers tightened security features enabling an anonymous online stay. What differentiates the two is that NordVPN has more servers. In In particular, NordVPN has over 5,500 servers compared to SurfShark's 3,200 plus servers, thereby giving it more geographical coverage.
KeepSolid VPN Unlimited
Likewise, a review of Keepsolid VPN Unlimited indicates that it shares a few features with SurfShark. Notably, the two services provide unlimited internet connection allowing you to enjoy online freedom and maximum privacy. The only striking difference between the two is in their pricing. A starting package for KeepSolid VPN Unlimited is $9.99 per month while SurfShark offers it at $2.49 per month.
CyberGhost VPN
Last on the list is CyberGhost VPN, which offers fast internet privacy protection similar to Surfshark's owing to its vast number of servers (6,000 plus, to be specific).
What separates the two is that CyberGhost VPN allows you to connect up to 7 devices with one subscription. And on the contrary, Surfshark allows connection to an unlimited number of devices.
Comparison table
| | | |
| --- | --- | --- |
| VPN Service | Pricing | Free Trial |
| SurfShark | $2.49 to $12.95 per month | 7 days for iOS and macOS, and Android platforms |
| NordVPN | $3.99 to $5.99 per month | 30-day free trial period |
| KeepSolid VPN Unlimited | $3.99 to $7.99 per month or $159 for a one-time fee | 30-day money back guarantee |
| CyberGhost VPN | $2.29 to $12.99 | 24 hours free trial period |
Conclusion
It is clear to see that SurfShark offers a wide variety of security features and functionality that can significantly improve your online betting life. In particular, unlimited device connections, a large pool of privacy tools to choose from and affordable monthly plans.
As such, you can head over to the product page and sign up for a package that best fits your bill or take a look at iPlayCrypto's handpicked VPN list for more options.