Sign in and earn
This section contains apps that incentivize users to sign in regularly and engage with their content: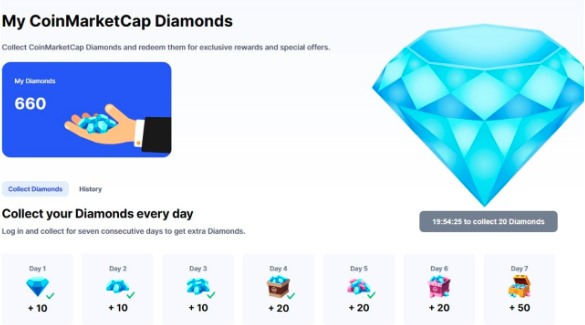 The leading crypto price tracking site rewards their registered users through Coinmarketcap diamonds. Users will be rewarded for signing up daily through the Coinmarketcap app and referring other users. These diamonds are not a cryptocurrency in itself but rather a points system which can be exchanged for gift cards, merchandise, NFTs, event tickets and discounts in crypto related products.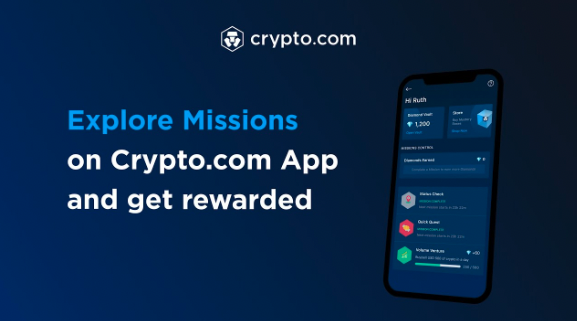 Similar to Coinmarketcap, the Crypto.com app rewards its users with their own virtual diamonds for checking in daily and accomplishing certain activities such as enabling security features, setting up recurrent crypto purchases or daily trading volume goals. Just like the previous example, the diamonds can be redeemed for exclusive merchandise, NFTs and the CRO Mystery Box, which contains up to $1,100 worth of CRO token. You can buy one of these Mystery boxes with just 25 diamonds which is equivalent to 25 days of checking-in or less if you perform additional tasks.
Move to Earn
Move to Earn isn't exactly a concept pioneered by crypto in Web 3, for several years apps like Running Heroes have been rewarding their users with discounts in sport/wellbeing brands, but it is the first time that rewards for steps can be converted into any other crypto or even fiat money. Move to Earn refers to fitness tracking apps that use the smartphone built in sensors to track steps and reward users for staying fit with crypto.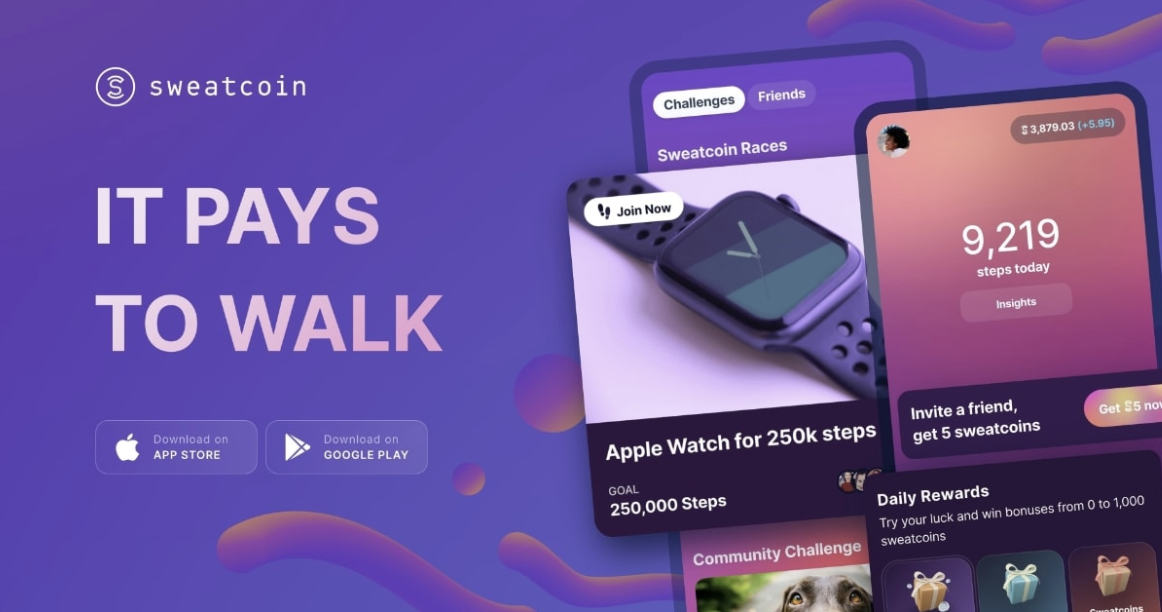 The London based company is one of the first pioneers in the move to earn space. Back in 2016, the app rewarded users with Sweatcoin, a virtual point similar to the virtual diamonds, which could be exchanged for discounts, fully paid deals on sports and wellbeing products or simply donated to charities.
This year 2022, the company launched the SWEAT app, a free NEAR blockchain based token that can be staked for up to 12% yield or traded for other cryptocurrencies or fiat. In addition to the staking yield, locking up your SWEAT grants you entry to the regular prize draws they organize at no cost, aside the staking requirement; some of these draws include a dinner with the founders, framed signed T-shirts of the most popular football players and gift cards of various brands.
You will need both apps installed and will get rewarded X amount of sweatcoin in the Sweatcoin app for up to 10,000 steps while the SWEAT app will only reward you for your first 5,000 steps; At launch 1000 steps were required to mint 1 SWEAT, at the time of writing this article, it takes almost 2000 steps to mint 1 SWEAT and the difficulty will only continue to increase, so do not delay to take advantage of this free app.
Faucets
Faucets are sites that reward small amounts of cryptocurrencies for performing small tasks such as checking in every determined amount of time or watching ads or answering surveys. The first bitcoin faucet was created in 2010 and gave out 5 BTC per person. Would you have holded them or used them to buy a pizza?
Cointiply - Investment: free
Cointiply rewards users for watching ads, playing minigames & betting games, answering surveys and testing mobile apps. Users get rewarded anywhere from 5 to 100 "coins" per task which can be exchanged for LTC, DASH and DOGE with a minimum 35,000 "coins" or 50,000 coins for BTC. Keep in mind that "coins" are an off chain points system with its value pegged to USD$, so try to redeem your "coins" near the bottom of the crypto market.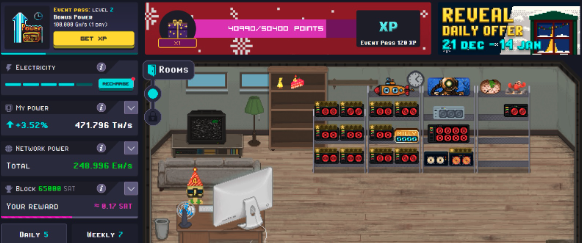 Rollercoin is by far, the coolest crypto faucet in the market. This faucet works as a simulated crypto mining game in which users can get familiarized with the basics of mining and earn from a selection of 11 different cryptocurrencies.
New users will start with an empty room that they will slowly fill with shelves and mining rigs, allocate mining power to the cryptocurrencies of their choice and withdraw or reinvest their hard earned and electricity-free mined profits.
In order to build your farm you will need to play mini games to earn hashrate/mining power and random equipment drops. You can also perform a variety of third party tasks, such as surveys and mobile games downloads, which will earn you RLT, the in-game based currency.
There is no need to deposit any amount of crypto but if you don't want to start from scratch you have the choice of purchasing miners or the game's season pass to speed up the process.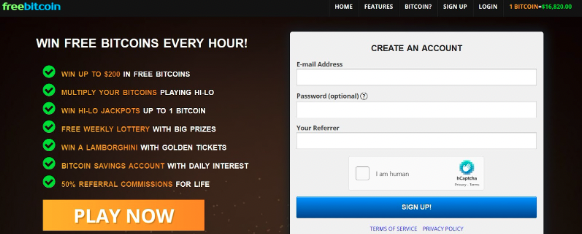 Freebitco.in is one of the oldest crypto faucets going as far back as 2013. The faucet focuses purely on Bitcoin but it also has an Ethereum based token called FUN which has a membership utility, which increases the rewards of the faucet.
One of the key features of Freebitco.in is the Wheel of Fortune, which allows users anywhere from 50 satoshis up to 1 Rolex by simply spinning the wheel. Each user gets 1 free spin with the daily newsletter while premium users can get up to 16 free spins per day.
Each hourly faucet claim pays out a few satoshis depending on your membership level, freebitco.in lottery tickets and reward points; these rewards points can be exchanged for btc, partner offers, or added bonuses for each faucet claim, such as free FUN tokens, higher btc payouts or free Wheel of Fortune spins.
Additionally FUN can be used as a betting currency in DPLAY, a full fledged partner casino with Live tables and slot machines. For your convenience your freebitco.in account can be linked to Dplay to avoid transfer fees.
Learn and Earn
Many exchanges and cointracking sites use this feature to educate their customers, incentivize further purchase and build loyalty.
Coinbase - Investment: free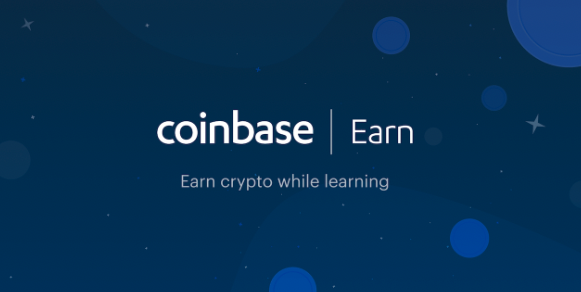 The public listed exchange has been rewarding its users for learning about crypto since 2018. If you haven't opened an account with them already this is your chance. Once you have verified your account, in the app go to learning rewards and you will see a list of 1 min lessons on GRT, AMP, NEAR and others. Learn about the token, answer a one question quiz and check your email for payment confirmation.
Publish0x - Investment: free
Publish0x is an open source news and information portal where users are reward with free cryptos for publising content or tipping other publishers. Publishers earning's depend on the number of views their articles receive and the tips. Every user without the need of a balance can give a tip to a writer whose content he likes. Part of that tip will be returned to the user himself. The tipper can choe whether he will keep 80% and tip the remaining 20% or if he is generous he can tip 80% and receive only 20%.
The content published, while it's usually crypto related, doesn't need to be. Therefore any eager to be writer can publish his work there and receive an income.
Play to Earn
This section refers to crypto games that reward their users for playing. There is a huge list of upcoming projects in development or launching their beta but we will start with ready to play games.
EV.io - Investment: free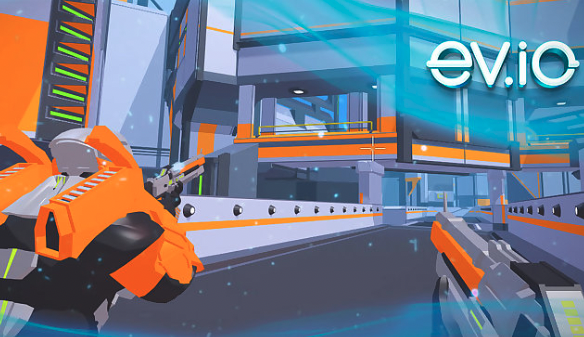 Enthusiast Gaming Holdings is the company behind Ev.io, a browser based First Person Shooter game that rewards players with Solana for every kill made in game.
Ev.io can be played without registering or signing in, simply go to the website and start playing, it won't take you more than 5 seconds to enter the arena. In order to earn SOL however, you will need to create a Solana wallet (Phantom or Fractal; don't worry it's free) and you will start earning "e" for every kill. "e" works like an off-blockchain points system which can be redeemed for SOL.
In theory 10,000 "e" could be redeemed for $5 worth of SOL however, it currently stands slightly under $4. This happens when the team behind ev.io replenishes the SOL Payout wallet at a certain price but Solana drops in price. So there is an additional profit opportunity to hold your "e" and redeem it when the Payout wallet is replenished at a lower price.
Currently you can earn 0.8 "e" for killing a bot and 2 "e" for killing another player but your earning's can increase significantly if you buy or rent 3 NFT's. There are 3 categories of NFT's: Character, Sword and Weapon and 4 types of NFT rarity. You will need one of each category in order to max out your earnings; I cannot give you an exact figure as earnings are both increased and decreased regularly but currently some players with full sets report earning 2.5 "e" per bot kill and 7 "e" per player kill and making on average 200-300 "e" in a 4 min match.
You can either get a full set of common items for around 9.5 SOL, up to 19 SOL for legendary NFT's, or simply rent NFT's from lenders through the Eternity clan discord bot here, which will lend you NFT's at no cost, for a 40% share of the earnings (standard rate).
It's also worth mentioning that NFT holders can lend them p2p which is a bit of tedious process or lend them through the Eternity bot to also add their NFT's to the arsenal and get a 40% share of earnings. The process only requires you to grant access to your ev.io account, which is separate from your Solana wallet (which holds the NFT's), meaning it doesn't involve transferring NFT's to another wallet or signing any sort of on-chain smart contracts.

Axie Infinity is a decentralized marketplace and gaming platform that is built on the Ethereum blockchain. It allows users to buy, sell, and breed virtual creatures called Axies, which can be used to battle other Axies or to explore a virtual world called Lunacia.
To begin playing Axie Infinity, you will need to set up an Ethereum wallet and have some ETH for transaction fees and purchasing Axies. The cost of participating in Axie Infinity will depend on the price of Ethereum and the cost of the Axies that you purchase.
Unless you have been living under a rock for the past few years you will remember the articles featuring Axie Infinity as the leading Web 3 game. Most of us late comers only discovered Axie Infinity at its peak when the barrier of entry was terribly high, at the time getting a team of 3 Axies ranged from the mid 3 figures up to 4 figures.
Currently you can find the lowest quality Axies at a surprisingly low floor price of 2$ and you only need 3 Axies to start playing; so if you enjoy turn based strategy games and believe in the recovery of Axie Infinity give it a shot as it's never been so cheap to start playing it.
Staking
Staking is the process of locking or delegating your coins to a validator in proof of stake blockchains which rewards you with a % yield depending on the amount staked and the blockchain.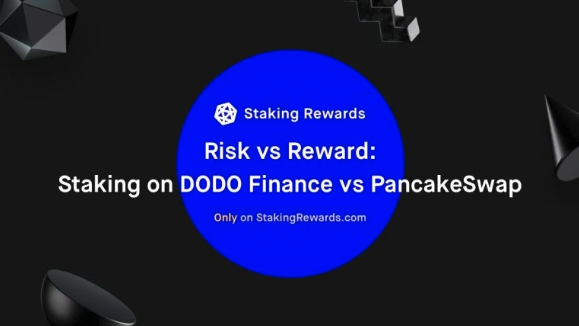 Every blockchain has different mechanics, in some of them there are risks of losing your coins if the validator you selected shows signs of "malicious behavior" such as Polkadot.
If you would like to learn more about stalking on different blockchains head over to Stakingrewards.com and see what are the options and tutorials for the coins in your portfolio.
Crypto cashback cards
Crypto debit cards are a convenient and secure way to spend your cryptocurrency in the real world, or spend your FIAT and earn cashback with every purchase. These cards allow you to load your cryptocurrency onto a physical debit card, which you can then use to make purchases at merchants that accept debit cards.
Two of the leading providers of cryptocurrency debit cards are Crypto.com and Binance.com. Both of these companies offer a range of debit card options that allow you to spend your cryptocurrency at millions of merchants worldwide.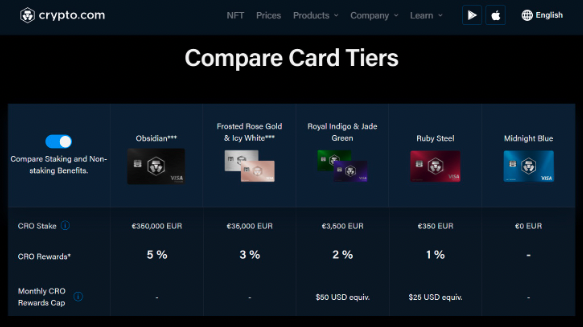 Crypto.com offers a range of debit card options that are designed to suit the needs of different users. The Crypto.com Visa Cards have no annual or monthly fees and offer a number of benefits, including free Spotify, Netflix and Amazon Prime subscriptions (currently 43$ worth of reimbursement), 10% cashback on Expedia, Airbnb and free Airport Lounge Key access with a companion and even access to Crypto.com private which consist on free research reports, priority customer service and industry events access..
The most basic version of the card requires a 350 USD/EUR stake of CRO locked in the platform for a period of 6 months for 1% cashback card, each new tier will require a bigger stake of 10x; 3,500 EUR for the 2% card, 35,000 EUR for the 3% all the way up to the top tier which requires a 350,000 EUR worth of CRO stake.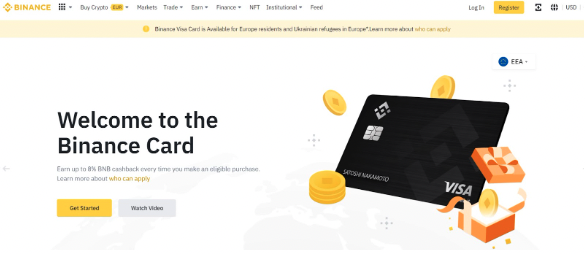 Binance.com also offers a crypto debit card with a range of cashbacks depending on your BNB deposited in the platform. The Binance Card allows users to spend their cryptocurrency at millions of merchants worldwide, and it offers users the option to set their own conversion rates and fees. Binance provides a single card whose benefits increase based on the amount of BNB the user has in his or her account.
The most basic cashback is 0.1% and requires no BNB holding, 1 BNB will increase your cashback to 2%, 10 BNB increases it to 3% and 40 BNB nets you 4%. Large holders of BNB get the best cashback with up to 8% for 600 BNB.
Overall, Crypto.com and Binance.com offer a range of convenient and secure options for spending your cryptocurrency in the real world. Whether you are an individual looking to make everyday purchases or a business owner looking to manage your expenses, these companies offer a range of debit card options that can meet your needs.
On a pure cashback comparison you are better off choosing the Binance card as the amount required is significantly lower. For the 5% cash back Binance will require you to have 100 BNB which is around 25,000 USD at the time of writing this article; while Crypto.com 5% card requires 350,000 EUR worth of CRO lockup stake.
Referrals
Crypto referral programs are a great way for users to earn cryptocurrency by inviting their friends and contacts to join a platform or use a particular service. By participating in a referral program, users can earn a percentage of the cryptocurrency that their referrals earn or transact on these platforms.
Every crypto platform and service in the space has some sort of referral program you can benefit from. Here are some of the most lucrative cryptocurrency referral programs currently available:
Coinbase is a popular cryptocurrency exchange that offers users the opportunity to earn cryptocurrency by referring their friends to the platform. Users can earn up to 9.5 EUR in bitcoin for each friend that they refer to Coinbase, and their friends will also receive the same bonus for signing up and trading a minimum of 95.02 EUR.
Binance is another popular cryptocurrency exchange that offers users the opportunity to earn cryptocurrency through its referral program. They currently have 2 referral modes:
The Standard referral lets users earn up to 40% of the trading fees that their referrals generate on the platform.

The Lite Referral provides a 100 BUSD voucher on trading fees for referring a user that signs up and deposits more than $50.
The company also has a referral program that allows users to earn cryptocurrency by inviting their friends to join the platform. As a matter of fact they have 2 types of referrals: one for the exchange and a second one for the card:
Card: 25$ paid in CRO for signing up and staking for the Ruby Steel card or higher tier (currently around 350$ worth of CRO staked).

Exchange: 50% of trading fees for the first 12 months as well as up to 2000$ worth of CRO based on the CRO amount that your referral stakes on the exchange.