Sign in and earn
This section contains apps that incentivize users to sign in regularly and engage with their content: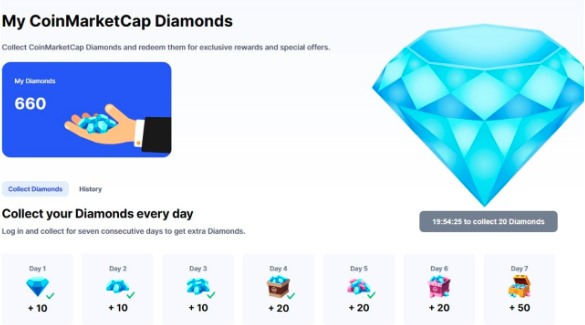 The leading crypto price tracking site rewards their registered users through Coinmarketcap diamonds. Users will be rewarded for signing up daily through the Coinmarketcap app and referring other users. These diamonds are not a cryptocurrency in itself but rather a points system which can be exchanged for gift cards, merchandise, NFTs, event tickets and discounts in crypto related products.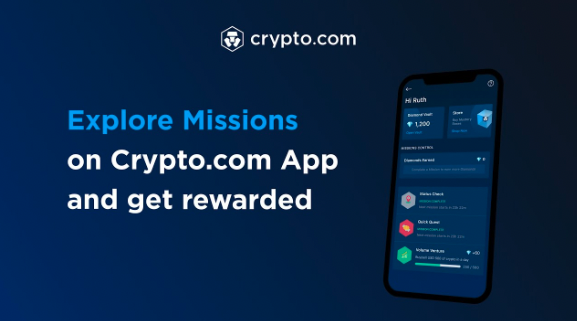 Similar to Coinmarketcap, the Crypto.com app rewards its users with their own virtual diamonds for checking in daily and accomplishing certain activities such as enabling security features, setting up recurrent crypto purchases or daily trading volume goals. Just like the previous example, the diamonds can be redeemed for exclusive merchandise, NFTs and the CRO Mystery Box, which contains up to $1,100 worth of CRO token. You can buy one of these Mystery boxes with just 25 diamonds which is equivalent to 25 days of checking-in or less if you perform additional tasks.
Move to Earn
Move to Earn isn't exactly a concept pioneered by crypto in Web 3, for several years apps like Running Heroes have been rewarding their users with discounts in sport/wellbeing brands, but it is the first time that rewards for steps can be converted into any other crypto or even fiat money. Move to Earn refers to fitness tracking apps that use the smartphone built in sensors to track steps and reward users for staying fit with crypto.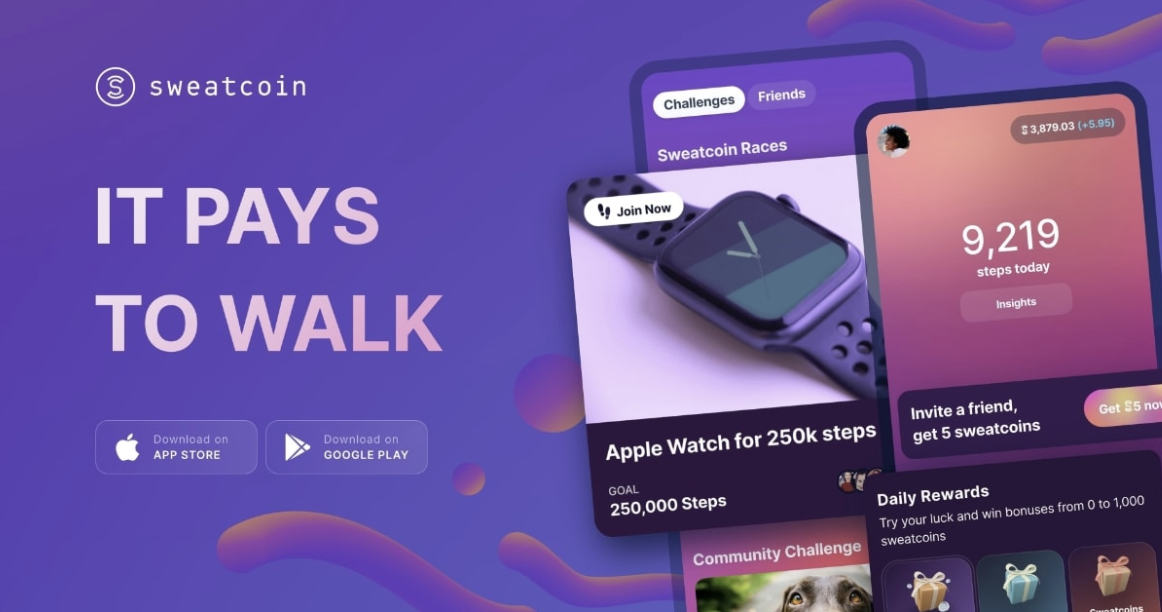 The London based company is one of the first pioneers in the move to earn space. Back in 2016, the app rewarded users with Sweatcoin, a virtual point system similar to the virtual diamonds, which could be exchanged for discounts, fully paid deals on sports and wellbeing products or simply donated to charities.
This year 2022, the company launched the SWEAT app, a free NEAR blockchain based token that can be staked for up to 12% yield or traded for other cryptocurrencies or fiat. In addition to the staking yield, locking up your SWEAT grants you entry to the regular prize draws they organize at no cost, aside the staking requirement; some of these draws include a dinner with the founders, framed signed T-shirts of the most popular football players and gift cards for various brands.
You will need both apps installed and will get rewarded X amount of sweatcoin in the Sweatcoin app for up to 10,000 steps while the SWEAT app will only reward you for your first 5,000 steps; At launch 1000 steps were required to mint 1 SWEAT, at the time of writing this article, it takes almost 2000 steps to mint 1 SWEAT and the difficulty will only continue to increase, so do not delay to take advantage of this free app.
If you have been reading this type of content for some time you probably already noticed a pattern of increased adoption of Bitcoin through the use of the Lightning Network:
sMiles is another Move to Earn App that rewards its users for moving with Satoshis on the Bitcoin Lightning layer. One inconvenience compared to Sweatcoin is that sMiles requires you to activate GPS on your phone to track your steps, however it makes up for it by using a better cryptocurrency for rewards.
In addition to the satoshi rewards for walking, sMiles offer some unusual ways to earn additional sats, you can also earn by playing minigames such as the Fortune wheel or even playing a Chess match against AI.
The app has a large number of Bitcoin cashback offers with partner retailers for Fiat purchases, and also lets users freely withdraw their Satoshis to a non-custodial wallet such as Wallet of Satoshi.
Faucets
Faucets are sites that reward small amounts of cryptocurrencies for performing small tasks such as checking in every determined amount of time or watching ads or answering surveys. The first bitcoin faucet was created in 2010 and gave out 5 BTC per person. Would you have holded them or used them to buy a pizza?
Cointiply - Investment: free
Cointiply rewards users for watching ads, playing minigames & betting games, answering surveys and testing mobile apps. Users get rewarded anywhere from 5 to 100 "coins" per task which can be exchanged for LTC, DASH and DOGE with a minimum 35,000 "coins" or 50,000 coins for BTC. Keep in mind that "coins" are an off chain points system with its value pegged to USD$, so try to redeem your "coins" near the bottom of the crypto market.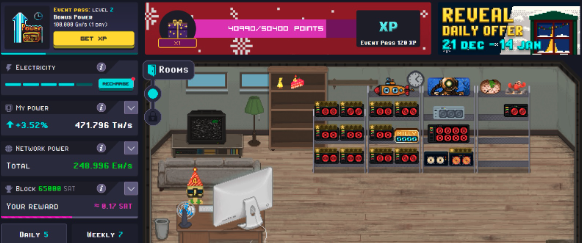 Rollercoin is by far, the coolest crypto faucet in the market. This faucet works as a simulated crypto mining game in which users can get familiarized with the basics of mining and earn from a selection of 11 different cryptocurrencies.
New users will start with an empty room that they will slowly fill with shelves and mining rigs, allocate mining power to the cryptocurrencies of their choice and withdraw or reinvest their hard earned and electricity-free mined profits.
In order to build your farm you will need to play mini games to earn hashrate/mining power and random equipment drops. You can also perform a variety of third party tasks, such as surveys and mobile games downloads, which will earn you RLT, the in-game based currency.
There is no need to deposit any amount of crypto but if you don't want to start from scratch you have the choice of purchasing miners or the game's season pass to speed up the process.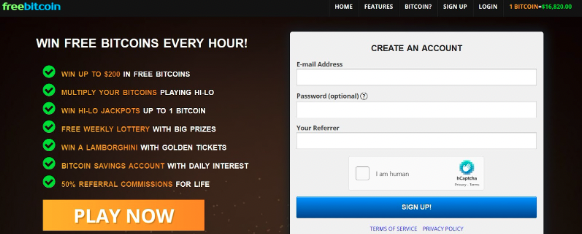 Freebitco.in is one of the oldest crypto faucets going as far back as 2013. The faucet focuses purely on Bitcoin but it also has an Ethereum based token called FUN which has a membership utility, which increases the rewards of the faucet.
One of the key features of Freebitco.in is the Wheel of Fortune, which allows users anywhere from 50 satoshis up to 1 Rolex by simply spinning the wheel. Each user gets 1 free spin with the daily newsletter while premium users can get up to 16 free spins per day.
Each hourly faucet claim pays out a few satoshis depending on your membership level, freebitco.in lottery tickets and reward points; these rewards points can be exchanged for btc, partner offers, or added bonuses for each faucet claim, such as free FUN tokens, higher btc payouts or free Wheel of Fortune spins.
Additionally FUN can be used as a betting currency in DPLAY, a fully fledged partner casino with Live tables and slot machines. For your convenience your freebitco.in account can be linked to DPLAY to avoid transfer fees.
Coinpayu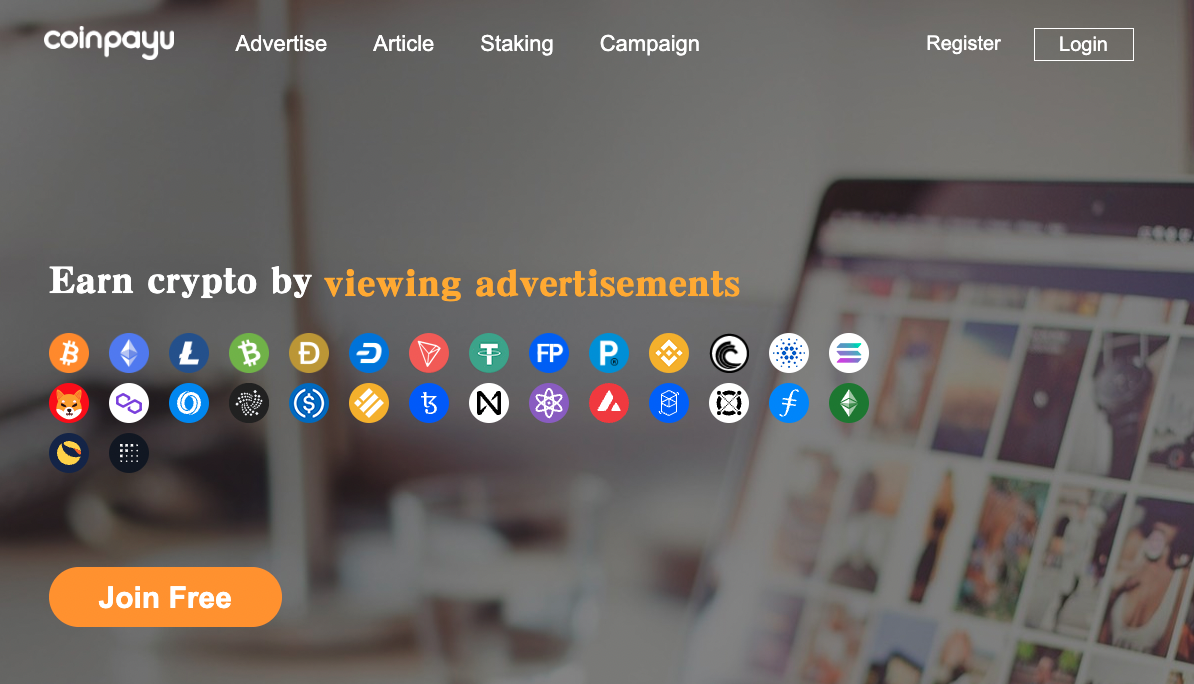 Coinpayu is another faucet that rewards users for viewing ads and completing various tasks. The platform offers several earning options, firstly the faucet option which lets you claim a small amount of four cryptocurrencies out of a list of twenty four bluechip cryptocurrencies available, such as Bitcoin, Ethereum, Cardano, Matic or Tether USDT.
Secondly, the View Ads section features multiple options of advertisements to earn satoshis for every view : Surf Ads and Window Ads are essentially simple advertisements to view without any specific input from the user. Article Ads do require you to "read" or at least spend a specific amount on the page and click on any link of the page to provide a "proof of engagement". Finally video Ads require you to watch a video advertisement and complete a captcha to receive the reward.
Any of these actions will net you anywhere from two to twelve satoshis, which is the standard subunit of a Bitcoin.
Coinpayu also offers a referral program, allowing users to earn more Satoshi by inviting others to join the platform.
Learn and Earn
This section encompasses the incentivized learning products of exchanges and Web 3 incentivized social media / content platforms. Regardless of the mechanic, it is all about earning by learning about crypto, reading articles or watching videos..
Coinbase - Investment: free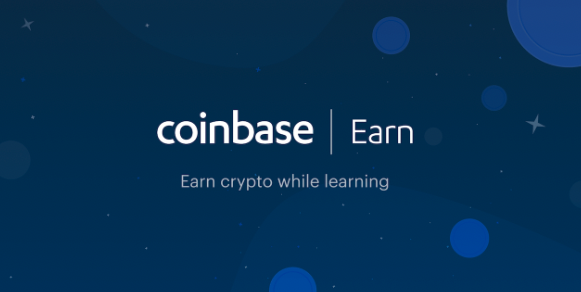 The public listed exchange has been rewarding its users for learning about crypto since 2018. If you haven't opened an account with them already this is your chance. Once you have verified your account, in the app go to learning rewards and you will see a list of 1 min lessons on GRT, AMP, NEAR and others. Learn about the token, answer a one question quiz and check your email for payment confirmation.
Publish0x - Investment: free
Publish0x is an open source news and information portal where users are rewarded with free cryptos for publising content or tipping other publishers. Publishers earning's depend on the number of views their articles receive and the tips. Every user without the need of a balance can give a tip to a writer whose content he likes. Part of that tip will be returned to the user himself. The tipper can choose whether he will keep 80% and tip the remaining 20% or if he is generous he can tip 80% and receive only 20%.
The content published, while it's usually crypto related, doesn't need to be. Therefore any eager 'to be' writer can publish their work there and receive an income.
Fountain - The podcast app that pays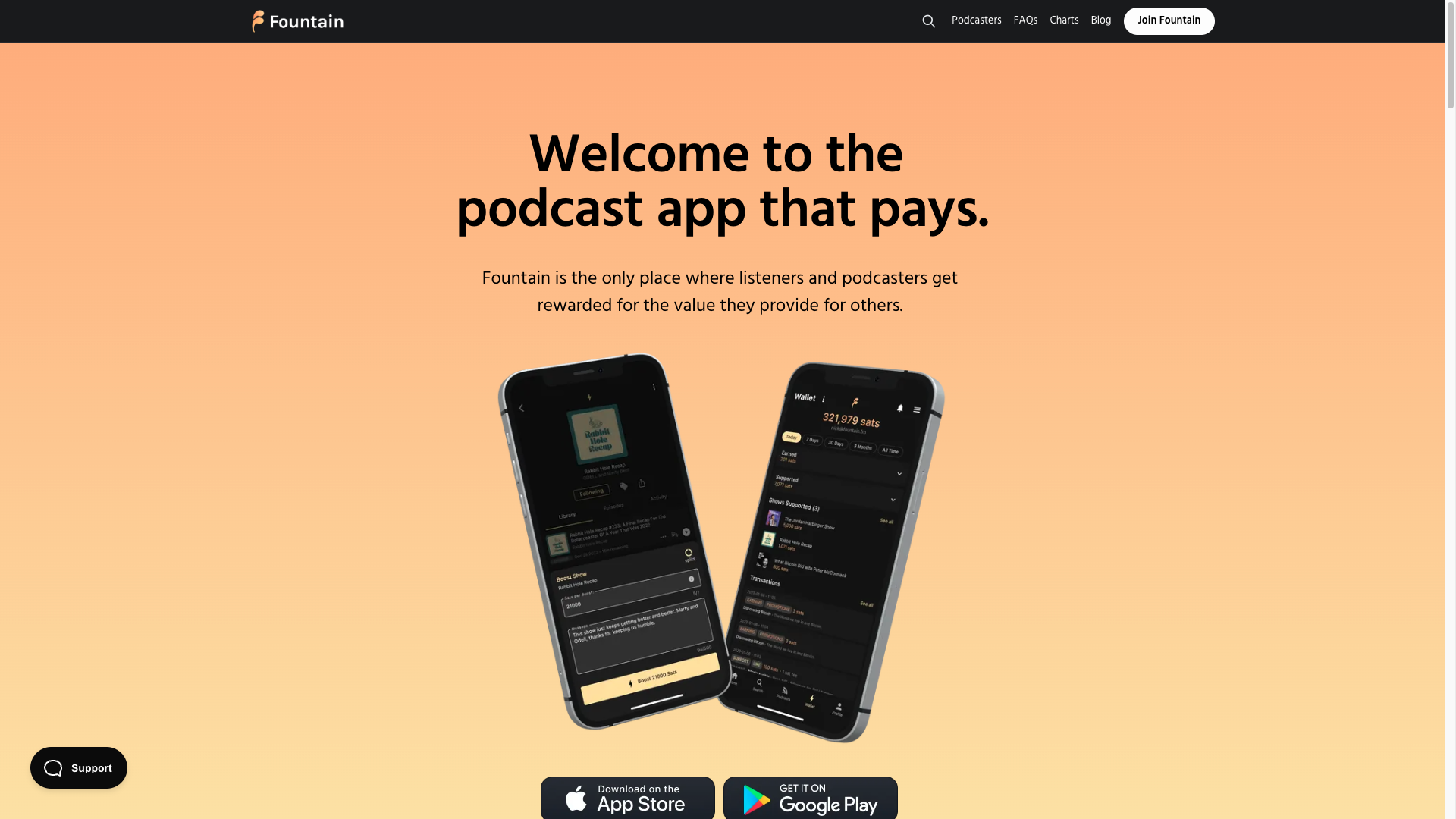 As the title states, Fountain is a groundbreaking podcast app that actually rewards its users for creating value, listening to the podcasts, interacting with the content or simply referring other people. The platform features a large selection of the most popular crypto related podcasts such as the Orange Pill, What Bitcoin Did or the What is Money, among others non crypto podcast themes.
Traditionally, social networks would only reward themselves and their content creators, that now changes with pioneering apps like Fountain that recognize the value that users bring to the platform. The social media platforms of the future are here today, rewarding their users for being active members of the platform and for helping the user base grow.
Now Bitcoin transactions can be slow and expensive, making it difficult to earn and withdraw small amounts of Bitcoin. What sets Fountain apart from other platforms is the Lightning Network, a second-layer payment protocol that allows for near-instant Bitcoin transactions with minimal fees. This makes it perfect for micro-transactions, such as those used in Fountain, since you'll be earning roughly 1 satoshi per minute of listening.
Steemit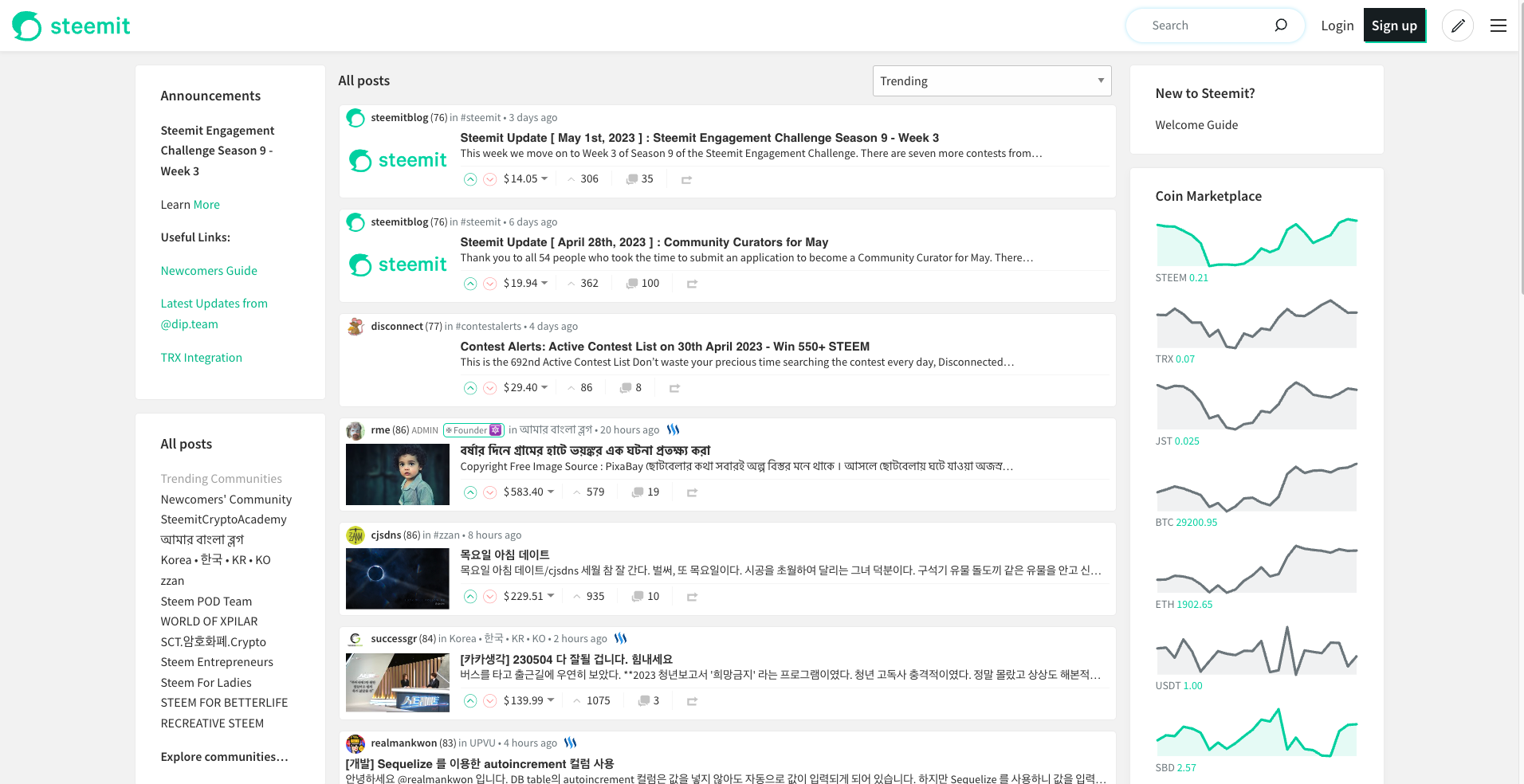 Steemit is a Web 3 social media platform that rewards its users for building and growing the social economy - a community where users are rewarded for sharing their voice. It's a new kind of attention economy.
Steemit is a platform that rewards users for creating and curating content. Users can earn digital assets by writing blog posts, commenting on other users' posts, and upvoting quality content. The platform uses a unique algorithm to determine the value of each post, making it essential for users to create high-quality content, or in turn curate, comment and upvote quality content before it gets popular, to earn a significant amount of digital assets.
Steemit.com is built on the Steem blockchain and rewards users with its STEEM native token, think of it as a rewards point system, except, since it is blockchain based, the token can be easily traded among users and speculators, which in turn establishes its value.
Steemit is an excellent platform for individuals who are passionate about writing and reading and want to earn digital assets for their work or participation in the platform.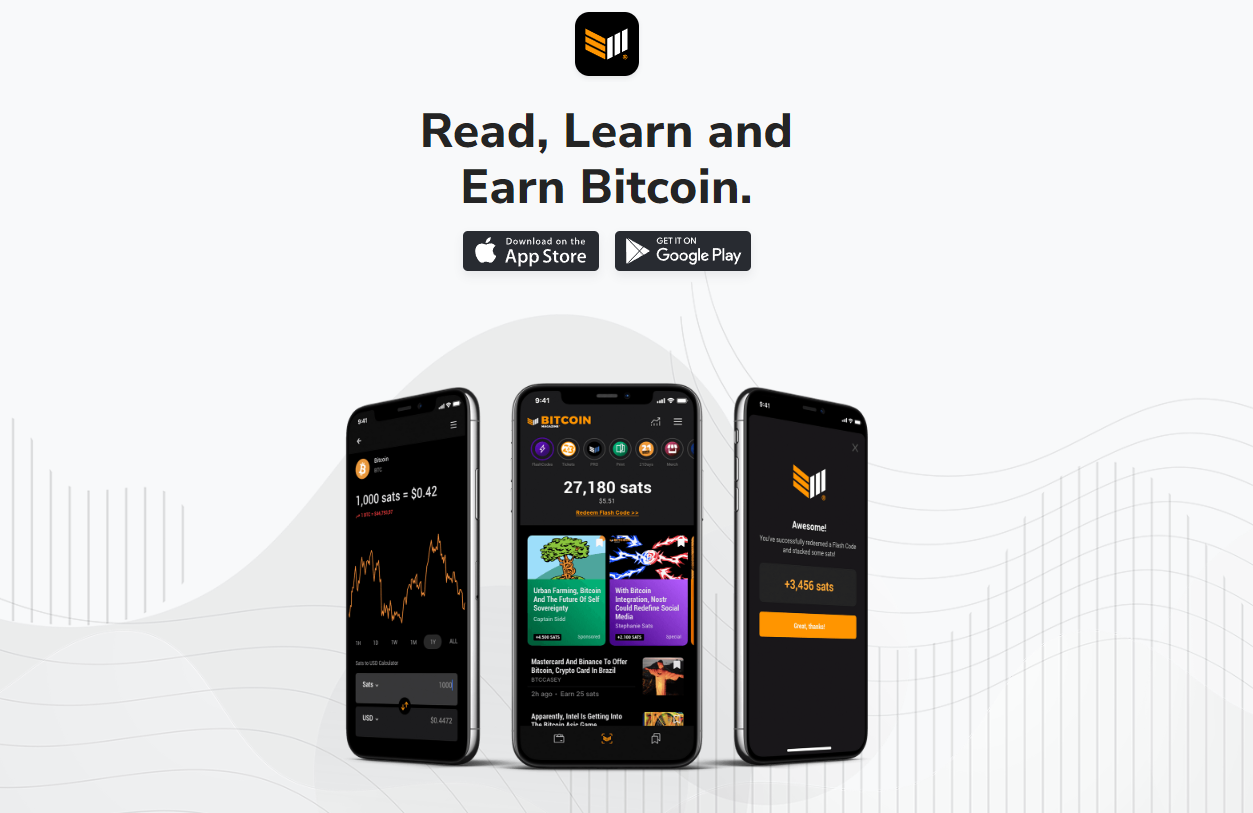 Unless you have been living under a rock you already know what Bitcoin Magazine is, a website, mobile app and print magazine about Bitcoin.
What you probably didn't know is that you can earn sats in the app for simply reading articles and you also have the chance to get additional airdrops of satoshis from sponsors of the magazine.In case you are completely new in this space or simply want to brush up your Bitcoin knowledge, you can sign up to the 21 days of Bitcoin to receive one lesson every day in your mailbox and 2100 satoshis after passing the quiz at the end of the course.
Play to Earn
This section refers to crypto games that reward their users for playing. There is a huge list of upcoming projects in development or launching their beta but we will start with ready to play games.
EV.io - Investment: free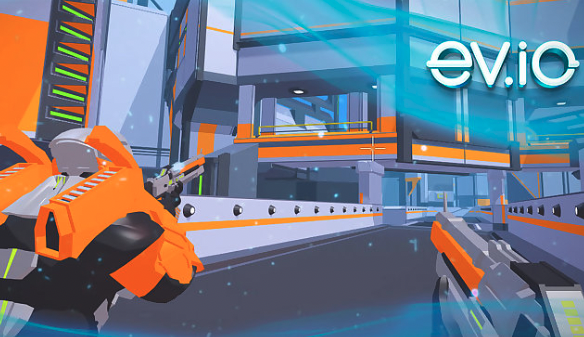 Enthusiast Gaming Holdings is the company behind Ev.io, a browser based First Person Shooter game that rewards players with Solana for every kill made in game.
Ev.io can be played without registering or signing in, simply go to the website and start playing, it won't take you more than 5 seconds to enter the arena. In order to earn SOL however, you will need to create a Solana wallet (Phantom or Fractal; don't worry it's free) and you will start earning "e" for every kill. "e" works like an off-blockchain points system which can be redeemed for SOL.
In theory 10,000 "e" could be redeemed for $5 worth of SOL however, it currently stands slightly under $4. This happens when the team behind ev.io replenishes the SOL Payout wallet at a certain price but Solana drops in price. So there is an additional profit opportunity to hold your "e" and redeem it when the Payout wallet is replenished at a lower price.
Currently you can earn 0.8 "e" for killing a bot and 2 "e" for killing another player but your earning's can increase significantly if you buy or rent 3 NFT's. There are 3 categories of NFT's: Character, Sword and Weapon and 4 types of NFT rarity. You will need one of each category in order to max out your earnings; I cannot give you an exact figure as earnings both increase and decrease regularly but currently some players with full sets report earning 2.5 "e" per bot kill and 7 "e" per player kill and making on average 200-300 "e" in a 4 min match.
You can either get a full set of common items for around 9.5 SOL, up to 19 SOL for legendary NFT's, or simply rent NFT's from lenders through the Eternity clan discord bot here, which will lend you NFT's at no cost, for a 40% share of the earnings (standard rate).
It's also worth mentioning that NFT holders can lend them p2p which is a bit of a tedious process or lend them through the Eternity bot to also add their NFT's to the arsenal and get a 40% share of earnings. The process only requires you to grant access to your ev.io account, which is separate from your Solana wallet (which holds the NFT's), meaning it doesn't involve transferring NFT's to another wallet or signing any sort of on-chain smart contracts.
Ev.io tournaments and Fractal's monthly Deathmatch event
Since we wrote about Ev.io, the company has been making leaps towards collaborations with other crypto companies, exclusive skin mints and sponsored events. Generally, entering these events has no entry fees, since renting the skins is free, aside from the 40% commission the lenders take.
Fractal, a multi chain NFT marketplace has generously sponsored a series of monthly events. Every month from the 15th to 18th, every player gets the chance to earn from Fractal's generous sidepot, effectively increasing everyone's earning by a factor of 5-7 times what they usually earn. The only catch is that players must use a Fractal wallet which you can create for free on their site. Make sure to double check the dates of the event here, as its dates might change slightly depending on the month.
Also, if you are a competitive player you may also want to take a chance in their sponsored tournaments, where the prizes go from $150 to $4000 USD to be split between the top players while the event's prizes are distributed between all participants.
Fractal Events & Tournaments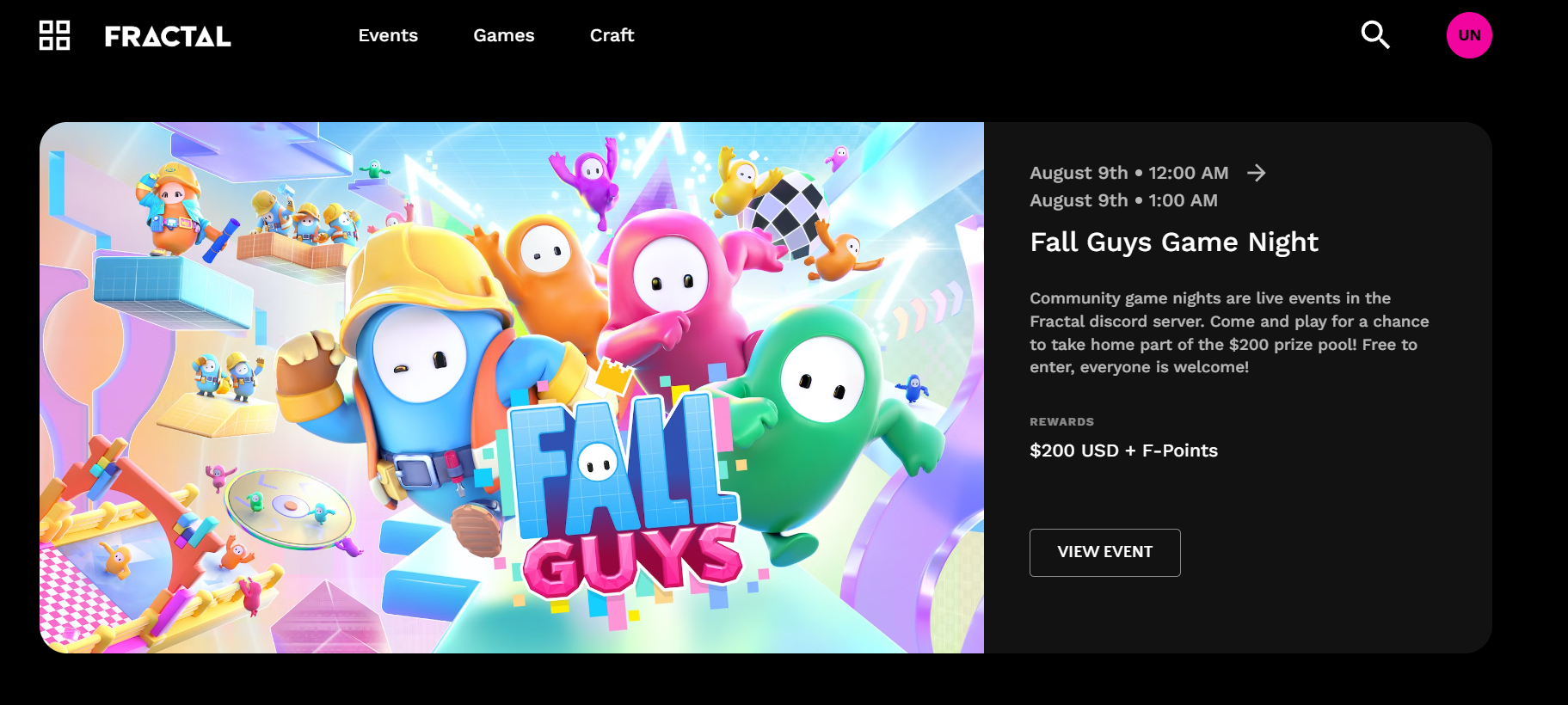 As stated before Fractal is one of the leading multi chain NFT marketplaces for the Solana, Polygon and Ethereum network. The platform runs multiple events per week around Web 3 games such as ev.io and regular video games such as Fall guys or Team Fortress 2.
In order to participate users will have to create a Fractal wallet which will provide you with wallets for ETH, SOL & MATIC; each event may run on a particular blockchain and will reward you based on your participation with native tokens and eventually in-game rewards such as whitelist tokens for future sales or even rare NFT's for that particular game.

Axie Infinity is a decentralized marketplace and gaming platform that is built on the Ethereum blockchain. It allows users to buy, sell, and breed virtual creatures called Axies, which can be used to battle other Axies or to explore a virtual world called Lunacia.
To begin playing Axie Infinity, you will need to set up an Ethereum wallet and have some ETH for transaction fees and purchasing Axies. The cost of participating in Axie Infinity will depend on the price of Ethereum and the cost of the Axies that you purchase.
Unless you have been living under a rock for the past few years you will remember the articles featuring Axie Infinity as the leading Web 3 game. Most of us late comers only discovered Axie Infinity at its peak when the barrier of entry was terribly high, at the time getting a team of 3 Axies ranged from the mid 3 figures up to 4 figures.
Currently you can find the lowest quality Axies at a surprisingly low floor price of $2 and you only need 3 Axies to start playing; so if you enjoy turn based strategy games and believe in the recovery of Axie Infinity give it a shot as it's never been so cheap to start playing it.
Thndr Games: Revolutionizing Mobile Gaming with Play-to-Earn and Lightning Network Bitcoin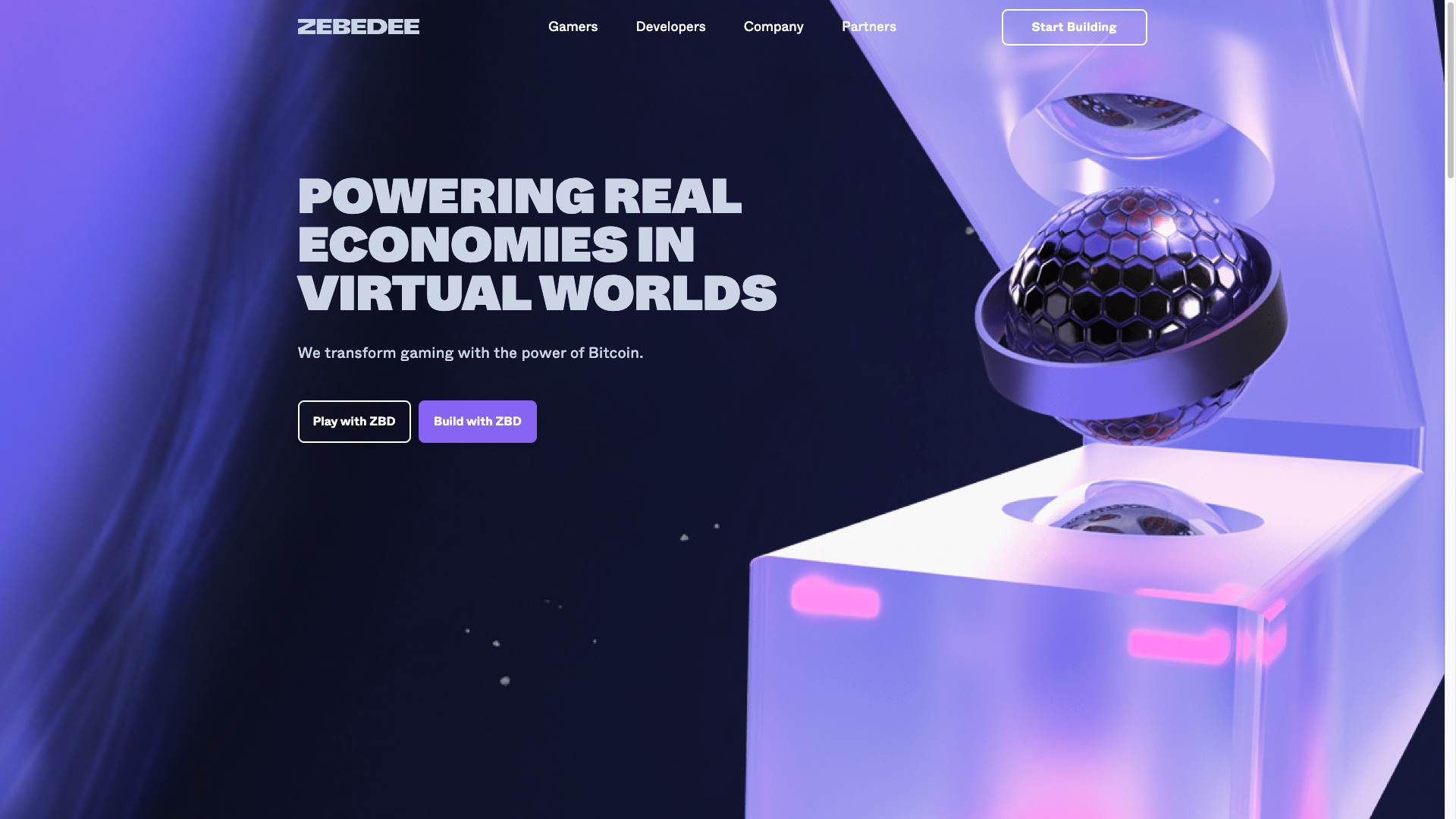 The world of mobile gaming is changing rapidly, and Thndr Games is leading the charge with their innovative approach to gaming and blockchain technology. Thndr Games is a mobile gaming company that offers players the opportunity to earn Bitcoin through play-to-earn games that are powered by the Lightning Network. With games like Club Bitcoin, Bitcoin Miner, and Bitcoin Block, Thndr Games is leading a new era of mobile gaming that combines fun, rewards, and blockchain technology with a focus on Bitcoin.
One of the most exciting aspects of Thndr Games is the play-to-earn feature. This allows players to earn Bitcoin by simply playing their favorite games. The more they play, the more they can earn. This creates a new paradigm in mobile gaming, where players are no longer just playing for fun but also for real rewards.
Thndr Games uses the Lightning Network to power their play-to-earn games. The Lightning Network is a second-layer payment protocol that allows for fast and cheap Bitcoin transactions. This means that players can earn and withdraw their Bitcoin rewards quickly and easily, without having to worry about high fees or slow transaction times. In order to participate you will first need to download a Lightning Network enabled mobile wallet such as Wallet of Satoshi, the simplest custody mobile wallet. Another alternative is Zebedee, a gaming Hub and custodial wallet that will introduce you to a large range of earning enabled games: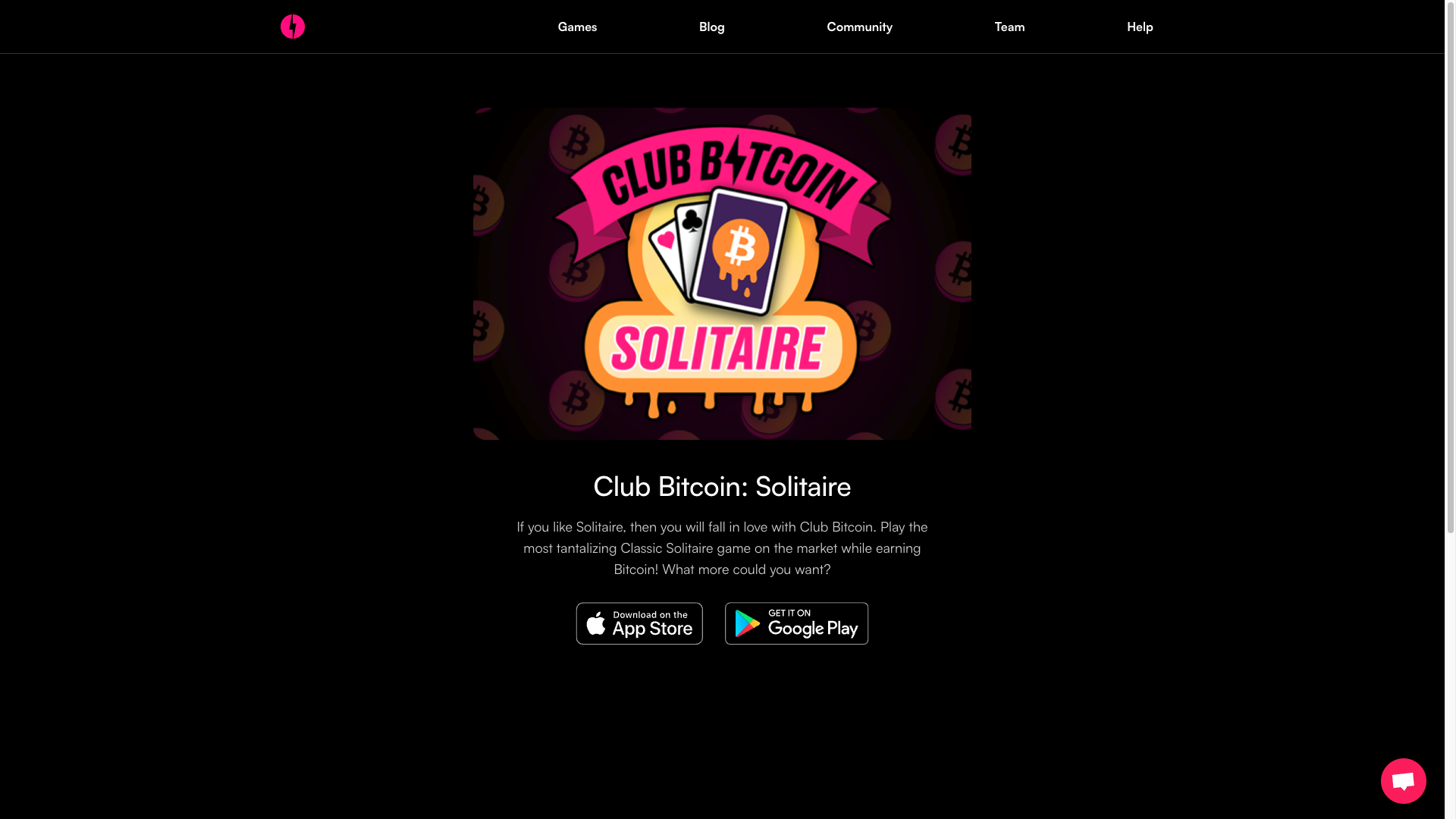 Club Bitcoin is a classic solitaire game from the good old days, except it rewards you with satoshis for your time played and for winning the game. It actually pays off tickets every time you win the game or even if you are stuck and start a new game. These tickets are automatically redeemed several times a day from a pot of Satoshi rewards; which are the smallest denomination of a Bitcoin (1BTC=100 '000' 000 satoshis or sats). Turns out that actually winning something in a game makes it way more fun.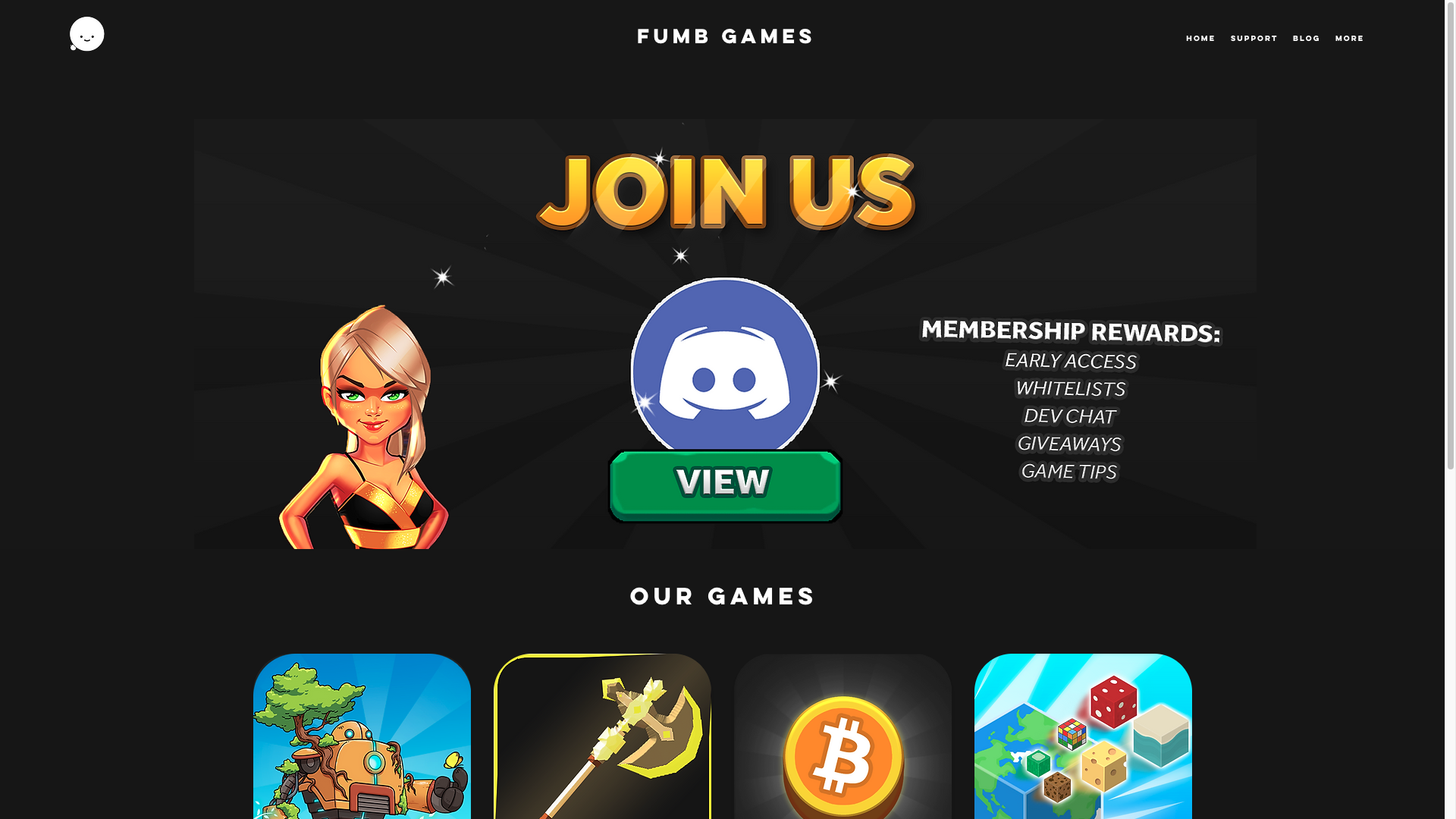 Bitcoin Miner is a crypto mining simulator game from Fumb games. Players start without any miners and have to tap the mine button (pickaxe) to earn virtual coins. These coins are then used to purchase and level up the mining floors or increase miner perks (speed, yield, offline earnings).
Once you have bought a few mining floors, there are two things that you should keep an eye for: Nodes and Sats, they will randomly appear on the coins mined and you will have to tap on them before they reach your piggy bank, in order to collect them. Nodes will be useful to permanently increase your production while the sats are actual Satoshis that you will be able to withdraw to your wallet, whenever you like. It may seem trivial at first but every sat counts and also consider that you will be earning sats faster than in traditional crypto faucets
Tetro Tiles is a simple puzzle game on a Sudoke-like board. Players must form full lines with the given pieces and try to max out the score all the way up to level 25. Winning in Tetro Tiles, just like with Club Bitcoin, will reward you with tickets that are automatically redeemed for Satoshis and are free to withdraw from as little as 1 satoshi.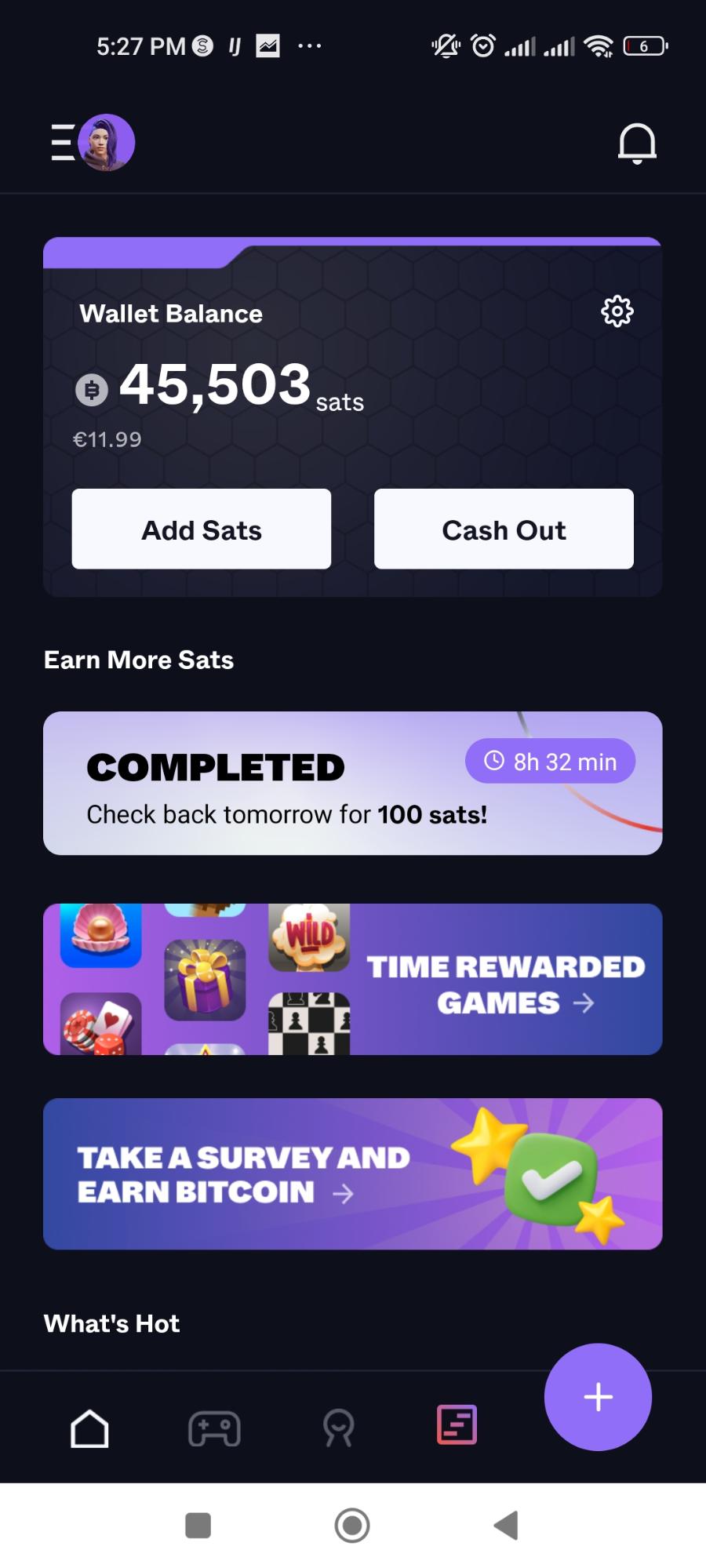 Zebedee is a custodial Bitcoin Lightning wallet and a gaming & app HUB for all sorts of crypto earning sources. ZBD recently launched a daily quiz on Bitcoin trivia and general questions such as what was the pseudonym of the inventor of Bitcoin or what device do you use the most to play games.
Pair the Bitcoin Miner game with the daily quizzes of ZBD and you can count on a steady 600 sats (0.17$) of Bitcoin every day, sure It's only a small amount but every day is a chance to increase your stack and there's no telling how much it will appreciate in the future; even if it doesn't those 600 sats can easily be your way to experiment with the speed and cheap transaction fees of the Lightning Network.
Please make sure to withdraw your earnings to a non-custodial Lightning Network wallet for added security and peace of mind.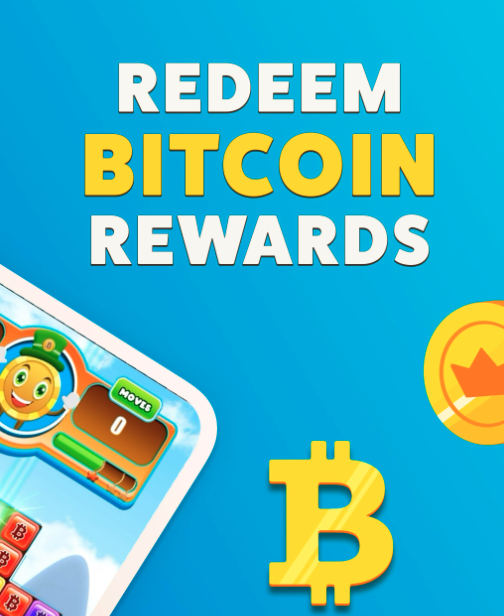 Finally, Bitcoin Block is a puzzle game that requires players to solve increasingly difficult puzzles to earn virtual coins. The game is designed to be challenging and requires players to use their logic and problem-solving skills to progress through the levels. You will earn around 2 thousand coins per level and once you have reached 40 thousand coins you will be able to redeem it for sats. The only downside of Bitcoin Blocks is that withdrawals will only work with a Coinbase wallet; it's not evidently not a deal breaker but it would be nice if, like other games, it will provide a range of wallet options to withdraw.
Bug Bounties
Yes, this isn't exactly free crypto but these are such juicy opportunities that we can't let it go unmentioned. Bug bounty are programs offered by companies that reward individuals for finding and reporting security vulnerabilities or software bugs in their systems.
So if you are a cybersecurity wizard or you plan to become one, these are the platforms that will reward you for it:
Immunefi is a decentralized bug bounty platform that aims to make the internet a safer place by incentivizing security researchers and ethical hackers to identify and report vulnerabilities in various blockchain-based projects. The platform connects security experts with blockchain companies that are looking to improve their security.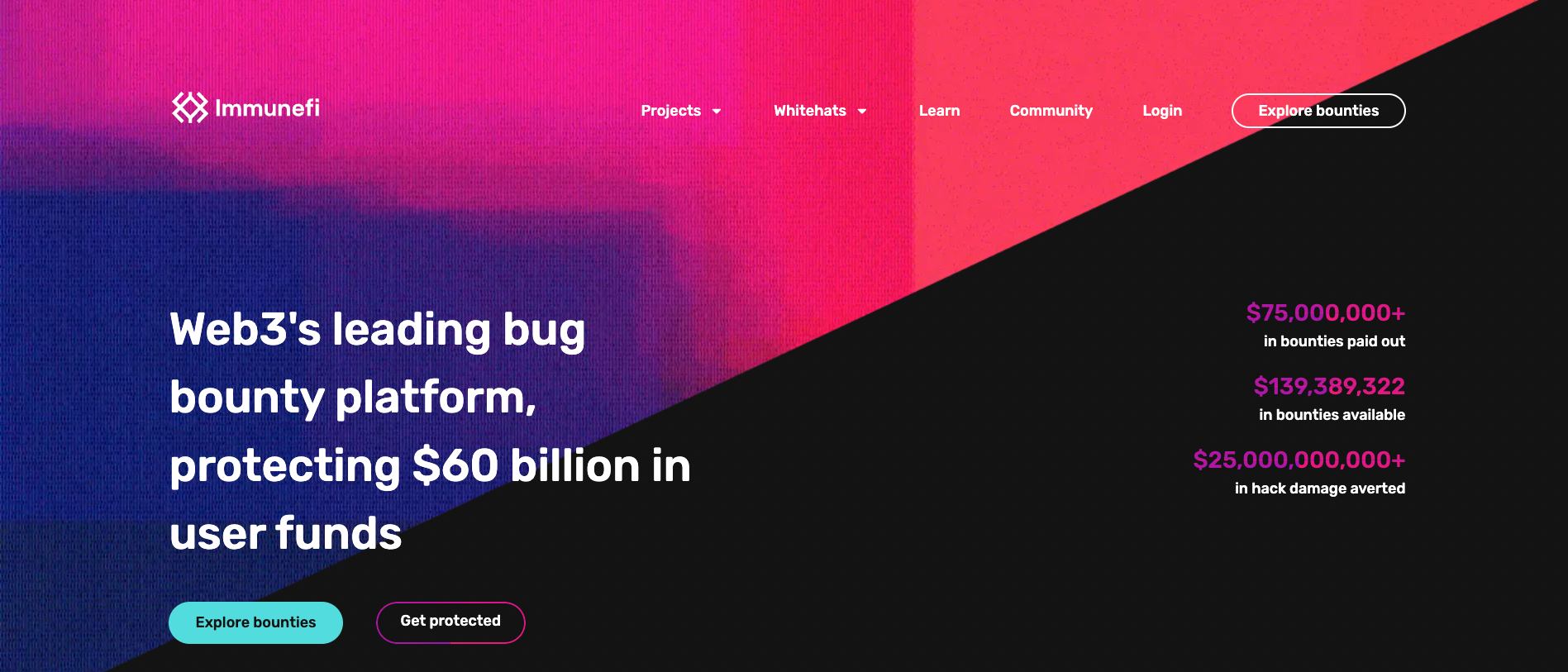 One of the key features of Immunefi is its easy-to-use interface, which allows companies to launch their bug bounty programs within minutes. Companies can create a detailed scope for their bounty program, set the reward budget, and provide detailed information on the types of vulnerabilities they are looking to find. Security researchers can then browse through the available bounty programs and start identifying potential vulnerabilities and earn those sweet rewards.
Staking and Lending
Staking is the process of locking or delegating your coins to a validator in proof of stake blockchains which rewards you with a % yield depending on the amount staked and the blockchain.
Crypto Lending generally involves transferring the cryptocurrencies to a third party, generally a crypto exchange, who will lend it to its users or betted institutions, stake it on your behalf or use it for collateralized loans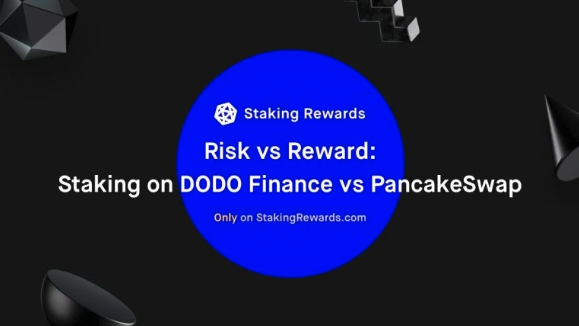 Every blockchain has different mechanics, in some of them there are risks of losing your coins if the validator you selected shows signs of "malicious behavior" such as Polkadot.
If you would like to learn more about staking on different blockchains head over to Stakingrewards.com and see what are the options and tutorials for the coins in your portfolio.
Warning: Cryptocurrency lending is not without risks as exposed by the multiple Chapter 11 bankruptcy proceedings that most crypto lenders have or are going through. Similarly to banks any deposit you make is effectively transferring ownership of the assets to the crypto lender and converting you into a creditor of the company. This means that in the event the company is reckless with its assets and goes bankrupt, you will have to fight for a dollarized valuation of your crypto assets. Furthermore unsecured creditors are behind secured creditors in terms of funds recovered. It is up to you to decide if the 1% to 10% annual interest is worth risking up to 100% of your deposit.
Nexo is a cryptocurrency lending platform that offers a unique alternative to earn crypto. The platform allows users to earn interest on their cryptocurrency holdings, as well as borrow against their holdings without having to sell their coins.
Nexo offers a simple and user-friendly interface that makes it easy to manage your crypto holdings. You can deposit a variety of cryptocurrencies, including Bitcoin, Ethereum, Litecoin, and many other top tier coins, and earn interest on your deposits. The interest rates offered by Nexo are competitive and vary depending on the cryptocurrency you deposit.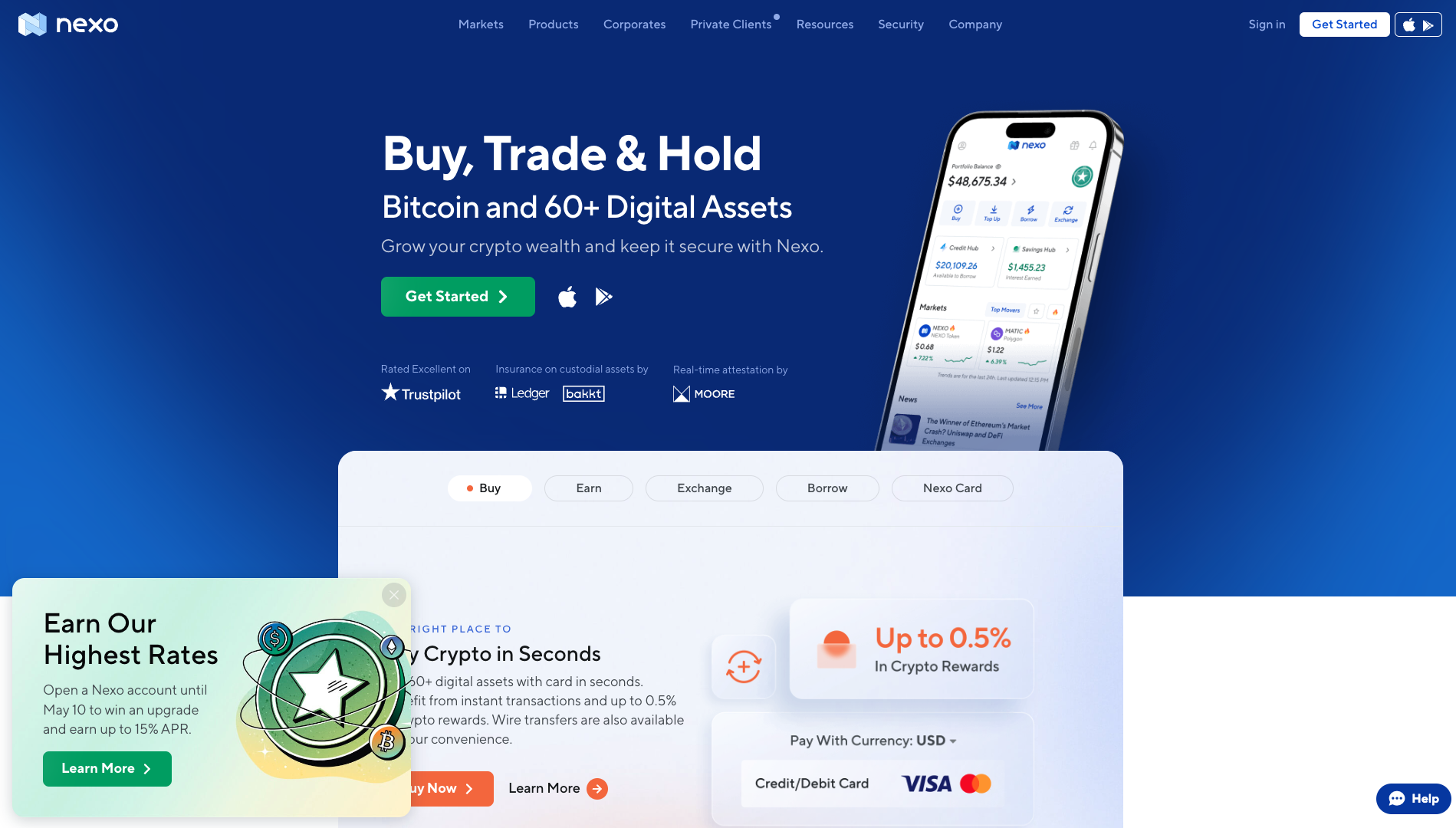 In addition to earning interest on your deposits, Nexo also offers a lending service that allows you to borrow against your holdings. This can be a useful alternative to selling your coins, as you can use your holdings as collateral for a loan. Nexo offers flexible loan terms, and you can choose to repay your loan in either cryptocurrency or fiat currency.
Nexo also offers a Nexo Card, which allows you to spend your cryptocurrency holdings anywhere that accepts Visa. This can be a useful feature for those who want to use their cryptocurrency for everyday purchases.
Binance is one of the world's leading cryptocurrency exchanges, offering a wide range of products and services to its users. One of these services is Binance Earn, which allows users to earn interest on their cryptocurrency holdings.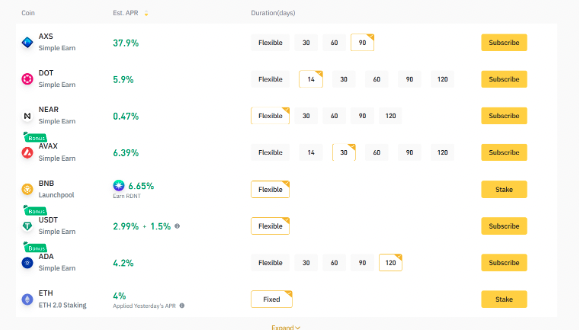 Binance Earn offers a variety of different products and features, each with its own set of interest rates, terms, and conditions. The main products offered by Binance Earn include:
Flexible Savings: This allows users to deposit their cryptocurrency and earn interest on a flexible basis. There are no minimum deposit requirements or fixed terms, and users can withdraw their funds at any time.

Locked Savings: This product allows users to earn higher interest rates by locking their cryptocurrency for a fixed term. The longer the term, the higher the interest rate. There is also the option to recover the locked amount minus the amount already received in interest.

Staking: Binance also allows users to stake certain cryptocurrencies in exchange for rewards. Staking involves locking a certain amount of cryptocurrencies on-chain but keep in mind that depending on the cryptocurrency and your holdings you are better off stacking it yourself instead of using Binance Staking as a service.

Launchpool: This is a platform for participating in new token launches. Users can stake Binance Coin (BNB) or other cryptocurrencies to earn new tokens at a discounted rate.
Binance Earn is a useful feature for those who want to earn passive income from their cryptocurrency holdings easily instead of learning how to do it themselves.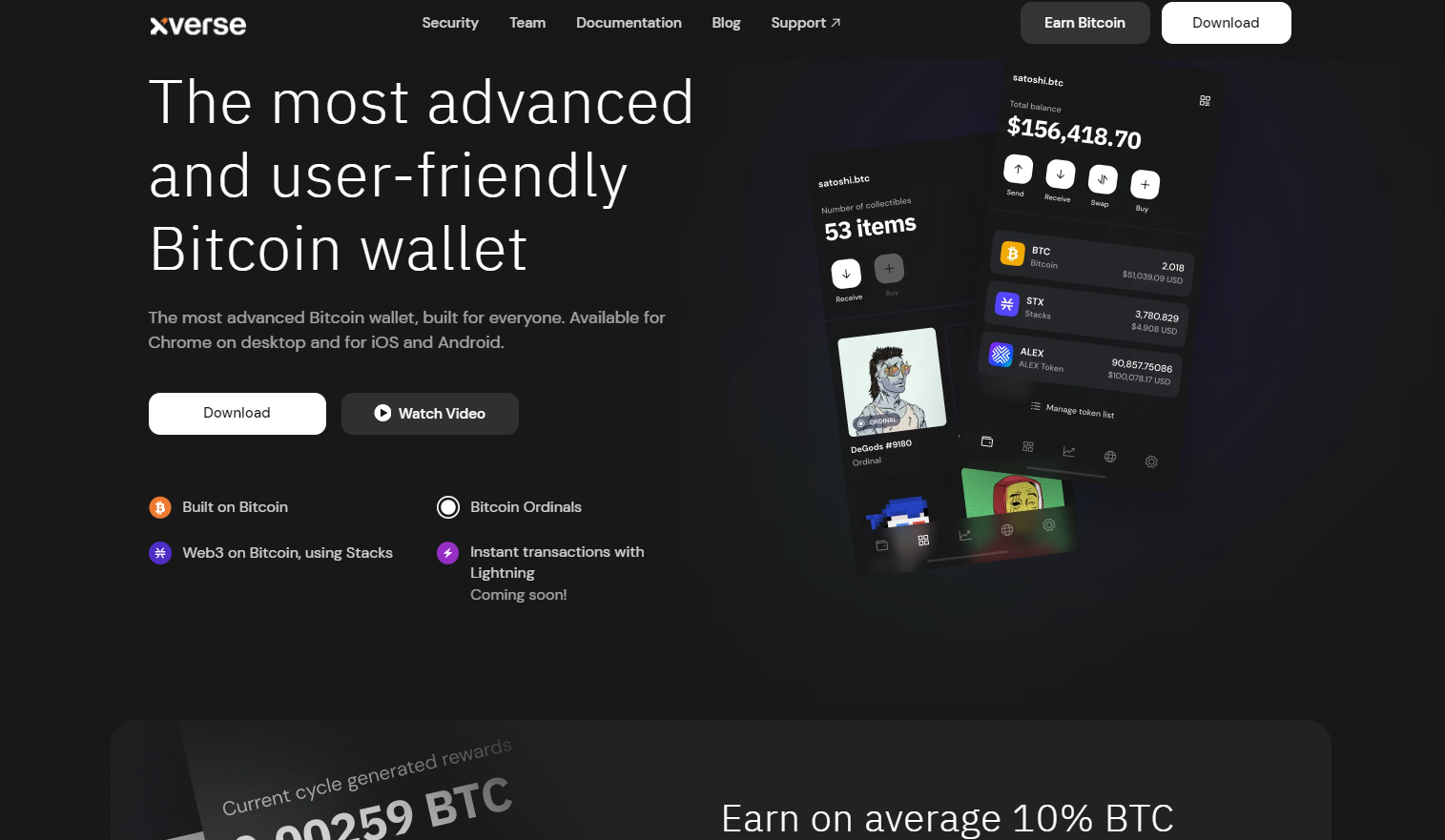 STX, also known as Stacks and formerly as Blockstack, is a unique Bitcoin Layer 1 solution that leverages the Bitcoin blockchain to enable decentralized applications and smart contracts.
Instead of relying on a separate blockchain, STX adopts a novel approach by "stacking" on top of the Bitcoin blockchain. The STX blockchain anchors its security to the Bitcoin network, ensuring a high level of robustness and immutability.
Stacking STX
STX holders can actively participate in securing the network by "staking" their tokens. Staking involves locking a certain amount of STX tokens in a designated wallet to support the network's consensus mechanism and earning Bitcoin or STX depending on the size of your locked stack.
Users can choose from a selection of wallets to stake and earn ~10% but the leading ones are: Hiro Wallet (browser & desktop) or Xverse (mobile app).
Crypto cashback cards
Crypto debit cards are a convenient and secure way to spend your cryptocurrency in the real world, or spend your FIAT and earn cashback with every purchase. These cards allow you to load your cryptocurrency onto a physical debit card, which you can then use to make purchases at merchants that accept debit cards.
Two of the leading providers of cryptocurrency debit cards are Crypto.com and Binance.com. Both of these companies offer a range of debit card options that allow you to spend your cryptocurrency at millions of merchants worldwide.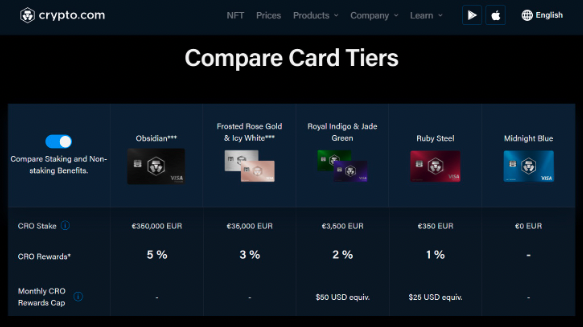 Crypto.com offers a range of debit card options that are designed to suit the needs of different users. The Crypto.com Visa Cards have no annual or monthly fees and offer a number of benefits, including free Spotify, Netflix and Amazon Prime subscriptions (currently $43 worth of reimbursement), 10% cashback on Expedia, Airbnb and free Airport Lounge Key access with a companion and even access to Crypto.com private which consist on free research reports, priority customer service and industry events access.
The most basic version of the card requires a 350 USD/EUR stake of CRO locked in the platform for a period of 6 months for 1% cashback card, each new tier will require a bigger stake of 10x; 3,500 EUR for the 2% card, 35,000 EUR for the 3% all the way up to the top tier which requires a 350,000 EUR worth of CRO stake.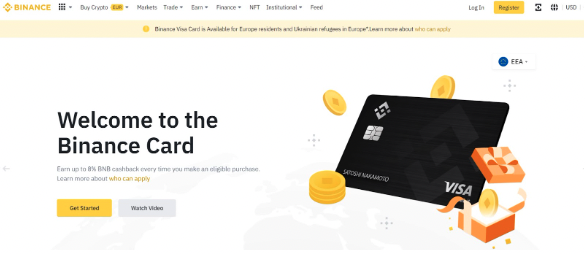 Binance.com also offers a crypto debit card with a range of cashbacks depending on your BNB deposited in the platform. The Binance Card allows users to spend their cryptocurrency at millions of merchants worldwide, and it offers users the option to set their own conversion rates and fees. Binance provides a single card whose benefits increase based on the amount of BNB the user has in his or her account.
The most basic cashback is 0.1% and requires no BNB holding, 1 BNB will increase your cashback to 2%, 10 BNB increases it to 3% and 40 BNB nets you 4%. Large holders of BNB get the best cashback with up to 8% for 600 BNB.
Overall, Crypto.com and Binance.com offer a range of convenient and secure options for spending your cryptocurrency in the real world. Whether you are an individual looking to make everyday purchases or a business owner looking to manage your expenses, these companies offer a range of debit card options that can meet your needs.
On a pure cashback comparison you are better off choosing the Binance card as the amount required is significantly lower. For the 5% cash back Binance will require you to have 100 BNB which is around 25,000 USD at the time of writing this article; while Crypto.com 5% card requires 350,000 EUR worth of CRO lockup stake.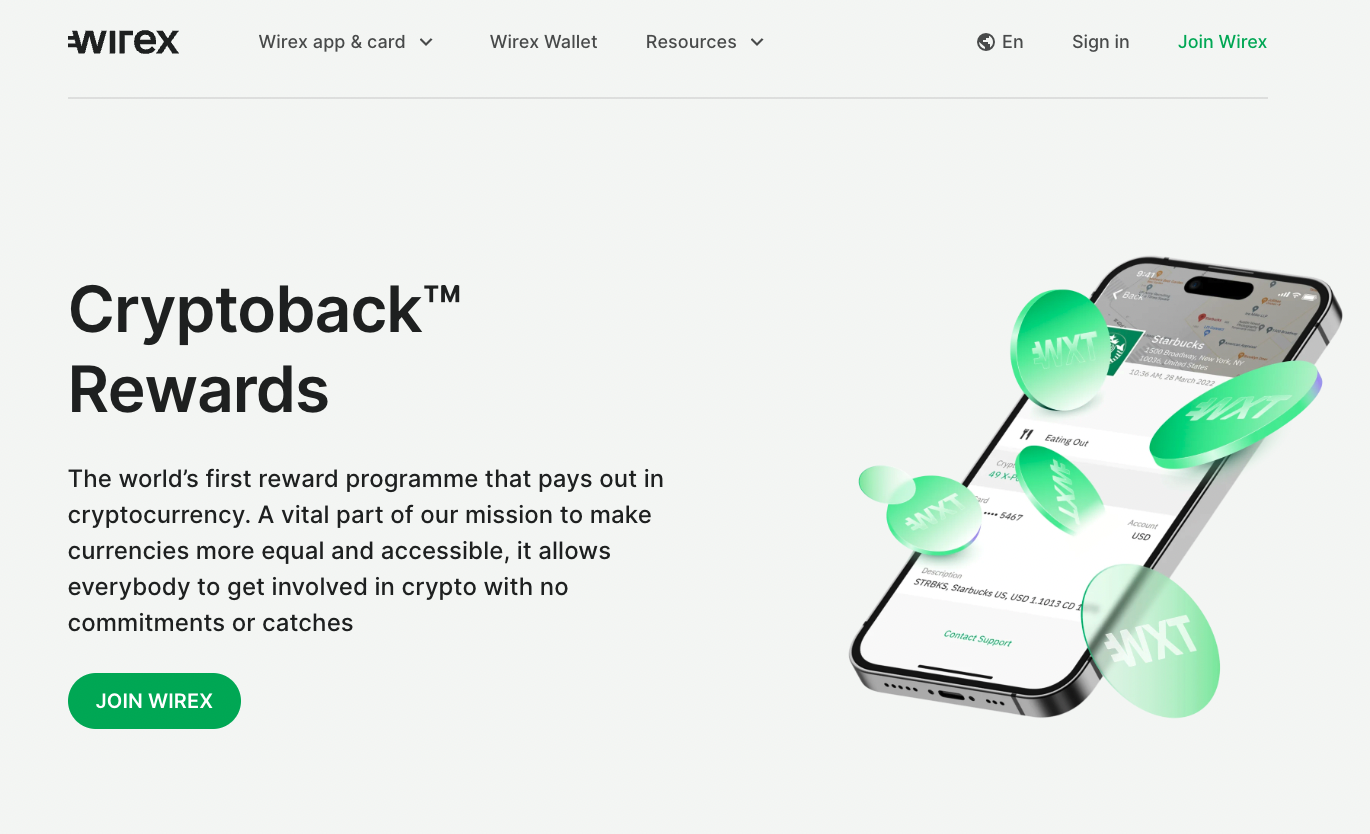 Wirex was one of the first crypto cashback cards back in 2017, it used to pay rewards for every purchase in Bitcoin. Now the company has grown and increased their services substantially; Wirexnow provides cryptocurrency exchange services, investment plans for your crypto, collateralized loans, significant discounts with partners and finally a virtual and physical cashback debit card. Similar to other cashback providers, Wirex card can give you up to 8% cashback on your purchases all while boosting the interest you get on your savings. Users can get a free virtual card for free with a cashback of 0.5%, but reaching the highest cashback tier will require a stake of 7.5 million WXT (around $30'000 of their native token) which will also boost the WXT bonus from 0 to 16% p.a.
Finally, consider also the referral program as you will earn $15 for every friend that opens an account with your referral link, and deposit a minimum of $100 in the platform.
Referrals
Crypto referral programs are a great way for users to earn cryptocurrency by inviting their friends and contacts to join a platform or use a particular service. By participating in a referral program, users can earn a percentage of the cryptocurrency that their referrals earn or transact on these platforms.
Every crypto platform and service in the space has some sort of referral program you can benefit from. Here are some of the most lucrative cryptocurrency referral programs currently available:
Coinbase is a popular cryptocurrency exchange that offers users the opportunity to earn cryptocurrency by referring their friends to the platform. Users can earn up to 9.5 EUR in bitcoin for each friend that they refer to Coinbase, and their friends will also receive the same bonus for signing up and trading a minimum of 95.02 EUR.
Binance is another popular cryptocurrency exchange that offers users the opportunity to earn cryptocurrency through its referral program. They currently have 2 referral modes:
The Standard referral lets users earn up to 40% of the trading fees that their referrals generate on the platform.

The Lite Referral provides a 100 BUSD voucher on trading fees for referring a user that signs up and deposits more than $50.
The company also has a referral program that allows users to earn cryptocurrency by inviting their friends to join the platform. As a matter of fact they have 2 types of referrals: one for the exchange and a second one for the card:
Card: $25 paid in CRO for signing up and staking for the Ruby Steel card or higher tier (currently around $350 worth of CRO staked).

Exchange: 50% of trading fees for the first 12 months as well as up to $2000 worth of CRO based on the CRO amount that your referral stakes on the exchange.