How do bitcoin Tumbling and Mixing services work?
Firstly we want to note that wanting to stay anonymous is a human right and is not illegal. Your funds are your funds, and nobody has to be able to trace it. But since our world insists on gathering as much data on us as possible, we need to add methods like tumbling services in place.
Crypto tumbling services use a fairly simple but effective way to make tracing currencies on an open ledger almost extremely difficult… but not impossible. This is why we always suggest using a VPN, and keeping up Basic OpSec to ensure you can stay anonymous.
Step 1: Find a mixer/tumbler
Finding the correct service to help you might take a moment, and with crypto, it's ALWAYS important you do your own research. Find a trustable crypto mixing service, and triple-check and cross-check the link a site provides.
Look for sites that offer multiple payouts and are fully anonymous (zero logs / delayed zero logs). We also looked for larger communities as (especially with mixing,) the more the website is used, the more anonymous you will be. Finding ones that implement Monero (or a similar token type) are the best to work with too.
Note: You will need to use the Tor Network as most mixing services use .onion links. This adds to anonymity too.
Step 2: Send your coins to the service
Once finding that website, open the website up, and check their FAQ for the general process. Usually, you are simply given a "session token" and don't log in to the website with an email.
Grab your Bitcoin/altcoin address and send through the funds. A delayed payout and a with multiple address payout, this adds a slightly more anonymous operation. Most mixers only cater to Bitcoin.
Step 3: Let the service do its thing
Basically, you'll send your crypto to the platform's wallet; the wallet will usually be a recently generated one that collects crypto from multiple people who are also looking to mix their tokens. The more people adding to the wallet, the better (which is why a delayed payout is best.) Depending on the website, the process might change. Either they will transfer these funds multiple times to different website-owned wallets multiple times in different amounts.
Other mixing services will exchange your tokens for Monero (XMR) which has its own anonymous system built into the platform.
Step 4: Receive your funds
Once completing the mixing process, the website will automatically distribute your funds to the new crypto wallet. Most services will give a "donate" option for allowing you to use their services. This option adds as additional security as you won't receive the same amount you've sent. This makes it an extra bit harder to track.
Top 5 crypto mixing services
Kilos Krumble
ChipMixer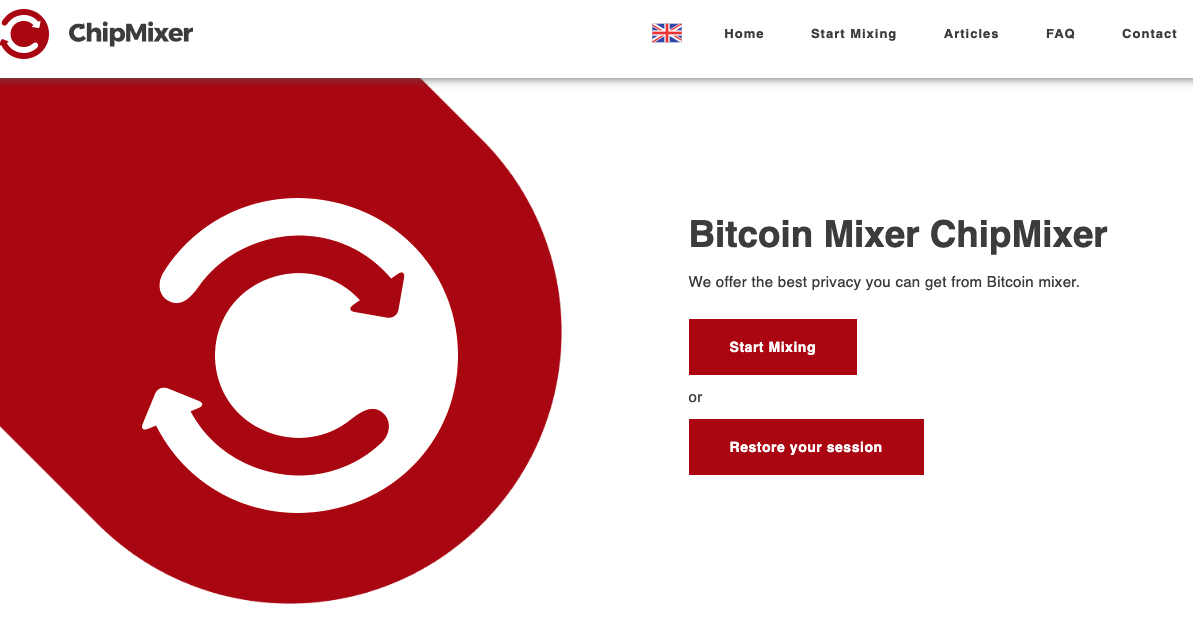 Fees
No fees. Donations accepted
Chipmixer uses a service where it converts your crypto into their native tokens (CHIP), a Monero-like fungible token. It's important that you do not send tokens with values below 0.001, as anything less is donated. Chips stay in specific sizes that are pegged to BTC. The smallest chip is 0.001, then 0.002 BTC, and doubles until 4.096 BTC, the largest specific chip.
Users then have options to donate a portion of the funds or bet their tokens with Provably Fair gameplay! This adds as an additional anonymous feature because the amount of BTC you send to the site is different from the amount you'll receive. They also use pre-funded wallets to deliver your bitcoin, making tracing impossible.
Chipmixer is a solid site with a backing community. The no logs, no fees, and speedy process makes it a solid mixer, sadly it only accepts Bitcoin.
Anonymix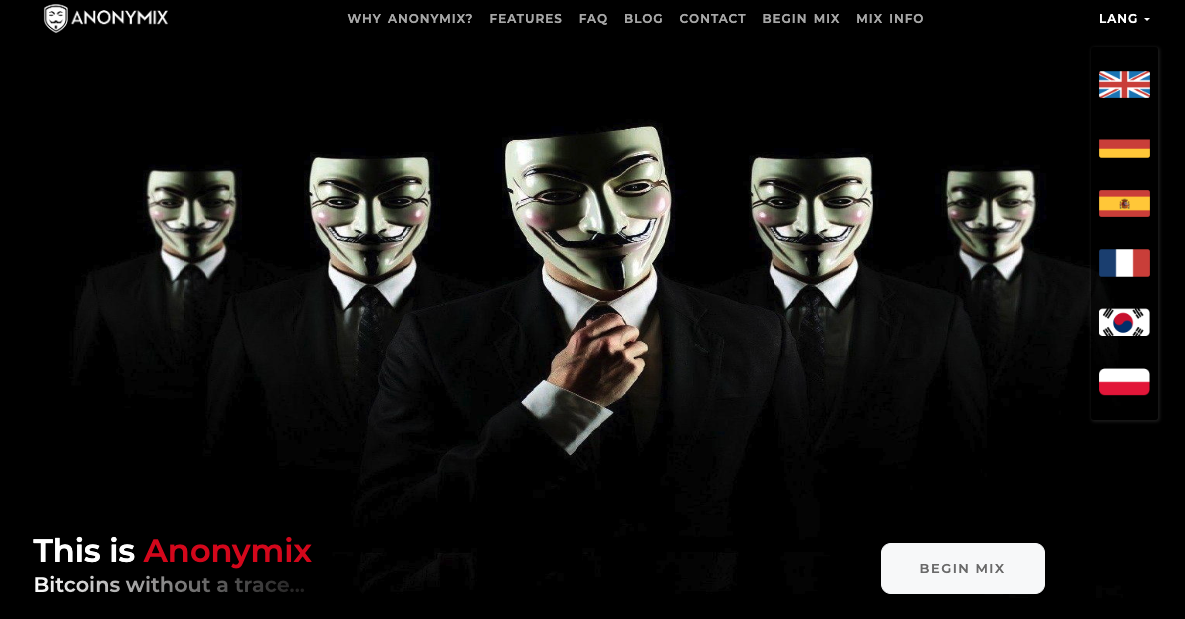 Anonymix is an extremely trustable Bitcoin mixing service with little to no scam complaints. And multiple phishing websites could contribute to the few complaints.
The website carries a seven days log clearing system and a delayed payment system.
Their system is extremely simple, with a simple address box for where you'd like to receive your funds (you can add up to 10 addresses) and an address to send tokens. The entire process will take a maximum of six hours.
Mixer.Money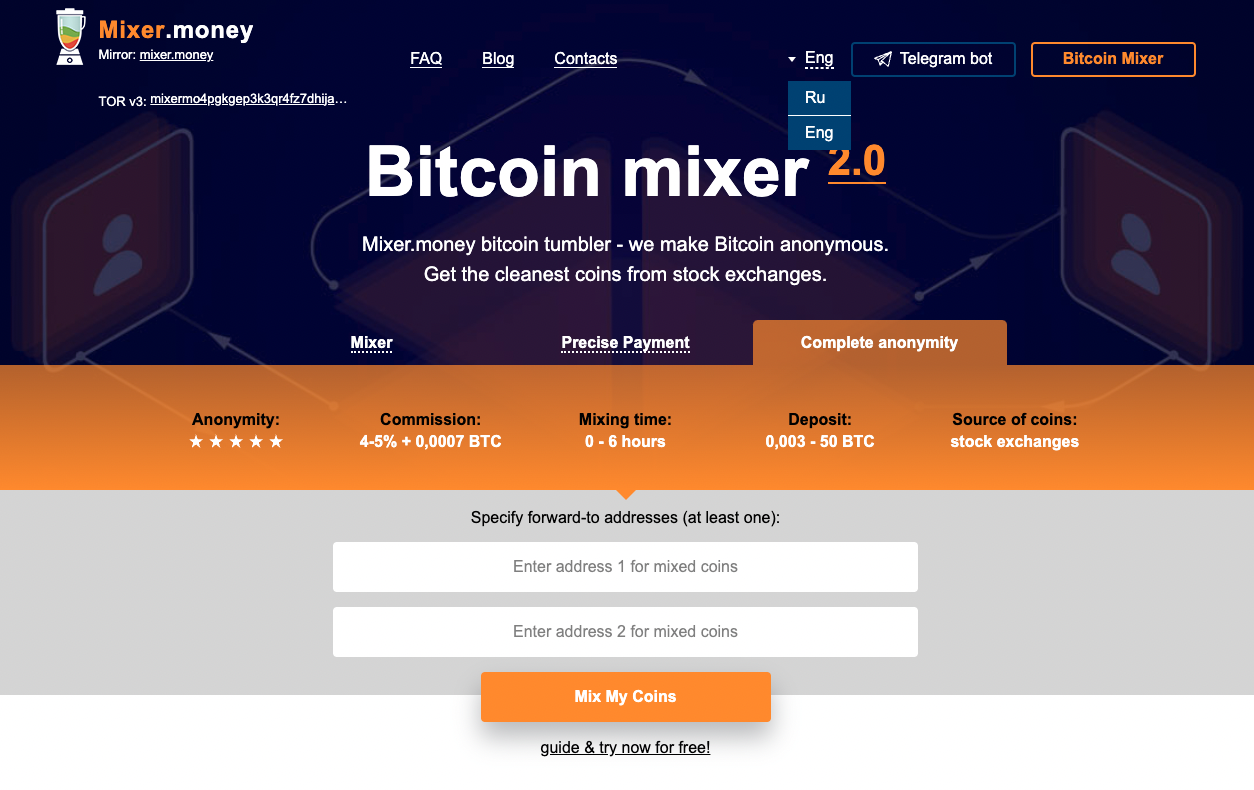 Mixer.Money is one of the few OG Bitcoin mixing services to stick around so long. The service is originally a Russian website, but they've opened to the rest of the world. This makes contacting support a little more difficult, but the website is easily one of the more popular to stick around.
The admins are honest about how the system works, as it makes things even more effective. Instead of using other users' funds to mix, they use various stock exchanges, switch to Monero, and back to Bitcoin to send you their funds. This means the fees are much more, but it's an efficient service.
UniJoin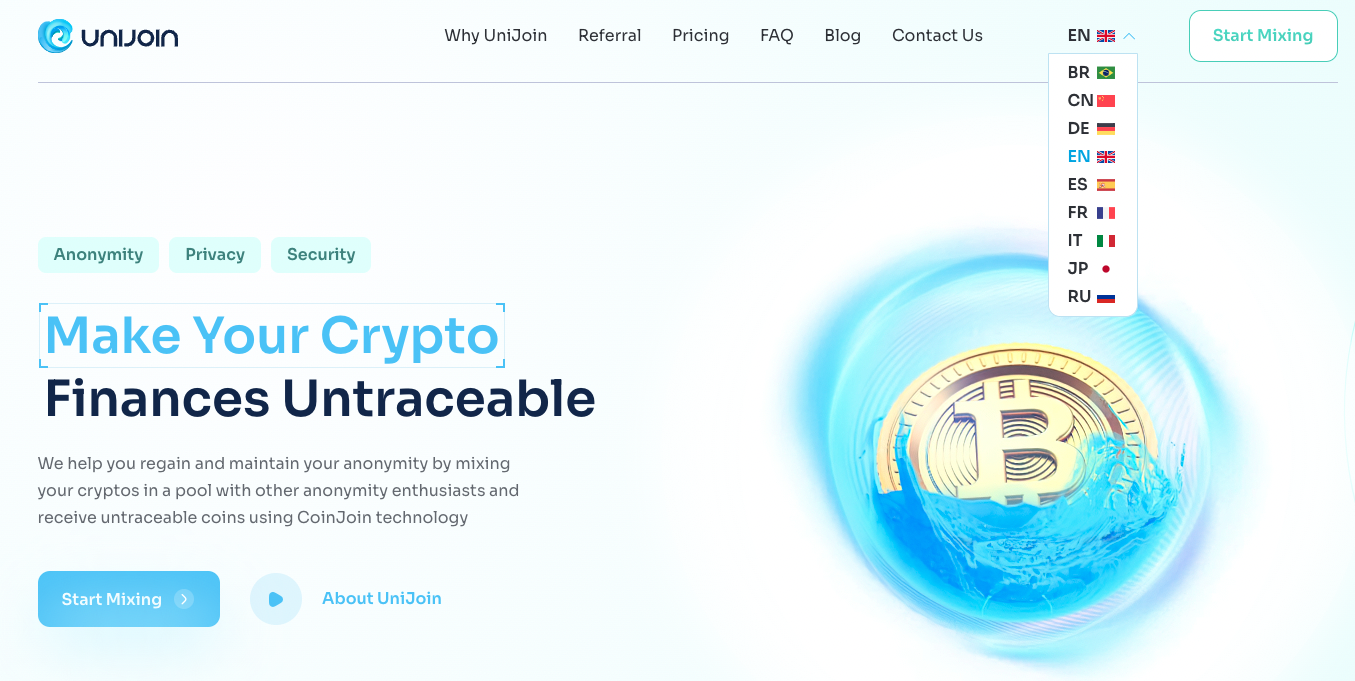 Fees
1% - 3% (randomly generated as a method for anonymity)
Accepted Currencies
BTC, BCH
UniJoin is easily the newest website on our list, and it shows. They have a modern-looking website. They're extremely user-friendly and guide you step-by-step, ensuring you'll get your funds back.
What makes UniJoin unique is that they make your coins untraceable coins by using CoinJoin technology.
Here's a video explaining how UniJoin works: UniJoin | CoinJoin Bitcoin Mixer - Restore Your Anonymity With Reliability
Kilos Krumble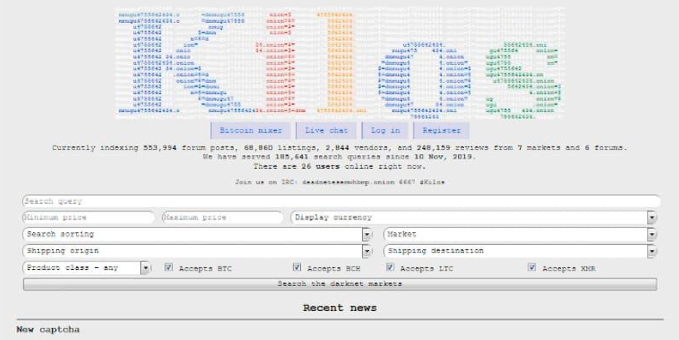 Fees
$25 or 1% - 5% (randomly generated as a method for anonymity)
Accepted Currencies
BTC, XMR, LTC
Established
November 2019
What makes Kilos special is that it essentially "Cleans your Bitcoin" using Monero. Users anonymously swap their tokens to either BTC, XMR, or LTC at a reasonable fee. The system uses an extremely old interface that looks like it's from the early 2000's. It's only available on the Tor network, yet it's one of the most effective mixing/tumbling services out there.
The service has a Zero Logs policy, is speedy, and since it's a creation has gathered a liking across the darknet and gambling community. Their customer service is always available on the Dread forum, which has multiple staff members, and their admin is active here too.
Conclusion
Bitcoin Mixers are one of the ways in which users can keep their Bitcoin anonymous. With options like ChipMixer that offer a free service, it's easier than ever. That being said, if you're able to use ZCash or Monero instead, these privacy coins are much more effective than Bitcoin Mixing services for keeping anonymous.