What is a crypto exchange
Think of a regular exchange like a stock exchange like New York Stock Exchange (NYSE), NASDAQ, or a commodities exchange like New York Merchantile Exchange (NYMEX). On the first two, you can buy, sell, and trade stocks of companies that are traded there. On NYMEX you can buy, sell, and trade in commodities such as gold, silver, etc. Similarly, a crypto exchange is a place where you can buy, sell, or trade your favorite cryptocurrencies. While the stock exchanges are governed by private entities, government and are regulated by the government the same doesn't always apply to exchanges which thanks to the international and nonymous nature of cryptos can operate more freely.
What you need to know when choosing an exchange.
Cryptocurrencies are a bit complicated. They sell for different prices at different exchanges as it's the buyer who sets the price. Buyers from one exchange might offer differently to another. But if you're looking to exchange popular currencies like Bitcoin and Ethereum, the differences won't ever be more than 1% really. Otherwise, it opens loopholes to exploit and make money. That being said, you want to find the crypto exchanges that provide prices that re in your best interest.
There are a few key differences between each crypto exchange that you need to look out for. The ones we've prioritized are: Fee Structures/Withdrawal Limits, KYC (pseudonymity), Customer Support, and Reputation.
Fee structure and withdrawal limits
If you want to walk away with as much of your own money as possible, a key component of the fiat conversion fees needs to be looked at. Exchanges work on a commission basis, so they'll want to walk away with as much profit as possible. But the crypto market is fierce, and finding the right crypto/fiat conversion services will mean low fees.
Withdrawal limits, play hand in hand with the fee structure. If you want to withdraw a large sum of crypto into your local currency, you'll want to use a platform that doesn't take a percentage of your conversion but rather a flat fee despite the withdrawal size. Some platforms will have low withdrawal limits of just a few thousand dollars per day/month. Depending on how much you're looking to withdraw, the limits could hinder you heavily.
KYC (Pseudonymity)
One of the questions you'll need to look at with crypto-fiat exchanges are their KYC requirements. This means looking into how much data they'll grab from you, how long it takes to be approved on your documents, and whether they're fully regulated.
If you're wanting to choose a platform that's fully regulated, there will be delays when processing the withdrawal of your conversions. But this will also give you peace of mind that you'll get your funds and can easily dispute if there's an issue.
If you're wanting to keep your data and funds private, you might be forced to lower limits, and higher fees, and an unregulated platform. So weighing the cost between each KYC and anonymity is important.
Customer service / user interface
Bad customer service can turn anybody off a service instantaneously. We've taken the time to test out the customer service of each platform to ensure they have a live chat service, and that the agent is well-trained.
Similarly, the UI of the platform needs to be user-friendly and hopefully aesthetically pleasing. Using a confusing user interface allows for mistakes and frustration, which we'd avoid if we can!
Reputation
Unfortunately, cryptocurrency platforms have a habit of going down in an exit scam or will simply scam you. We've only chosen tried and proven platforms by looking at their longevity, reviews, and how many other platforms partner with/trust the exchange service.
Centralized vs Decentralized
Cryptocurrency exchanges can be either governed by some entities or can be completely decentralized, i.e. governed on the blockchain. A cryptocurrency exchange governed by some entity is called a centralized cryptocurrency exchange (CEX). Whereas, an exchange governed over the blockchain is a decentralized crypto exchange (DEX). Both of these exchanges have their advantages and disadvantages.
Some of the examples of a centralized crypto exchange are Binance, eToro, Huobi Global. Whereas UniSwap, PancakeSwap, CoinMama, SushiSwap, QuickSwap are some of the most prominent decentralized exchanges.
| | |
| --- | --- |
| Advantages of centralized exchanges | Disadvantages of centralized exchanges |
| The majority of crypto trading happens on centralized exchanges and thus the trading volume is very high | They are under the control of an entity that can halt, slow down, or put withdrawal limits in some cases such as the LUNA crash recently |
| They have no lack of liquidity | The governments can ban them anytime, like in China, Russia, etc |
| A lot of exchanges allow you to trade using fiat currencies | You will need to complete your KYC and verify it in order to make proper use of these exchanges. So no anonymity here |
| You can use various payment methods like bank transfers, debit/credit cards, etc | Prone to cyber attacks, hacks, etc |
| Various types of trading facilities like margin, futures, etc. are available | You have to give up control of your private keys |
| Transaction speeds are almost instantaneous | |
| Most of these exchanges are insured in case of cyber-attacks and thus protect the user's funds | |
| User-friendly interface | |
| | |
| --- | --- |
| Advantages of decentralized exchanges | Disadvantages of decentralized exchanges |
| They are not under the control of either an entity or the government | They have a very lackluster interface and are not as user-friendly as CEX's |
| You are not required to give up your private key to transact on these exchanges | Need a certain level of expertise in using crypto wallets |
| A lot of altcoins are only listed on DEXs and not on CEX | They only accept cryptocurrencies and not fiat currency |
| Since these exist over the blockchain in a distributed manner, the risk of cyber attacks, hacks, etc. is minimal | Low trading volumes and low liquidity |
| All the transactions are private and anonymous and there is no need for KYC | The transactions can be a bit slower than on CEX's |
| Governments can not ban them or stop them from operating | |
Now that we know everything about crypto exchanges, let us get into our list of the top 5 crypto exchanges.
Top five crypto to fiat exchanges
BitStamp (Easiest, No Limits)

Bybit P2P (Anonymity)

Paypal P2p (Convenience, Trustable)

CEX.io (Simplicity)

UpHold (Variety)
BitStamp (user-friendly + simple)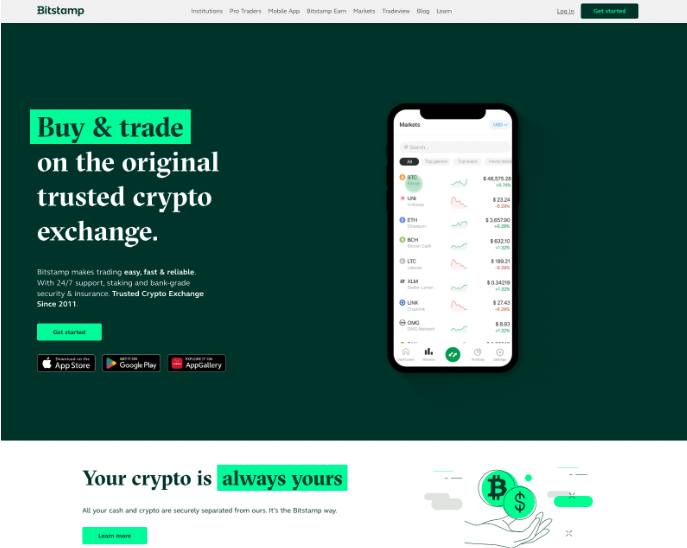 Bitstamp is one of the most popular crypto-converting to tools because of its low trading fees, easy-to-use service, and the fact that its plugged into hundreds of crypto casinos, and cryptoi focused platforms. Their service proves efficient and cheap to the average user.
Although though there's only a limited amount of tokens available, they cater to a massive audience. Their liscense means only a few countries do not allow their services. Making it one of the best options for crypto to fiat withdrawals
Bybit P2P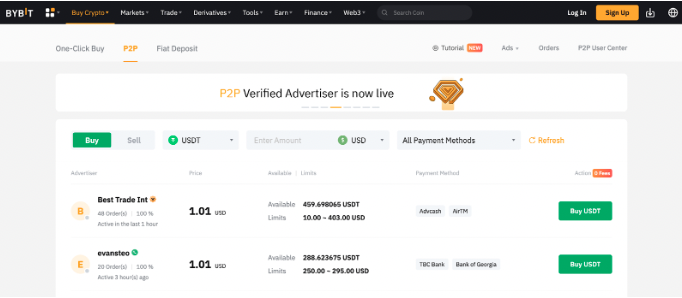 Bybit started their service just a few years ago (2018) but quickly became one of the big names in the crypto trading business. They offer quick and efficient service, and almost every new cryptocurrency hopes to list its token on Bybit.
Their P2P service is one of the more popular options due to it's anonymity, no trading fee, and east/safe connection. The main option users opt to take is the "escrow" payment system. Meaning that Bybit plays the middleman. The seller sends their currency to Bybit, and the buyer adds the fiat funds to Bybit. Once both parties make their payments, Bybit automatically distributes the payments.
From 0 fees, constant promotions and affiliate programs, and almost no controversy surrounding the platform, they are the best P2P service in the business.
PayPal Crypto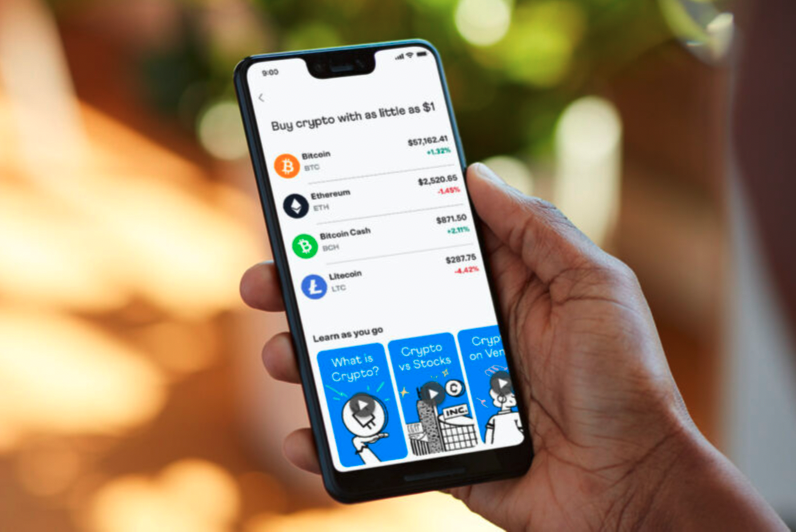 The only way you wouldn't have heard of PayPal is if you were living under a rock. The popular payment is international, relatively cheap, and extremely convenient. Although they've only offered crypto trading in the last year and a bit, the company is reputable, with a market cap of $78,39 Billion. With such a simple system catering to almost every country on earth, why not use it?
CEX.io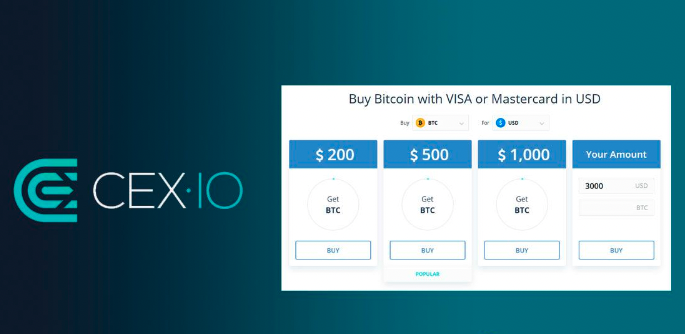 Cex.io is a very well-known crypto exchange with over 4 Million users. They include options for staking, and implementing multiple payment methods and haven't experienced any known mass exploitations showing they're cable of preventing hacks. They were happy to oblige with Proof-of-reserves recently aswell showing they handle customer funds correctly. Their website is extremely user-friendly, and they include multiple warnings and systems to ensure you handle your funds correctly for withdrawals. 2FA, withdrawal guides, password protected withdrawals.
Uphold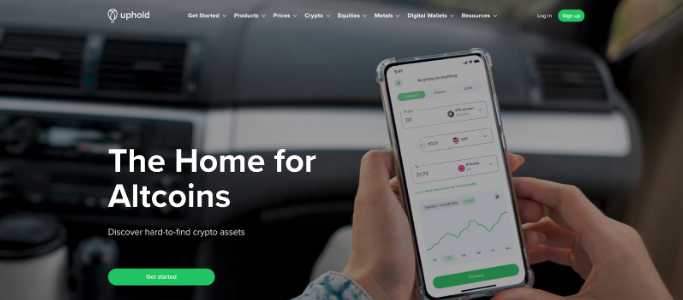 UpHold was not initially created for cryptocurrencies as they're a stock trading platform. But in 2015 they started allowing users to invest into digital currencies such as Bitcoin and Ethereum. Since then they've branched out with over 210 tokens to choose from.
What makes Uphold great is you can sell your crypto and send it right into the newest stocks or even safer investments like precious metals. Overall their system is trustable and their UI is extremely user-friendly.
FAQ
How do you withdraw crypto to fiat?
There are multiple ways to withdraw your crypto into a fiat currency. The most popular option is using a centralized exchange.
Step 1: Find an exchange that works for you. Coinbase, Crypto.com, and Binance are all great options.

Step 2: Complete your KYC (can take a day or two)

Step 3: Deposit your crypto.

Step 4: Sell your crypto using Spot trading.

Step 5: Withdraw your fiat into your bank account.
Is using a crypto to fiat service free?
Depending on the platform you choose, the payments could be free. Most services only request transaction fees and a small withdrawal fee, often equating to less than 0.5% of the total withdrawal.
Can I anonymously withdraw crypto into my bank?
It's possible to trade your crypto into cash using Peer-to-peer trading platforms. However, anonymous withdrawals can often lead to scams and legal issues. This is why it's always recommended that you use fully regulated trading platforms.