Overview
Game style
Farming simulator
What is CropBytes.com?
CropBytes is a farming simulator game that uses real-world metrics to determine the outcome of your farming business. The game has some idle metrics to it, but it's best to play the game regularly, upgrade your infrastructure, and start trading your assets for some Game Coins ($GBX)
CropBytes follows suit of the many other farm simulators you can find (like the Facebook game). This is clear in the style of the gameplay. However, in most other farm simulators, you'll be sitting and waiting for your stock to grow, or be forced to pay to speed up the process with gems. When it comes to CropBytes, you'll be earning instead.
The graphics of the game are on-par or better than you'd expect from a crypto game. While many new blockchain games have simple algorithms that cause gameplay to become boring quickly, we didn't find this with CropBytes… Instead, we found ourselves back at the screen a few minutes later wondering if our chickens had laid a few eggs yet. It was exciting and addictive.
As you play, you're given a few crops and fruits to harvest, and you can collect and sell your stock for some crypto. You can also feed it to the animals to increase your livestock counts. Some in-game items include milk, wool, eggs, truffles, and various types of meat which can all be converted into $CBX or used to further develop your farm.
Missing feeds or leaving crops out and not maintained leave you in a sticky situation as the livestock become sick, and the land becomes barren. That means you can't leave the game for too long, otherwise, your hard work goes nowhere.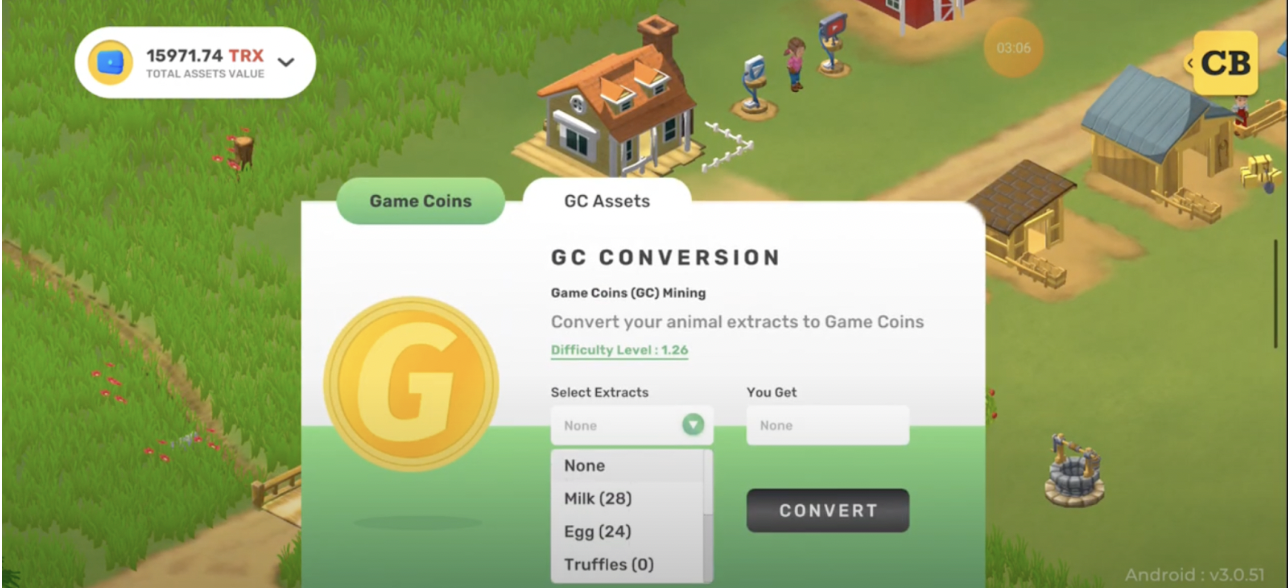 Trading is easily the best way to grow your farm. But finding the best trades takes a bit of time and research. We loved that the game includes a few metrics like market-related trades and inflation to adjust prices. This gives the game an additional real-world simulation.
The game is also one of the very first crypto games to launch on the iOS and the Play Store, and has since garnered the attention it deserved.
Pros
Massive playerbase (meaning decent liquidity)

One of the first crypto Games to launch on iOS and Android.

Consistently evolving game

Addictive gameplay

Low barrier for entry
Cons
Team is focussing on other projects (posing a question for the future of CropBytes)

Since the 2022 crypto crash, earning potential has dropped drastically
What is the CropBytes Native Token?
The CropBytes token plays a vital part in the game. As trading assets play a large role in the game, users can purchase milk, fur, wood, etc, to build up their farms. Each asset has its own trading value which is solely controlled by other users. The in-game exchange makes things simple, though some asset prices seem a bit out of control.

You could be paying just $0.0037 for some water or as much as $1,500 for a feeding mill. Of course, there are hopes that it could pay itself off in the long run, but these are some expensive investments for users to take part in.
For a game that's four years old, they're doing well tokenwise. Every day there's about $200K in market volume, and the token currently sits at a total market cap of nearly $18 million.
Ticker: Was Game Coin ($CB) Now CropBytes ($CBX)

Mining: Mining and Burning tokens take place within the game as users generate/utilise assets for their farming.

Supply: 500,000,000

Exchanges: XT.COM, Bybit, MEXC, Uniswap (V3), ProBit Global, and through the in-game exchange.

Current Price: $0.039443 (90% down from it's ATH)

Can I make money from CropBytes?
When you start off, you need to purchase a starter pack that costs between 499 TRX to 899 TRX ($30-$50). If you're willing to play the game from scratch and grow your own crops, feed your own animals and not purchase the items from the exchange, it's going to be a much more profitable game.
There are great opportunities to profit from CropBytes, but it's going to take a few hundred hours of solid gameplay before you start turning any profit. With the token dropping about 90% from its ATH, they will likely need to restructure the tokenomics to make the Play-2-Earn metric more appealing.
For weeks worth of addictive gameplay (2-3 hours a day) you'll likely walk away with roughly $3 - $4 though that can grow overtime.